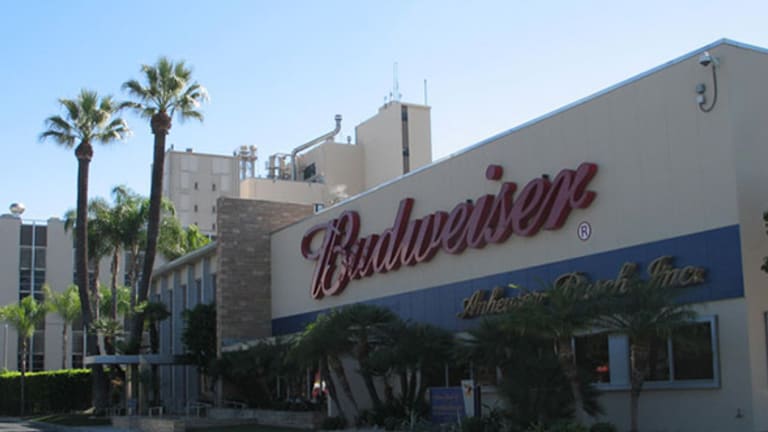 Publish date:
AB InBev, SABMiller Agree to 'Megabrew' Deal Framework
Anheuser Busch InBev raises the tab again and agrees to shoulder the antitrust risk.
Anheuser Busch InBev raises the tab again and agrees to shoulder the antitrust risk.
NEW YORK (The Deal) -- For Budweiser maker Anheuser-Busch InBev (BUD) - Get Anheuser-Busch InBev SA/NV Sponsored ADR Report , it's finally Miller time.
After several tries that fell flat, the world's largest brewer secured the outline backing on Tuesday from the board of Miller Genuine Draft maker SABMiller (SBMRY) for its latest takeover offer, which values the target's equity at a record-breaking £71.2 billion ($109.4 billion).
The move to create "Megabrew," as it's being called on social media, follows three weeks of tense talks about a deal widely seen as the end game for big-beer M&A and the industry's Brazilian-born deal maker-in-chief, AB InBev CEO Carlos Brito.
The companies now have until Oct. 28 to finalize the agreement, after SABMiller agreed to request a two-week extension of the U.K.'s put-up-or-shut up deadline.
Under the terms, SABMiller shareholders would be entitled to get 4,400 pence a share in cash, with a partial share alternative available for the 41% of shares held by SABMiller's two largest shareholders, tobacco companyAltria Group (MO) - Get Altria Group Inc Report and the Santo Domingo family's Bevco Co. Altria had already come out in support of a previous offer, while Bevco has kept quiet.
The new price represents a 50% premium to SAB's undisturbed share price.
On Tuesday, SABMiller shares were up 8.4% in London at 3,927 pence. AB InBev shares were 2.4% higher in Brussels at €100.70, yielding a market value of €158.2 billion ($180.41 billion). SABMiller's American depositary receipts closed Tuesday at $56.70 while BUD closed at $111.49. 
The partial share alternative consists of 0.43696 unlisted shares and 3,7788 pence in cash for each SABMiller share, equal to a value of 3,903 pence a share as of Monday, or 33% above SABMiller's undisturbed share price.
Both sides made nice after the suitor tweaked its offer yet again from the 4,350 pence it offered less than 24 hours ago The bidding started at 4,000 pence a share on Sept. 22, when private talks began between the companies and their armies of advisers.
Last week, Brito told journalists that while AB InBev had been eyeing SABMiller for quite some time, things got more serious in recent months after AB InBev's "deep dive" to explore the African market and indications from SABMiller's largest shareholders that they would be receptive to an offer.
"Those two things were not the case a year ago," Brito said, oozing about "having the stars aligned" for a deal now.

As was the case with InBev SA's $52 billion takeover of St. Louis, Mo.-based Anheuser-Busch in 2008 to create AB InBev, Brito was able to keep things friendly with SABMiller after raising the tab.
AB InBev has pledged to shoulder the deal's antitrust risk, agreeing to a reverse breakup fee of $3 billion if the transaction is derailed either by regulators or AB InBev's own shareholders.
The main antitrust risks are likely to be in the U.S. and China, where regulators may demand the disposal of SABMiller's stake in Chicago-based MillerCoors its joint venture with Molson Coors Brewing Co. (TAP) - Get Molson Coors Brewing Company Class B (TAP) Report , as well as SABMiller's 49% stake in its China Resources Snow Breweries joint venture with China Resources Enterprise. AB InBev is also reportedly already under investigation from the U.S. Justice Department over its distribution power.
AB InBev, based in Leuven, Belgium, is the world's largest brewer and London-based SABMiller the second largest.
Together, they sell one out of every three beers in the world and hold about half the global beer profit pool. A combination will put about 400 beer brands under one corporate umbrella, marrying AB InBev's Budweiser, Corona and Stella Artois with SABMiller's Pilsner Urquell, Miller Genuine Draft and Foster's.
AB InBev is backed by 3G Capital Partners, which has teamed up with Warren Buffett in several food-related mega-deals. They include Burger King Worldwide's (BKW) $11 billion takeover of Canada's Tim Hortons coffee and donut chain last year, and more recently in the merger between Kraft Foods and H.J. Heinz Co. to form Kraft Heinz Co. (KHC) - Get Kraft Heinz Company (KHC) Report , now North America's third-largest food and drink maker and No. 5 internationally.
In its most recent fiscal year, SABMiller posted $22 billion in sales, as weakness in China and North America offset growth in  Africa and Latin America. SABMiller dates back to the foundation of South African Breweries in 1895 during the Johannesburg gold rush. Adding SABMiller would give AB InBev greater exposure to emerging markets, which account for about two-thirds of SABMiller's sales.
AB InBev had revenue of $47.1 billion in 2014 and employs 155,000 people in 25 countries. Keen to grow in Africa, the company has pledged a secondary listing in Johannesburg along with a regional headquarters on that continent for the combined group.