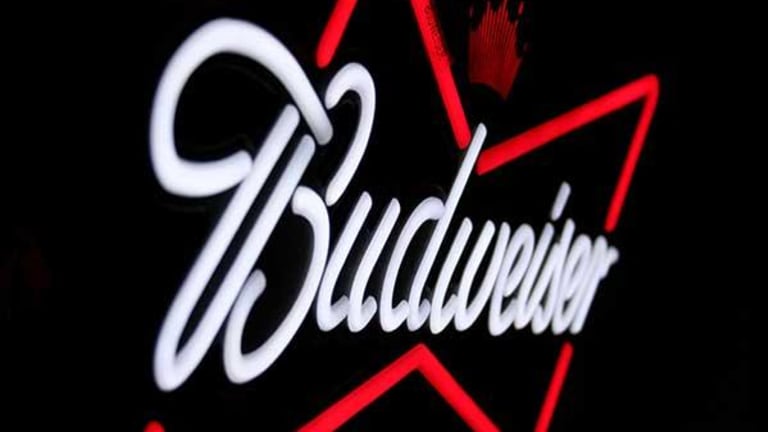 AB InBev Reveals Post-Merger Job Cuts
The Leuven, Belgium-based buyer of SABMiller plans to trim 3% of its enlarged workforce, which it says will be phased in gradually.
Budweiser maker Anheuser-Busch InBev (BUD) - Get Anheuser-Busch Inbev SA Sponsored ADR (Belgium) Report has disclosed plans to cut 3% of its enlarged workforce after combining with SABMiller (SBMRY) in a £79 billion ($104.36 billion) acquisition, nicknamed Megabrew, it aims to complete in less than two months from now.
In documents published Friday, the Leuven, Belgium, based buyer said it plans to implement the staff reductions gradually, in the three years after the deal is completed.
"For those functions where integration planning has been possible, AB InBev currently expects an overall potential job reduction of approximately 3%," according to a 277-page document.
The planned cuts are part of $1.4 billion in pre-tax savings AB InBev is targeting from the combination, which will be the industry's biggest-ever, led by AB InBev CEO Carlos Brito.
ABInBev, the world's largest brewer, employs more than 150,000 people, according to its website, while global No. 2 SABMiller has 70,000 on its payroll.
While 3% of the combined amount would mean as many as 6,000 positions eliminated, a person with direct knowledge of the matter told Bloomberg News that 5,500 positions are likely to be trimmed.
The document says that while the extent of any job reductions in all locations "is not yet certain," AB InBev reiterated that the combined group will be headquartered in Leuven and keep its global functional management office in New York.
However, it did say that there are likely to be job losses at SABMiller's global HQ in Woking, England, "in a short period following completion," and that it would seek to mitigate the impact by making alternative positions available.
AB InBev also said it expects to close SABMiller's head office at One Stanhope Gate in London in the first year after the merger. As part of the realignment of zone headquarters, it will also relocate SABMiller's regional Miami headquarters and any associated roles to Bogota, Colombia, and relocate SABMiller's headquarters in Hong Kong and Beijing to Melbourne, Australia.
SABMiller in the same document said its board regrets the impact of the planned job losses while admitting that they are unavoidable. "The SABMiller directors," they add, "are pleased to note AB InBev's commitments to continue its engagement and consultation with affected employees and any appropriate employee representatives. "
The deal is expected to be completed on Oct. 10.
Both companies' shareholders are scheduled to vote on the tie-up on Sept. 28. For SABMiller that means conducting two votes, after a U.K. court earlier this week granted its request to treat its two largest shareholders as a separate class.
AB InBev shares were up 0.45% in Brussels Friday at €112.30 ($126.81), giving it a market capitalization of around €179.8 billion. SABMiller inched up 0.07% in London to 4,373 pence, valuing the whole of its equity at £70.97 billion.