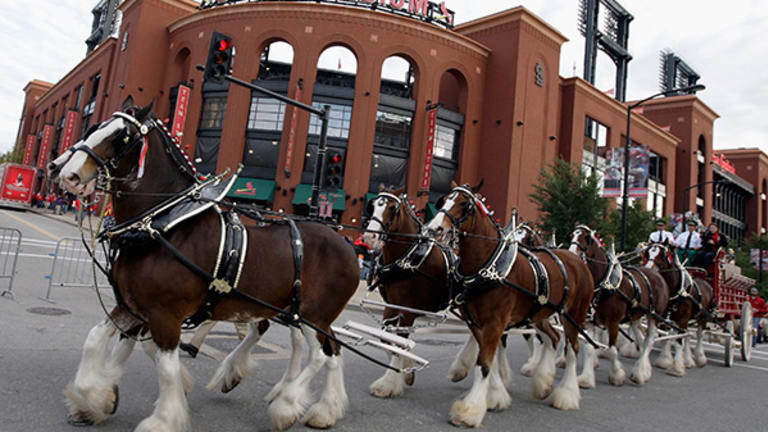 AB InBev Gulps Down Craft Brewer in Its Own Belgian Backyard
The Budweiser maker will add Triple Karmeliet maker Bosteels to its growing craft business.
Budweiser maker Anheuser-Busch InBev (BUD) continued its craft-brewing spree in its own Belgian backyard as it nears the finish line on its £79 billion ($105.49 billion) acquisition of U.K. peer SABMiller (SBMRY)
In Belgium, AB InBev agreed to buy Bosteels from the eponymous family that founded the brewery in the East Flemish town of Buggenhout more than 200 years ago. The brewery is backed by Dutch private equity firm Waterland.
It wasn't immediately clear if Waterland is paring down or selling out, but the Bosteels family will remain involved with Antoine Bosteels continuing to run the business that's been in his family for seven generations within AB InBev's craft and specialty division.
Financial terms were not disclosed, but Belgian press reports put the value at €200 million ($225.4 million), or about 15 times enterprise value to Ebitda according to analyst Wim Hoste of KBC Securities in Brussels.
"The news comes as a bit of a surprise as AB InBev is currently still closing the transaction with SABMiller," he said in note. He added that while the Belgian deal is a fairly small one, "it nevertheless reinforces AB InBev in the fast-growing capacity of craft beers."
He also doesn't foresee any issues with competition authorities in Belgium, which generates less than €16 million in sales for the parent company. The AB InBev group posted $43.6 billion in 2015 revenues.
AB InBev shares were little changed but trending higher in Brussels Thursday morning. The stock inched up 0.04% to €113.90, giving it a market value of around €183.1 billion. The stock is 23.06% above what it was a year ago.
With one small sip of Bosteels, AB InBev will gain a well-known, fast-growing brewer that churned out 145,000 hectolitres of beer last year, up from 100,000 hectolitres three years last year.
Bosteels' best-known brands are Triple Karmeliet, a high-alcohol concoction still brewed using a 17th-century recipe from an old Carmelite convent in Dendermonde and Kwak beer, a dark, heavy libation always served in an over sized hourglass-shaped drinking glass.
AB InBev, which based in the Belgian town of Leuven but run out of New York by CEO Carlos Brito, was not the only brewer eager thirsty to get a taste of Bosteels, which Dutch brewer Heineken (HEINY) and Belgium's Duvel Moorgtat said to be looking with interest.
Already the world's largest brewer about to get even bigger, AB InBev like many of its peers has been snapping up targets in the fast-growing craft-beer space, particularly in the U.S.
And while AB InBev has managed to ward off antitrust concerns especially in the U.S. about gaining too much power over the small guys, it remains very much on watch.
As part of the company's recent settlement with the U.S. Department of Justice over the SABMiller deal approval, AB InBev pledged to distribute no more than 10% of its annual U.S. volume through wholly owned distributorships.
And just this Tuesday, the DOJ said it will be "carefully monitoring" AB InBev's compliance with its distribution obligations under the settlement, after approving AB InBev's latest craft buy, that of Virginia-based Devils Backbone.
The DOJ used the same announcement to pay tribute to the "hard work of craft and other high-end brewers, which have provided consumers with a large number of new and high quality of beer options."
Put that in your beer glass and sip it.