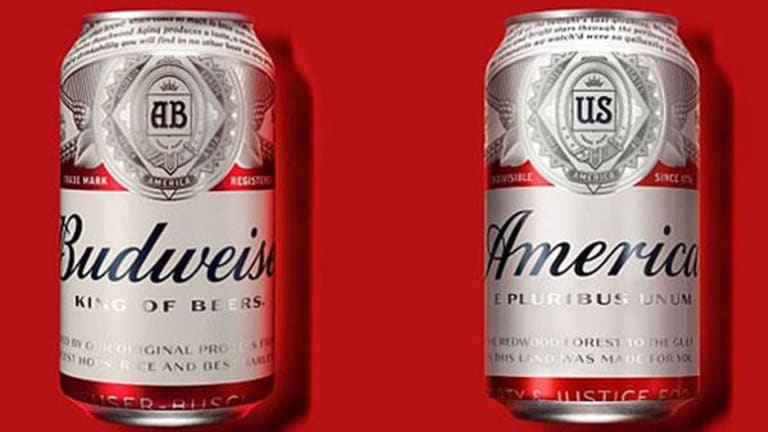 AB InBev Gets South African Nod for SABMiller Buy as Europe Opens Probe
The Budweiser maker faces a European Commission investigation into its domestic activities.
The Budweiser maker faces a European Commission investigation into its domestic activities.
Anheuser-Busch InBev (BUD) - Get Report on Thursday moved a step closer to the finish line for its £71 billion ($95.42 billion) acquisition of SABMiller (SBMRY) but now faces an EU antitrust inquiry in its home Belgian market.
The Leuven, Belgium-based maker of Budweiser and Stella Artois beers announced that it secured conditional approval for the SABMiller deal from the Competition Tribunal of South Africa, which began its review a month ago.
Approval was based on a number of conditions, including AB InBev's promise to protect and develop a South African supplier base, sell SABMiller's stake in South African-based cider and spirits maker Distell, though details remained confidential, and assurances of no competitively sensitive information being exchanged between Coca-Cola (KO) - Get Report , and PepsiCo (PEP) - Get Report , SABMiller's and AB InBev's respective African bottlers.
AB InBev, led by CEO Carlos Brito, said Thursday that it's "well on track" for completing its tie-up with SABMilller in the second half, after getting approval from 16 jurisdictions, including the European Union. It is still awaiting word from China and the United States.
Meanwhile in Brussels, the European Commission announced it had opened a probe into whether ABInBev abused its market power in Belgium by blocking imports of its beer from neighboring countries, in breach of EU antitrust rules.
"AB InBev's strong position on the Belgian beer market is not a problem," said EU Competition Commissioner Margrethe Vestager. "However, we want to make sure that there are no anti-competitive obstacles to trade in beer within the European single market.
"Keeping out cheaper imports of its beer from neighboring countries would be both against the interests of consumers and anti-competitive," she said.
Specifically, watchdogs will look at whether ABInBev is deliberately restricting imports of its beers from less expensive countries like the Netherlands and France, by changing bottle and can packaging to make them harder to sell abroad and by limiting foreign retailer's access to rebates and key products.
The EC in May granted conditional approval to AB InBev's deal with SABMiller following a routine, Phase 1 probe.
Conditions included ABInBev's agreement, signed several months earlier, to sell SABMiller's Peroni, Grolsch and Meantime brands to Japan's Asahi for €2.55 billion ($2.84 billion) and its offer to sell all of SABMiller's businesses in central and eastern Europe.
The U.S. Department of Justice is under pressure from craft brewers and independent distributors to impose distribution limits on AB InBev and SABMiller.
ABInBev's agreement to sell SABMiller's 58% stake in Chicago-based MillersCoors to joint venture partner Molson Coors Brewing (TAP) - Get Report for $12 billion, unveil last November along with the SABMiller deal to ward off antitrrust issues in the world's biggest beer market, is conditional on completion of the bigger transaction with SABMiller.
The combined entity, nicknamed MegaBrew, will sell one out of every three beers on the planet, hold about one half the global beer profit pool, and preside over a 400-strong brand portfolio. It would have had 2015 sales of $65.7 billion, with AB InBev accounting for $43.6 billion of that amount.
AB InBev shares on Thursday afternoon in Brussels were up 2.3% at €117.05. SABMiller stock in London was down marginally.