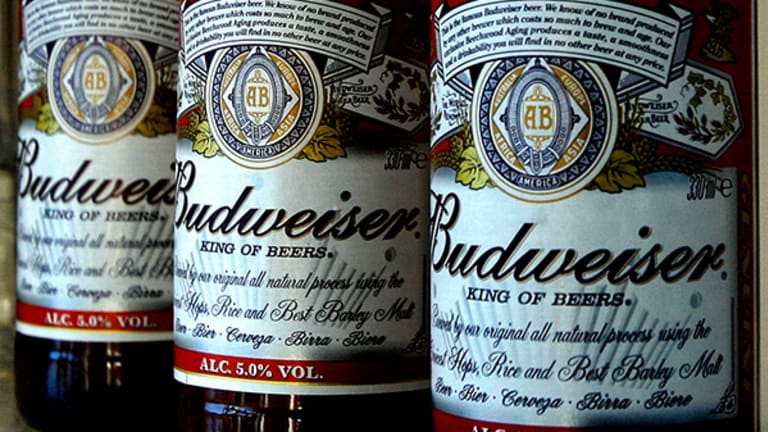 AB InBev Gets China Nod for SABMiller Purchase
The Belgian suitor is still aiming for a second-half close after raising its offer this week.
AB InBev (BUD) - Get Report has announced the last major antitrust clearance for its tie-up with SABMiller (SBMRY) , which it's still aiming to close in the second half after raising its offer earlier this week.
The Leuven, Belgium-based maker of Bud Light, Budweiser and Beck's on Friday said it received conditional approval from China's Ministry of Commerce known as Mofcom based on its agreement to sell SABMiller's 49% stake in China Resources Snow Breweries to its joint venture partner, China Resources Beer.
That deal, worth $1.6 billion, was agreed in March, one of several asset sales AB InBev embarked on early on in the process to stave off any antitrust turbulence. The strategy paid off, including with watchdogs in Brussels, Washington and South Africa, all of whom have also given the conditional green light for the beer industry's biggest-ever tie-up.
Mofcom's approval "is a significant milestone for this transaction," meaning that all pre-conditions for the proposed deal have now been satisfied, AB InBev CEO Carlos Brito said on an afternoon conference call. He also reiterated the company' s objective of closing the deal this year.
SABMiller's board has yet to issue a verdict on AB InBev's revised offer, which it insists is "final." AB InBev on Tuesday raised its offer to £79 billion ($104.21 billion) from £73 billion agreed last year.
The higher offer, prompted by pressure from activist investors amid the falling British currency, was thrown into question on Thursday as SABMiller pressed the pause button on deal integration that started months ago to consider its next move.
AB InBev shares rose steadily throughout the day, and were up 2.90% in afternoon trading on the Brussels Euronext exchange at €113.45, for a market value of around €182.5 billion ($203.65 billion). SABMiller shares were 1.82% higher in London at 4,402.50 pence, putting its market capitalization at around £71.25 billion ($94.27 billion).
SABMiller shares are trading below the increased tab of 4,550 pence a share in cash. The revised offer would also entitle shareholders who choose to be paid in cash and stocks 4,655.80 pence in cash for each SABMiller share held rather than the 3,778.80 pence a share offered in November, and 0.483969 restricted shares as before.
SABMiller has not disclosed when its board plans to issue a decision on the latest offer.
AB InBev's continued confidence in getting the deal done overshadowed lower than expected quarterly results released on Friday.
Normalized Ebitda rose 4.3% to $4.01 billion, undershooting the $4.13 billion projected in a Reuters consensus forecast. The company said top-line growth was partly offset by investments in brands, which was weighted towards the first half of the year.
Total volumes declined by 1.7% in the second quarter, as weaknesses in Brazil and Argentina overshadowed good results in Mexico and the U.S.
AB InBev also lowered its 2016 guidance for Brazil, where it now expects net revenue to be flat compared to last year, compared with a previous forecast of net revenue growth in the mid to high single digits. It blamed a weak consumer environment and the increased mix of returnable glass bottles, which boost Ebitda but reduce net revenue on a per hectoliter basis.
In China, while industry volumes remain under pressure, AB InBev said its own volumes continue to do better than average, which it sees continuing amid its focus on premium and super premium brands.
Among industry peers due to report results in coming weeks, Heineken (HEINY) of the Netherlands should see a strong performance in Mexico and western Europe partly offset by a softer Brazil, while Carlsberg (CABGY) of Denmark is expected to report Russia beer volumes down in the mid-single digits, according to analysts at Credit Suisse.
Heineken is due to report results on Aug. 1 and Carlsberg on Aug. 17.
AB InBev and SABMiller are the world's No. 1 and No. 2 brewers, respectively, followed by Heineken, Carlsberg and Snow. A combined ABInBev-SABMiller would sell one out of three beers on the planet and hold about half the global beer profit pool.