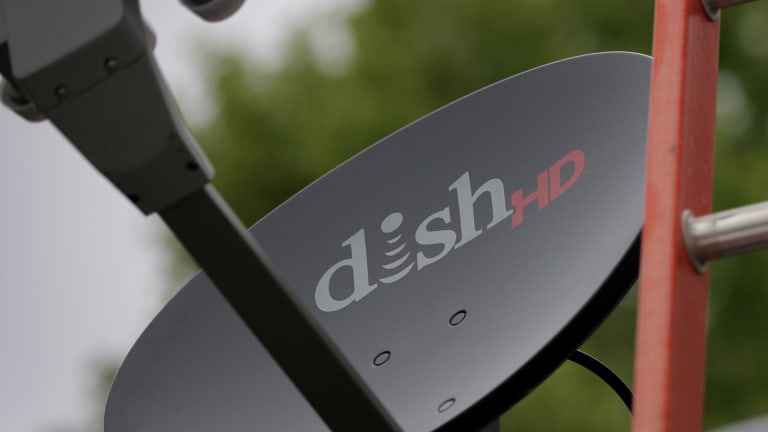 A Verizon-Charter Deal Would Have Serious Implications for Dish
If Verizon spent more than $160 billion on cable, a deal for Charlie Ergen's satellite TV company would be off the table.
Shares of Dish Network (DISH) - Get DISH Network Corporation Class A Report were set to recover some of their recent losses Friday, after reports of Verizon's (VZ) - Get Verizon Communications Inc. Report interest in Charter Communications (CHTR) - Get Charter Communications, Inc. Class A Report rattled investors.
Verizon is one of the potential suitors for the trove of wireless spectrum that Dish has acquired since 2008, which could be worth tens of billions of dollars. If Verizon bought Charter, which has a valuation of $160 billion including debt, then a deal with Dish would be off the table.
Dish has other options, though, from merging with T-Mobile US (TMUS) - Get T-Mobile US, Inc. Report to leasing its spectrum. Of Dish's potential deal partners, however, Verizon has the deepest pockets.
Dish stock on Friday afternoon had bounced back 1.8% to $59.06, after falling 6.8% on Thursday.
Wells Fargo Securities estimated that Dish's wireless licenses have a value of $32.3 billion to $37.8 billion, which exceeds the company's market cap of about $27 billion. Including its debt, Dish's enterprise value is $39 billion.
Still, even if Verizon passed on Charter, Craig Moffett of MoffettNathanson noted, a deal with Charter is no sure thing.
"For now, suffice to say that the probability that everything breaks right for Dish Network, at least with Verizon, is low." Moffett wrote after the news broke Thursday. "As we have so often observed, that is the case not because Dish's spectrum isn't valuable, but instead because of the bewildering number of alternative strategic paths being considered not just by Verizon, but by every company in the sector."
Verizon could buy spectrum from Dish or Ligado Networks, the former LightSquared; buy a cable operator; buy a content provider; or forgo major acquisitions, Moffett suggested.
Dish has options as well, however. T-Mobile, for instance, could be an interesting partner. The companies could merge, or Dish could package its licenses into a joint venture or lease its spectrum. Dish also offers a package of online, streaming cable channels, Sling TV, that could play into T-Mobile's video strategy.
"This combination could not only help Dish gain access to a network, it would allow [T-Mobile] to secure its spectrum position for years to come at an advantageous marginal cost and enhance its ability to offer bundled wireless video, just like [AT&T's (T) - Get AT&T Inc. Report DirecTV Now]," Barclays Capital analyst Kannan Venkateshwar wrote.
Nearly a decade ago, Dish Chairman Charlie Ergen foresaw the challenges that awaited satellite TV in a world dominated by video streaming and broadband. Even though Dish does not provide wireless services, he began to purchase spectrum licenses.
Dish paid $712 million for spectrum in a 2008 government auction. The company purchased more licenses in 2013 from bankrupt DBSD and TerreStar Networks for a combined $2.9 billion.
The satellite TV group then bid $1.56 billion for spectrum in a 2014 government auction and another $10 billion at an auction that concluded in early 2015.
Dish also is taking part in an ongoing FCC auction of broadcast TV licenses. T-Mobile and Verizon also are participating.
As a result, the companies cannot hold talks for the moment. Rules meant to prevent collusion between bidders in government spectrum auctions bar strategic discussions between participants.
The restrictions could lift as early as March if the auction ends soon, and talks could heat up in the spring.
Charter, Dish, T-Mobile and Verizon declined to comment.