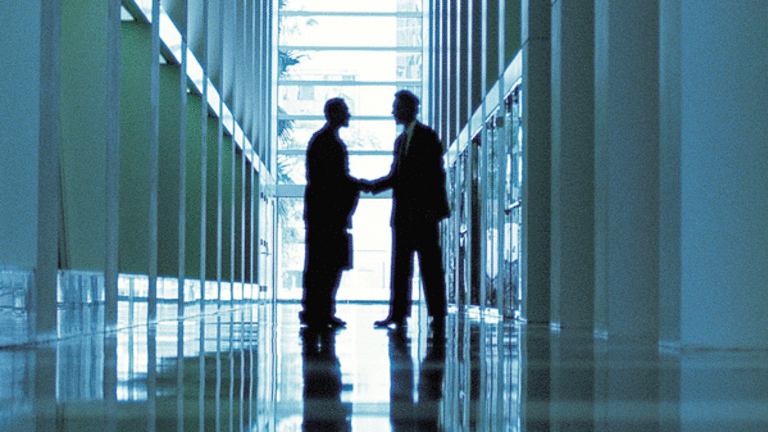 A Smart Move By Ackman: Valeant's Bid for Allergan
Within the context of Ackman's recent investing moves such as J.C. Penney and Herbalife, his decision on Friday to leave $600 million on the table for Allergan shareholders in his Valeant merger proposal and take all stock in the deal is a smart move.
Within the context of Ackman's recent investing moves such as J.C. Penney and Herbalife, his decision on Friday to leave $600 million on the table for Allergan shareholders in his Valeant merger proposal and take all stock in the deal is a smart move.
NEW YORK (TheStreet) - Bill Ackman's confidence doesn't appear shaken by a failed turnaround of retailer J.C. Penney (JCP) - Get Report and an extremely complex billion dollar bet against multi-level supplements seller Herbalife (HLF) - Get Report.
Ackman, head of Pershing Square Capital Management, is again making another unconventional roll of the dice in investing $4.6 billion in Allergan (AGN) - Get Report and pressing for a merger of the company with Valeant Pharmaceuticals (VRX) .
Read More: Pershing Square and Valeant's Allergan Deal a Watershed
Within the context of recent moves such as J.C. Penney, Ackman's decision on Friday to give $600 million to Allergan shareholders in a revised Valeant merger proposal and take only stock in the deal looks like a smart move. It has allowed Valeant to effectively improve upon its takeover offer and might be enough to bring all parties to the negotiating table. It also could add a new element of credibility to Ackman and Valeant's play for Allergan.
Whether Valeant succeeds in buying Allergan or not may ultimately rest on investors' confidence in the acquirer's business model and the financial benefits Ackman believes will result from the combination. Allergan, in resisting a takeover, has questioned the health of Valeant's business, arguing it lacks organic growth and has an unsustainable appetite for acquisitions.
Some investors and analysts think Allergan has a point. That's not to say Valeant doesn't have highly credible supporters to go with Ackman. ValueAct Capital Management, one of the savviest hedge fund investors, is one of the architects of Valeant in its current form. The fund has also been an active wallflower in the turnarounds of Adobe (ADBE) - Get Report and Microsoft (MSFT) - Get Report, among other companies.
It wouldn't be surprising if there are investors who are willing to back any deal with ValueAct's imprimatur, even if Ackman's involvement stirs up controversy, or mixed emotion.
Now, Ackman appears to be minimizing his prominence in the Allergan sweepstakes.
Taking only Valeant stock for Pershing's 9.7% holding of Allergan shares, in addition to a lower price in the cash and stock deal, means investors won't be puzzling over Ackman's motives any longer. Pershing Square won't receive a dime of cash for a significant time after the prospective deal closes, meanwhile, Allergan is the fund's largest ever stock investment. How's that for confidence?
Motives are an important distinction for investors to consider in Valeant's play for Allergan, which already stands as one of the most novel deals to ever hit Wall Street.
Ackman disclosed its Allergan stake in late-April, causing shares in the company to surge when investors had a moment to take in the financial substance of Valeant's merger proposal. As a result, Pershing is reportedly sitting on paper gains in excess of $1 billion. Now that Valeant is willing to increase its bidding for Allergan, an escalating price for the target could have created controversy for Ackman.
Was he simply acting as a profiteer? Many in the media also accused Ackman of insider trading in buying Allergan shares as he engaged with Valeant, a point Ackman has contested convincingly.
Now, given the new dynamics of Valeant's offer for Allergan, it becomes increasingly hard to accuse Ackman of anything but extreme confidence in the merits of a transaction.
Pershing isn't benefiting from Allergan's rising takeover price. Were a deal to close under their current terms, Allergan shareholders would receive $179.25 a share in cash and stock, with $72 a share of the consideration coming in cash, and the rest in Valeant stock. Ackman, by contrast, would only receive $158.50 for his Allergan shares and all in stock.
On Monday, Ackman and Valeant will host a call about their revised offer. "Early this morning, I called Mike and offered to give up $600 million of value to the other Allergan shareholders and exchange our shares for Valeant stock if Valeant were prepared to increase its offer to the other Allergan shareholders," Ackman said on Friday.
For now, the revised offer comes across as a smart move.
Not only will it be harder for Allergan to try and undermine confidence in Valeant's business model, it will also be harder to accuse Ackman of acting contrary to the interests of ordinary shareholders.
The question now is whether Allergan investors have enough confidence to deal with Valeant and Ackman? It seems increasingly clear Allergan's management isn't sold on the transaction, which remains a mostly stock-transaction. There is the prospect that Ackman and Valeant are suffering from delusions of grandeur.
Bottom Line: Depending on how shareholders react to Ackman's revised Allergan offer, it could signal a quick comeback for the activist investor or throw a wrench in his deal-making dreams.
Wachtell Sees Threat in Ackman's Activism
Chane Happened At Air Products Before Ackman Entered
Platform Specialty Products Emerges As a Dealmaker
-- Written by Antoine Gara in New York.