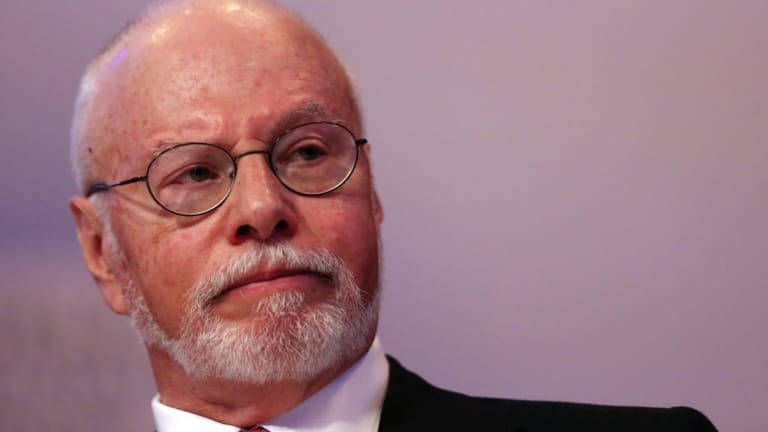 A Sale of Citrix Would Complete Multi-Year Effort for Activist Elliott Management
The software company is considering a sale to buyout shops in a move that comes after pressure from the insurgent fund.
The software company is considering a sale to buyout shops in a move that comes after pressure from the insurgent fund.
The sale of Citrix (CTXS) - Get Report to a private equity firm would bring to a conclusion an ongoing activist campaign by insurgent investor Elliott Management's Paul Singer.
Shares of the cloud services company were up more than 6% in afternoon trading Tuesday after Bloomberg reported that private equity firmsBain Capital, Carlyle Group and Thoma Bravo are among a group of bidders for the company.
The potential sale of the business comes after Elliott Management reached a settlement with the software developer in 2015 to add the activist fund's star technology partner, Jesse Cohn, to the company's board.  As part of the deal, Citrix's chief executive at the time, Mark Templeton, resigned and the company began exploring a sale or spin off of its GoTo line of products, which include video conferencing. Citrix soon afterwards spun off the unit, which subsequently merged for $1.8 billion with business conferencing and communications business LogMeln LOGM.
The activists said at the time that a spinoff of the unit would allow Citrix to focus on its "core" operations. The move also makes it easier for a private equity firm to digest a Citrix acquisition. After breaking off GoTo and other businesses, Citrix "presents a lot cleaner story" to buyers, wrote Mizuho's Abhey Lamba in a report in March. Lamba added that a private buyer could pay as much as $100 per share, up from its $87.04 a share current trading price. 
The investment is already in the win column for Elliott after Citrix's share price has risen significantly in recent months. The activist fund owns about 9% economic stake in Citrix, according to a person familiar with the situation, valued at about $1.2 billion.  
According to a securities filing in June 2015, Elliott acquired most of its original 7% stake at prices ranging from $62.73 a share to $66.04 a share, significantly less than Citrix's current $87.05 a share trading price.
It's not unusual for a company targeted by Elliott to sell itself to a strategic or private equity firm, particularly if the activist's Cohn gets a seat on its board. Cohn is still on the board and Elliott managers have strong relations with buyout shops and often will push for M&A as a core part of its strategy. In 2016, for example, Cabelas, American Capital (ACAS) , Qlik Technologies, Mentor Graphics (MENT) )and LifeLock (LOCK) all agreed to sell themselves after receiving Elliott pressure.
Qlik Technologies faced limited private equity interest but subsequently sold itself in a $3 billion cash deal to Thoma Bravo LLC, one of the buyout shops reportedly interested in Citrix.
Citrix's board set up a transactions committee in August 2015 as part of its settlement with Elliott to consider a spinoff of GoTo. However, the panel was disbanded in January 2017 following the GoTo spin off and LogMeln combination, according to securities filings.
It's unclear who is advising the various private equity shops considering bids for Citrix. However, Carlyle generally employs Latham & Watkins LLP as its adviser while Thomas Bravo usually works with Kirkland & Ellis. Bain often works with Ropes & Gray LLP as an adviser.
In addition, it's possible that Citrix has retained Skadden Arps Slate Meagher & Flom LLP as its legal adviser. The software technology company employed Skadden, with partner Margaret Brown as a lead M&A adviser on its recent GoTo-LogMeln combination. However, Brown has since retired. Qatalyst Partners and Goldman Sachs served as advisers to Citrix on that deal as well.
- David Marcus contributed to this report.