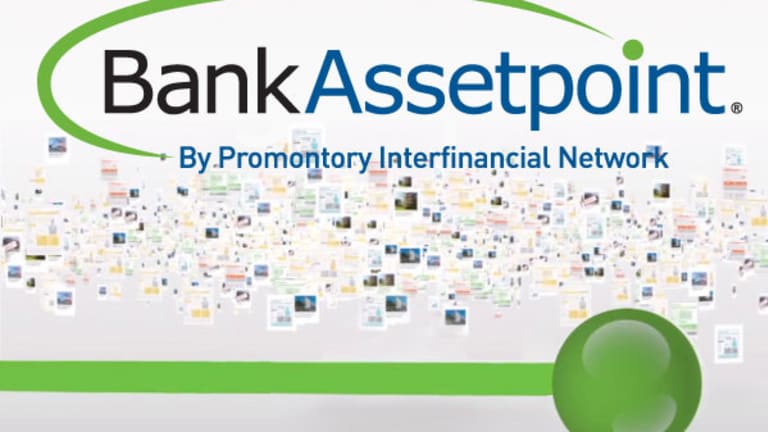 A Prominent Economist and Quiet Businessman, Alan Blinder Seeks Lending Revival
Bank Assetpoint, a new product from Promontory Interfinancial, may fulfill Alan Blinder's attempts to get banks to lend again.
NEW YORK (TheStreet) -- In the conflict-heavy world of bankers, academics and former regulators, Alan Blinder has managed to keep his image relatively clean.
That is not to say the former Federal Reserve vice chairman and Princeton academic hasn't had a few prominent critics take shots at him. But far more criticism has been aimed at his longtime business partner Gene Ludwig, head of Promontory Financial Group and contemporaries of his in the world of economics like Columbia's Glenn Hubbard and Fred Mishkin, both of whom were savaged in the movie Inside Job for insufficient disclosure of links between their business and academic pursuits.
Something important is getting lost in the finger pointing, however -- or maybe it's lost because Blinder has been relatively quiet about his business interests. The Clinton-era Washington heavyweight is turning around some critics with business ideas that, for good or ill, have a chance to bring about radical change in the banking industry.
WATCH: Alan Blinder Eyes Bank Lending Rebound with Bank Assetpoint Venture
A firm Blinder co-founded, Promontory Interfinancial Network, is working hard at getting banks to increase their lending through an eBay (EBAY) - Get eBay Inc. Report-like platform for financial institutions to buy and sell assets such as commercial real estate and consumer loans. The business, Bank Assetpoint, had been toyed around with by Blinder and Promontory for years; however, they began developing it in earnest two years ago, and launched a beta version last April.
Bank Assetpoint was initially conceived as a means to help banks, particularly small institutions, shed the distressed real estate weighing on their books, possibly freeing them eventually to make new loans. Both of those goals became critical in the wake of a steep downturn in the U.S. real estate market and a corresponding financial crisis.
After a few months in operation, Bank Assetpoint has shown early signs of promise.
The business now counts over 4,000 members, including 1,200 banks nationwide. Its customers have entered into over $500 million worth of new loan originations and commitments, with the majority of activity centered on bank-owned real assets. Blinder believes small banks are just beginning to shed distressed assets they have carried on their balance sheets since the downturn.
Bank Assetpoint also gives banks the ability to gain exposure far beyond their home market in either buying or selling their loans, pools of assets or direct real estate. The business could prosper in a nationwide banking recovery.
Read: Cullen/Frost Leads Banks Higher as GDP Growth Stays Solid
Small banks have traditionally focused on their backyards. In theory, this should have allowed them to be smarter about the risks they took on. It didn't work out that way during the real estate boom that ended in 2008. In the subsequent bust, community banks in states hit hard by the real estate downturn such as Georgia, Nevada, Arizona and Florida found themselves in trouble.
Now, a small lender in Georgia can buy or sell real estate or loan portfolios nationwide on Bank Assetpoint. A bank making construction loans could also sell assets it didn't want to own, while buying loans of a different type, for instance consumer loans. This type of diversification is more readily available to big Wall Street institutions via securitization markets. 
Another advantage to the fledgling business has been its ability to connect local or specialized lenders to national markets.
Keith Stayer, vice president at Triad Financial Services, said Bank Assetpoint has helped his company build new banking relationships and it may allow the manufactured home lender to diversify its product offering.
Lending Club chief operating officer Scott Sanborn said Bank Assetpoint has introduced the peer-to-peer lender to a handful banks, helping the fast-growing startup find new markets for its consumer loans. Lending Club's peer-to-peer offering may be extended to a small business product in the first quarter of 2014. 
"Assetpoint has really been a significant driver at making introductions for us in the banking space," Sanborn said.
Bank Assetpoint doesn't charge a fee on the sale of distressed assets such as bank-owned real estate; however, it does charge fees for new loan originations on its network.
Richard Walter, head of Bank Assetpoint, joined the company two years ago after a career in mortgage banking and commercial real estate.
He argues Bank Assetpoint has a competitive advantage since its parent, Promontory Interfinancial Network already has relationships with over 3,000 lenders. The firm's growing network of participants will create increased efficiency for buyers and sellers.
There is risk involved.
Banks have never really fared that well when trying to push outside of their expertise or home market. Meanwhile, diversification may have its downside. Sherrill Shaffer, a former economist at the Federal Reserve Bank of New York, notes that while diversification of assets can decrease an individual bank's risk of failure, it can increase the correlation among lenders and thus system-wide risks.
Blinder has already had the experience of seeing an innovative idea meet resistance. Indeed, Promontory Interfinancial Network and its products have been dogged by controversy for much of their decade-long run in the banking industry. Especially so given the firm's well-connected founders, which also include Ludwig, former head of the Office of the Comptroller of the Currency, Mark Jacobsen, a former chief of staff of the Federal Deposit Insurance Corp., and Alfred H. Moses, U.S. ambassador to Romania in the Clinton administration.
Shaffer, currently a University of Wyoming professor, has been among the firm's critics.
"When I first saw Promontory, I was amazed that the regulators would let it fly," Shaffer said of Promontory' initial product in a Sept. 2008 Bloomberg News interview. "These guys know how to work the system... They saw a good buck in it for themselves."

Blinder and Ludwig's Washington Ties
Promontory Interfinancial traces its roots to Blinder's days at the Federal Reserve and a relationship he had with Ludwig, another Clinton appointee who headed the OCC between 1993 and 1998. After leaving the Fed in 1996, Blinder joined the economics department at Princeton University. Ludwig left the OCC and was appointed as vice chairman of Bankers Trust/Deutsche Bank and overseer of the firm's risk management and regulatory affairs.
The ex-regulators stayed in touch and began to discuss business ideas that eventually led them to create Promontory.
Initially, Blinder worked out an arrangement with Princeton to moonlight as a consultant to Ludwig on the creation of what would become Promontory Financial Group (PFG), the oft-criticized financial industry consultant. PFG launched in 2001 and went on to earn the name "Banking's Shadow Regulator" in an American Bankerarticle that described the firm's close ties to Washington and its controversial work in dealing with the aftermath of the financial crisis.

The consultancy continues to be run by Ludwig, while Blinder and a handful of well-recognized Wall Street names sit on PFG's advisory board.
As Ludwig laid the groundwork for PFG in 2001, he arranged for Blinder and Jacobsen, the former FDIC chief of staff, to meet with Bank of New York Mellon (BK) - Get Bank of New York Mellon Corporation Report about a spinoff venture Promontory Interfinancial Network (PIN).
PIN's first product offered a way for depositors to supplement the FDIC insurance of their CD investments using something called a CDARS, or Certificate of Deposit Account Registry Service. CDARS enabled a network of banks to split deposits that exceeded the FDIC's insurance coverage limits into smaller CDs. 
For example, a depositor could place $5 million with a bank's CDARS offering and expect that the firm would then issue about 20 CDs -- each under $250,000 -- to other member banks within PIN's network. The entire initial deposit would remain under the FDIC's insurance coverage, while allowing customers the ability to deal with just one bank.
Art Certosimo, a current BNY Mellon executive, was at Blinder and Jacobsen's pitch and said in an interview it stood out as a worthy investment, particularly because BNY Mellon could act as a clearing agent for CDARS.
PIN launched in 2002 with BNY Mellon contributing most of the original capital to help the company build out its CDARS business. In 2003, an advisory opinion by FDIC confirmed that CDARS deposits would be insured under the FDIC's coverage. CDARS offers depositors access to up to $50 million of coverage, or 200 times the FDIC's current insurance limit.
The product caught on quickly, albeit with little fanfare. Within a few years of the launch, thousands of banks across the country had joined PIN's CDARS network.
PIN's visibility increased during the financial crisis of 2008, particularly after the failure of lenders like IndyMac Bancorp. At the height of the panic, CDARS became one of the de-facto places where high net worth individuals, businesses and municipalities could place large amounts money without risking losses.
PIN stuck with CDARS during the crisis even as products such as deposit guarantee bonds offered by Kansas Bankers Surety, a unit of Berkshire Hathaway (BRK.A) - Get Berkshire Hathaway Inc. Class A Report, exited the market. After taking losses in the first half of 2008, "Kansas Bankers discontinued writing deposit guarantee bonds, and in September 2008 it began to exit this line of insurance as rapidly as feasible," Charlie Munger, a top lieutenant at Berkshire Hathaway said in a 2009 letter. When the financial crisis struck in September 2008, the firm had provided deposit guarantee bonds worth $9.7 billion, insuring 1,671 institutions
Mark Jacobsen, PIN's CEO, said CDARS volumes spiked during the worst of the crisis. CDARS placements more than doubled their daily average in the fall of 2008. The growth of CDARS, however, slowed in the wake of the financial crisis, particularly as low-yields constrained the allure of deposits and the FDIC permanently increased its insurance guarantee from $100,000.00 to $250,000.00.
What's more, PIN started to attract suspicion after the worst of the crisis passed.
The U.S. Treasury's $700 billion bailout of banks across the country, the Federal Reserve's unprecedented flood of cash onto Wall Street, and the FDIC's guarantee of money market funds made many wonder whether a precedent of "moral hazard" had been set in the rescue of the U.S. banking system. PIN and and its well-connected founders weren't insulated from controversy.
Read:  Handling a Whipsaw Stock Market
Moral Hazard
Some have expressed concern that PIN has created a loophole by which banks could bypass the FDIC's insurance limits. Those qualms were magnified by Blinder, Ludwig and Jacobsen's regulatory ties.
In his book Antifragile, Nassim Taleb accused Mr. Blinder and PIN of scamming taxpayers using their "insider edge." Taleb asserted that PIN had created a product in CDARS that would generate profits for the company, but expose taxpayers to risks beyond the FDIC's traditional guarantees. [While the FDIC is funded by premiums banks pay, taxpayers have historically had to cover a depletion of its deposit guarantee fund]
Sherrill Shaffer, the former Federal Reserve Bank economist, expressed similar misgivings. "It undermines a lot of the safeguards around the FDIC deposit fund,'' he said to Bloomberg in 2008. 
Over five years later, however, Shaffer's mind has changed. 
"My perspective has grown or broadened in a variety of dimensions," he told TheStreet in a recent interview.
Shaffer now believes the FDIC did a good job overseeing CDARS through the turmoil of the crisis. 
The CDARS controversy closely resembles an issue that arose during the savings and loan crisis of the 1980s.
In the waning days of the S&L industry, under-capitalized firms sought what are called brokered deposits to shore up their finances. Offer high enough yields through a deposit broker and the money would come rushing in. Unfortunately, the S&L crisis showed money could rush out just as fast, exposing the FDIC to steep losses that were covered by taxpayers.
After the experience of the S&L crisis, banks deemed weak by the FDIC weren't allowed to take in what it defined as brokered deposits, or inflows of money from third parties with no direct relationship to the bank. Brokered deposits are considered riskier than core deposits in regulatory exams because of their flighty nature and weak ties between a depositor and the institution housing their money.
While PIN won a major victory in gaining the FDIC's blessing to pass-through deposit insurance using CDARS, the firm didn't get everything it wanted. The FDIC characterized CDARS as a "brokered deposit" and not a "core deposit." That characterization, while it didn't penalize healthy firms, subjected less that well capitalized lenders to increased scrutiny that could either limit or restrict the amount of CDARS they could place. Fears about CDARS and taxpayer losses were never realized during the crisis.
The FDIC "found no identifiable losses with CDARS with respect to failed institutions during the financial crisis," Andrew Gray, a spokesperson for the regulator said in an e-mail. Insurance transactions came into play in only a small percentage of bank failures in this crisis because most firms eventually found a buyer. The U.S. government also made direct capital investments into thousands of banks during the crisis.
"Basically the FDIC began pricing any extra risk that the Promontory CDARS product imposed. That should, if done properly, solve any moral hazard or gaming of the system," Shaffer said. 
CDARS fees paid to PIN range from 12.5-to-15 basis points on an annualized basis. FDIC charges a slightly lower premium for its insurance.
Leveling the Playing Field

Like Certosimo, Blinder, Ludwig and Jacobson are enthusiastic about the impact of CDARS and PIN's other products. 
They believe PIN helped small banks compete in what was a challenging time for community and regional lenders across the country. With CDARS, deposits stayed at smaller banks, instead of flooding larger institutions like JPMorgan and Wells Fargo. There were few Great Depression-style bank runs on small banks during the latest crisis.

"PIN helped stabilize the banking system and the country in a time of crisis," Ludwig said in an interview. "When we created PIN, we consciously developed this as a tool that could help level the playing field." About 92% of PIN's members are community banks.
Dan Clancy, executive vice president at the Independent Community Bankers of America, said in an interview CDARS "really helped community banks who wanted to compete with big banks that were in their footprint." That was especially the case before the FDIC more than doubled its statutory insurance coverage.
ICBA and small banks across the country have asked that the FDIC re-consider its treatment of CDARS as a brokered deposit.
"Nationally, it seems that people want us to lend, lend, lend. However, local authorities seem to want to see more liquidity, thus less lending. The brokered deposit status of CDARS further hinders our funding and thus our ability to lend," Joseph McLane, president of First Midwest Bank of Popular Bluffs, wrote in a Nov. 7, 2008 letter to the FDIC.
Some studies, particularly one conducted by Shaffer of the University of Wyoming, suggested banks using reciprocal deposits were generally in a weaker financial situation than those relying upon core deposits. In 2010, PIN itself had Blinder study the riskiness of CDARS relative to core deposits and presented the data to the FDIC.
While, Blinder found that CDARS deposits were less prone to FDIC insurance claims than core deposits, the FDIC wasn't convinced. Phil Battey, a PIN spokesperson who joined Promontory from the FDIC, said in an interview that the company would continue to press its case.
"In the FDIC's view, the brokered deposit statute has served a useful purpose during the most recent crisis. In large measure, it has prevented failing banks from increasing their brokered deposits, thus preventing them from trying to grow out of trouble by taking on greater risk and limiting FDIC losses at failure," the regulator said in recommending that Congress maintain statutes that lump CDARS within the realm of brokered deposits.
Read: What You Need From Your Next Bank

Big Profits
Because PIN is a private company, its finances aren't publicly disclosed. Ludwig, Blinder, Jacobson and handful of other members of PIN declined to give any guidance on the company's revenue or earnings, other than to say that the company is profitable, while its fledgling lending platform, Bank Assetpoint, operates at a small loss.
Certosimo, the BNY Mellon executive who is also vice chairman of PIN, was the most forthcoming about the company's finances. He said a loss of BNY Mellon's clearing relationship for CDARS would move the bank's annual earnings by "more than a couple of cents." BNY Mellon remains about a 40% equity backer of PIN, however, the company doesn't disclose any earnings PIN in its public financial statements. 
If Bank Assetpoint can revive lending among small banks across America, there may be big profits in store for PIN and its founders.
Blinder believes small banks have only just begun to shed their unwanted assets. He also thinks main street lenders will be closely linked to the improving economic conditions of their home markets.
In his time at the Federal Reserve during the 1990s -- a time of unprecedented consolidation in the financial services sector -- Blinder recalled colleagues rhapsodizing over theories of economies of scale in banking and predicting there would eventually be just a dozen banks in America.
"I never believed that and I don't believe it now," Blinder says.