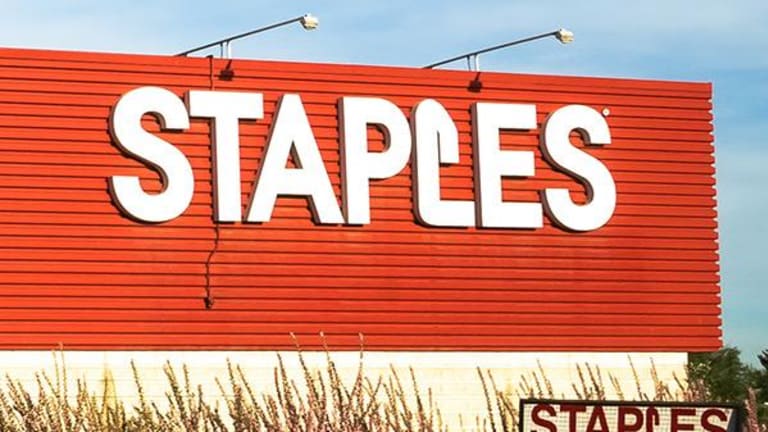 A Private Equity Firm Just Spent $6.9 Billion to Buy Struggling Staples
The deal comes a year after Staples' planned acquisition of Office Depot was blocked on antitrust grounds.
The deal comes a year after Staples' planned acquisition of Office Depot was blocked on antitrust grounds.
Office supply company Staples Inc. (SPLS) announced Wednesday, June 28, that it will be acquired by private equity firm Sycamore Partners for $10.25 per share, or a deal valued at $6.9 billion.
The sale comes a year after a federal judge, citing antitrust concerns, blocked Staples' proposed $6.3 billion merger with rival Office Depot Inc.  (ODP) - Get Report .
Staples, like many retailers, has grappled with a wave of store closures: the company plans to close 70 stores in 2017, up from 48 in 2016. Amid a general retail slowdown, the Framingham, Mass.-based company has tried to reposition itself as a services provider rather than a retailer.
"We have retail stores on the side, but we really are a B2B solutions provider with 1,500 retail stores," CEO Shira Goodman said at a conference last week.
At another June conference, Staples chief administrative officer Jeffrey Hall also downplayed Staples' retail operations, calling the company "the fifth largest e-commerce company in the world" which has closed 20% of its store base since 2011. Both executives also said that Staples' specialized in-house customer service allowed it to compete with Amazon.com Inc. (AMZN) - Get Report .
Since the Office Depot merger failed, Staples has shed some of its international operations, most recently selling its Australia and New Zealand business to private equity firm Platinum Equity LLC in March. Cerberus Capital Management LP paid €50 million ($56.2 million) for a majority stake in Staples' European business in December and reportedly bid for the company as a whole, losing to Sycamore, while Hilco Capital Ltd. bought Staples' U.K. business for undisclosed terms. Taylor Communications Inc. bought Staples Print Solutions on July 5, 2016, also for undisclosed terms. 
For the first quarter, ending April 29, of its 2017 fiscal year, Staples reported sales of $4.1 billion, a 5% decrease year-over-year, while earnings of 17 cents per share were down 11% year-over-year. 
A retail specialist, Sycamore recently paid $26.75 million for bankrupt clothing retailer The Limited and was a backup bidder for bankrupt teen retailer Aeropostale Inc. While the bulk of its investments are in clothing retailers, the firm recently threw in the towel on a discount chain investment of two years.
In 2015 Sycamore paid an estimated $500 million for a passel of Family Dollar Stores Inc. locations as part of the retailer's acquisition by Dollar Tree Inc. (DLTR) - Get Report . Sycamore planned to rebrand the locations under the Dollar Express LLC banner, but ultimately sold the stores to Dollar General Corp. (DG) - Get Report in April, saying it "can no longer operate as a viable standalone business."
"With an iconic brand, a winning strategy, and dedicated and passionate associates who are deeply focused on the customer, Staples is truly an outstanding enterprise," Sycamore managing director Stefan Kaluzny said in a statement. 
The deal is expected to close in December.