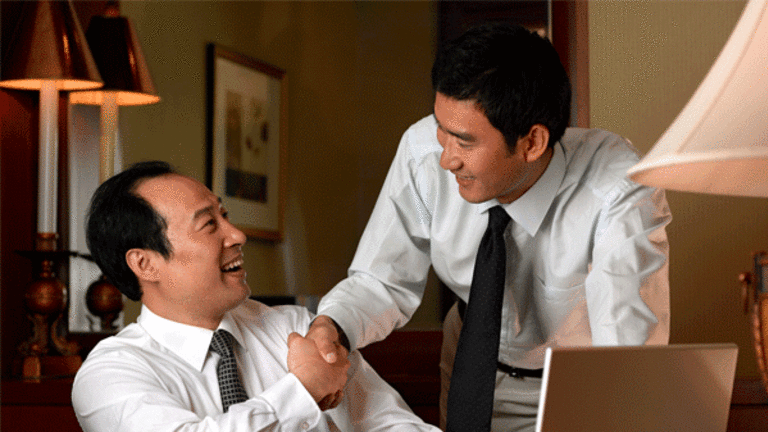 A Pepsi Split-Up Will Come After Turnaround (Update 1)
Investors may be wise to temper expectations of a PepsiCo split even after the company opens a dialogue with an activist.
Investors may be wise to temper expectations of a PepsiCo split even after the company opens a dialogue with an activist.
Updated to reflect CLSA analyst comment and updated share prices
.
NEW YORK (
) -- Although activist shareholder Ralph Whitworth of
Relational Investors
has built up a stake in
PepsiCo
(PEP) - Get Report
now worth $610 million and opened dialogue with management, investors may be wise to temper expectations of a split between the company's foods and beverages businesses.
In opening conversation with the activist, PepsiCo acknowledges that Relational is a credible shareholder. More importantly, Relational has helped push spinoffs at
ITT Corp
(ITT) - Get Report
,
L-3 Communications
(LLL) - Get Report
and Whitworth even recently gained a board seat on
Hewlett Packard
(HPQ) - Get Report
. Still, the much ballyhooed breakup of the company is years away and would likely only come amid continued underperformance relative to Warren Buffett's biggest holding
Coca-Cola
(KO) - Get Report
, Wall Street analysts say.
"While the equity stake is relatively small, Relational and founder
Ralph Whitworth's track record
involvement includes Occidental Petroleum, Genzyme, Sprint Nextel, Home Depot, Sovereign Bancorp, Waste Management, Hewlett-Packard is expected to reignite markets questions about the merits of a split," writes Bank of America Merrill Lynch analyst Bryan Spillane in a note to clients reacting to Relational's disclosure that it holds roughly 9 million PepsiCo shares after nearly doubling its stake in the most recent quarter.
"We have had constructive meetings with Relational," said PepsiCo spokesperson Jeff Dahncke in a statement. "Our senior management meets regularly with investors, and Relational is a respected institution."
Relational first bought into PepsiCo shares in the second half of 2011 with a purchase of 3.25 million shares during the third quarter. The current $610 million value of Relational's stake is calculated using PepsiCo's closing price of $67.85 on March 31.
PepsiCo's structural change, continued soda market share losses in the U.S. and its share underperformance relative to Coca-Cola have prompted calls for the company to consider a split of its snacks and beverages unit. In recent years, food and beverage giants like
Kraft
(KFT)
,
Sara Lee
(SLE)
, and
Ralcorp
(RAH)
have all announced spinoffs, to the delight of large activist shareholders. Still, PepsiCo has been reluctant to follow suit,
PepsiCo shares have lagged Coca-Cola in 2012 and are off nearly 4% in the last 12 months, while Coca-Cola has gained over 12% in that period, outperforming the
S&P 500 Index
. Over a five year period, Coca-Cola has gained over 45%, while PepsiCo's shares are basically unchanged from a current price of $68.68, signaling the reasoning behind activist calls.
A split up of the company's foods business containing its
Frito Lay
and
Quaker Oats
brands, and its drinks business that sells
Gatorade
and its namesake cola brand would be complicated, notes Spillane. The analyst thinks a split is precluded by three main hurdles: the potential for lost economies of scale between both units in Europe and the Middle East, lingering concerns about how to improve profits at its Pepsi Americas Beverages unit, and up to $1 billion in lost corporate and procurement expense synergies.
"PEP is our favorite turnaround story in our food & beverage universe...
it is making strides internationally driven by structural changes in China and Mexico, integration in Russia, and improving consumer trends in Eastern Europe," adds Spillane, who rates PepsiCo shares a buy with a $72 price target. "
A more rational competitive environment in the US coupled with increased marketing should support its North America turnaround efforts."
Even analysts that are more sanguine about the merits of a PepsiCo split up concede that such a move would only come if the company failed on recent strategic efforts and continued to underperform. The Purchase, NY-based company's turnaround strategy could work, especially after PepsiCo recently reaffirmed its 2012 and 2013 guidance, notes Morgan Stanley analyst Dara Morsenian. More drastic action would only come if results fell short of expectations.
PepsiCo is in the middle of extensive restructuring efforts after its chief executive Indra Nooyi said in February that the company would cut 8,700 jobs to save up to $1.5 billion in salary expense and fund a boost in marketing spending by as much as $600 million. In April, PepsiCo reshuffled its top management, nominating John Compton as the company's president after he previously headed its foods businesses in the Americas.
"We continue to view PepsiCo as a win-win situation. Either higher marketing pays off (vs. skeptical Morgan Stanley and market expectations) and the stock outperforms, or continued fundamental struggles may lead to more drastic action, including management and/or strategic changes, which could unlock shareholder value," writes Morsenian. Nevertheless, the analyst's valuation of PepsiCo shows that the stock may be worth $74 in a split even with lost expense synergies because the current market valuation of the company's assets gives room for upside if some were sold to strategic acquirers.
"Ralph's style is to do deep due diligence on a company's operations andfinancials and then meet regularly with management to drive operational andsometimes structural improvement," notes CLSA analyst Caroline Levy, who boosted PepsiCo's price target to $75 from $66 and upgraded it to outperform in a Wednesday note, citing a possible near-term spinoff of its Americas Beverages unit or snacks business.
"Even if a spin-off or split-up is announced, we are mindful of the time it takes to execute a meaningful operational turnaround," adds Levy who cites three years of share underperformance during Coca-Cola's turnaround launched by former CEO Neville Isdell in 2004.
Overall, analysts polled by
Bloomberg
give PepsiCo shares a $71.36 a share price target on 14 buy recommendations and seven holds.
Many of the concerns about lost synergies in a split of PepsiCo, which Relational hasn't yet advocated for, mirror some of the pitfalls Relational portfolio holding HP faced when it backtracked from a spinoff of its PCs business announced under former CEO Leo Apotheker in 2011.
Whitworth and David Batchelder founded Relational in 1996 with a $200 million investment from the
California Public Employees' Retirement System
after both fund managers cut their activist teeth working under T. Boone Pickens. Recent activist pushes at ITT, L-3 Communications and Hewlett-Packard signal that Relational and Whitworth are powerful advocates for strategic moves and board realignments.
In the first quarter, Relational bought about 11.4 million shares of
Western Union
(WU) - Get Report
, upping its stake to 16.9 million shares. The firm also bought 2.1 million shares of retailer
Abercrombie & Fitch
(ANF) - Get Report
, while liquidating a 4.8 million share position in
Freeport-McMoRan
(FCX) - Get Report
.
For more on PepsiCo, see
background on its Gatorade purchase
. See why
investors are betting on earnings as hostile takeover bids recede
for more on activist M&A. For more on recent activist plays, see
who's targeting Ingersoll Rand
.
-- Written by Antoine Gara in New York