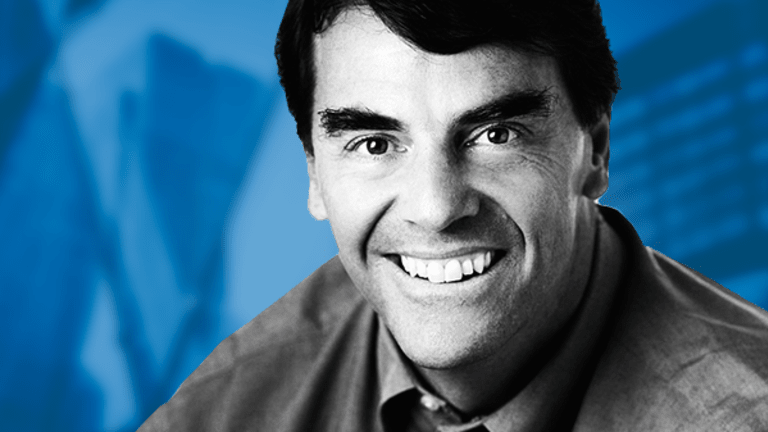 A Pair of Silicon Valley Venture Veterans Eye SPACs as a Way to Sidestep IPOs
Special purpose acquisition companies have become the sweetheart vehicles for private equity firms of late, but now a pair of venture players think SPACs may help tech companies avoid the "dreaded" IPO.
A pair of alternative investment vehicles is leading the way for high tech companies to sidestep the traditional IPO process, which is viewed in Silicon Valley with an affection generally reserved for root canal operations.
Earlier this month, venture capital billionaire Tim Draper brought Draper Oakwood Technology Acquisition (DOTAU) public in a modest $50 million IPO. And Social Capital and Hedosophia Ltd. have joined forces to bring Social Capital Hedosophia Holdings (IPOA.U) public in a $690 million IPO.
Both Draper Oakwood and Social Capital Hedosophia are special purpose acquisition companies, vehicles designed to bring private companies public and capitalize them through an IPO.
SPACs typically have 18-24 months to close on a merger or return the proceeds to investors. Unlike a traditional IPO, there are no road shows.
Second tier investment banks are sometimes the underwriters, and investors are asked to bet on the judgment of the SPAC's management -- and not the quality of the company that will eventually go public through a merger.
Draper and Social Capital are hunting tech companies in the same jungle, but their strategies for landing a trophy and targets are quite different. Draper is located at the northern end of Silicon Valley in San Mateo and is after smaller companies overlooked by Wall Street, while Social Capital calls Palo Alto home and is after Unicorns, private companies with valuations north of $1 billion.
In the past, SPACs have been viewed with some degree of skepticism by Wall Street as a series of scandals took place in the 1980's when the vehicles were first introduced. The New York Stock Exchange and Nasdaq refused to list the newly public SPACs and the top investment banks refused to underwrite them, despite the fees that came with the offerings. The quality of the sponsors as well as the companies targeted for mergers were disparaged. Moreover, merged companies have not always fared well after going public and their stocks have disappointed investors.
Endeavor Acquisition, another SPAC, purchased American Apparel for $385 million, three days before the SPAC was scheduled to liquidate. And of course, the clothing retailer later imploded under a sexual harassment scandal and a steaming pile of debt.
Of late, however, SPACs have become downright respectable. Before he became U.S. Secretary of Commerce, billionaire investor Wilbur Ross brought WL Ross Holding Corp. public and merged it with Nexeo Solutions Holdings LLC for $1.6 billion.
SPACs have become the sweet spot for other private equity players as well. Since 2015, TPG Capital registered a trio of SPACs. Hennessy Capital, bullish on the industrial sector, also sponsored three SPACs. Other PE players crowding the SPAC market include Riverstone Holding LLC, Centerview Capital Holdings LLC, NGP Energy Capital, Sabin Capital, MatlinPatterson, CSL Capital Management, the Gores Group, Agland Partners LP and Thomas H. Lee Partners.
While private equity has always been thought of as patient money by investors, perhaps Social Capital will be thought of as loud cash. The SPAC's CEO and Chairman, Chamath Palihapitiya, is a former VP of User Growth at Facebook Inc.  (FB) - Get Free Report. He is also a managing partner at venture firm Social Capital, with a mission to "advance humanity by solving the world's hardest problems."
Palihapitiya has touted his SPAC as the answer to the tortured relationship between Wall Street led IPOs and Silicon Valley and its creative culture that dislikes long waits, share lock-up periods that hand cuff profiting employees and investor or bank evaluations they feel are short sided.
As Palihapitiya and others were ringing the bell at the New York Stock Exchange recently, a banner proclaimed that the firm's SPAC model was IPO 2.0. He wants to target unicorns with valuations of $3 billion to $20 billion, and Palihapitiya has said in published interviews that a tidal wave of companies have reached out, wanting more details on how a deal might work.
The registration statement for the SPAC said, "An acquisition by a blank check company with a management team that is well-known to, and respected by, technology company founders, their current third-party investors and their management teams, we believe can provide a more transparent and efficient mechanism to bring private technology companies to the public markets."
The SPAC is a partnership between Social Capital and London-based venture firm Hedosophia and its CEO, Ian Osborne, is the SPAC's president as well as a director. The company's board is stacked with Silicon Valley movers. Anthony Bates, the former president of GoPro (GPRO) - Get Free Report, CEO of Skype Inc., and an exec at Cisco Systems Inc. (CSCO) - Get Free Reportis vice chairman of the board. And Adam Bain, the former COO at Twitter (TWTR) - Get Free Report is a director.
Early investors in the SPAC include hedge funds Darsna Capital Partners LP and Och-Ziff Capital Management Group LLC, with 5% and 5.8% respectively according to securities filings.
If the SPAC succeeds, Social Capital and Hedosophia plan to sponsor more SPACs. The Deal contacted Social Capital to talk more about its plans, but the company did not respond.
SPACs may take more time from Palihapitiya as Social Capital seems to be shrinking in size. Co-founder Mamoon Hamid decamped for Kleiner Perkins Caufield & Byers in August, and another co-founder, Ted Maidenberg is reportedly making plans to go elsewhere as well, a move that would leave Palihapitiya as the lone remaining founder of the venture firm.
A favorite pastime in Silicon Valley is grabbing a table at Buck's in Woodside and Monday Morning quarterback a tech IPO after it prices based on the performance of the shares. If the shares are way up over the offering price, then the company and bankers left money on the table. If the shares fall, the IPO was brutal and a bad idea from the start. While a SPAC successfully short circuits the IPO process, it won't do much to shut down the second guessing.
The IPO market has been slow in part because venture capital and private equity investors have made it easier for private companies to stay private longer, and SPACs may be slow to change that reality. But the vehicle may demonstrate whether a SPAC workaround will spell value for investors post-merger and give tech companies a faster path to public markets.
Aamer Sarfraz, the CEO, CFO and a director with Draper, said he and Tim Draper came to the idea of doing a SPAC while looking for new models to fuel growth in high tech companies. "Tim believes that venture capital has been too slow and he wanted us to think of new ways of doing things," Sarfraz said.
Speed is a component of the new SPAC, which has just 12 months to get a merger closed. "If it were up to Tim, it would have been three months," Sarfraz said by phone from London. "If you are a VC you do three or four deals in a year. If we can't get a deal done in a year, we have been pretty lazy."
Thinking in new and surprising ways is Draper's specialty. In recent months Draper has made headlines outside the venture investment community as he has thrown his support behind bitcoin and the underlying blockchain technology and invested in the "initial coin offering" of Dynamic Ledger Solutions Inc., creator of Tezos.
But Draper's taste for the non-traditional goes beyond his investment portfolio. He has created Draper University of Heroes in San Mateo, Calif., a school designed to hone entrepreneurs for the journey from idea to elevator pitch. He also owns a safari resort in Tanzania.
Though there is certainly no shortage of rich eccentrics taking meetings on Sand Hill Road in Menlo Park, Draper has a reputation for not just thinking outside the box, but blowing the box up. For instance Draper was the intellectual muscle and the cold hard cash behind the movement known as Six Californias, a failed 2016 state ballot measure that proposed carving the Golden State into half a dozen states known as Jefferson, North California, Silicon Valley, Central California, West California and South California.
Draper spent $5 million pushing the idea of a fractured California but the idea failed to gather enough signatures to qualify for the ballot. Undaunted, Draper filed a proposal for the 2018 ballot calling for California to be sliced and diced into just three states, with northern California, southern California and a coastal state.
Starting at Draper Fisher Jurvetson, Draper made a fortune in the VC game. He is also the founder of Draper Associates, a family of early-stage funds which have invested in Skype, Hotmail, Tesla Inc. (TSLA) - Get Free Report, Box Inc. (BOX) - Get Free Report and Baidu Inc. (BIDU) - Get Free Report.
Draper Oakwood Companies, based in the United Kingdom is the SPAC's sponsor and Sarfraz heads that operation up as well. And though London is a long way from Silicon Valley, Sarfraz has a clear strategy on how the SPAC will make a deal. The targets are non-unicorns, established companies with predictable or repeat revenues, but too small to gain the attention of investment banks looking for likely IPO candidates. The candidate companies will be VC backed, and Sarfraz sees a transaction value range of $200 million to $600 million.
The raise of just $50 million was strategic as well. "We want the companies we target to know this is about growth, not an exit event," he said. "IPOs have become dumping grounds for big ticket exits; we want to grow these companies. At $50 million, the investment is too large for most VCs and too small for private equity deals. It hits a gap that we think is a sweet spot for growth."
Hedge fund Davidson Kempner Capital Management LLC, a veteran SPAC investor, holds 1.5% of the new SPAC according to securities filings.
Draper Oakwood is also playing the long game. "This is the first SPAC of many we want to do," Sarfraz said. "We could do 10 of these, but this could be the way for 30 or 40 or 50 companies to access the public markets."
He says the reception has been welcoming. "In the last week we have talked with 18 to 20 companies." While the SPAC has reached out to number of companies, companies are also coming to them. "We are also hearing from investors in companies, saying they will follow the company if it goes public."
Safraz is realistic about the limitations of SPAC transactions. "This isn't a silver bullet for all companies," he said. "But larger and larger rounds of VC and staying private aren't the answer either. I guess our message to companies is go public and leave earlier than you might; larger evaluations are harder to defend. We are saying to the VC community, 'show us what you got.'"
More of What's Trending on TheStreet:
Editors' pick: Originally published Sept. 27.