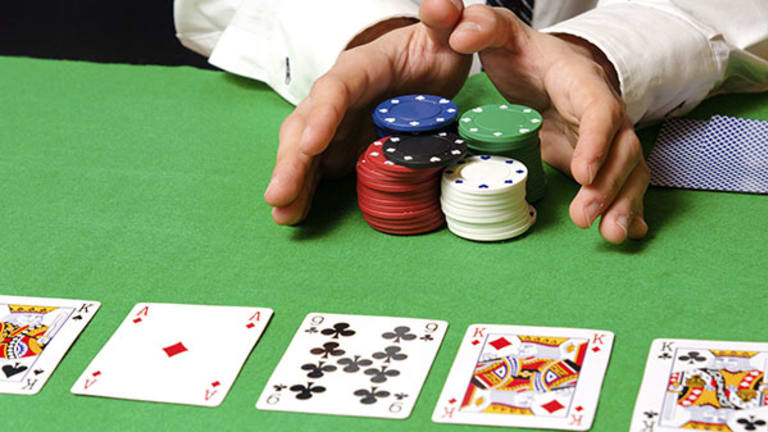 Publish date:
A High-Stakes Bankruptcy Game Plays Out on Atlantic City's Boardwalk
Fear of a bankruptcy filing has swept through Atlantic City since January, when New Jersey Gov. Chris Christie appointed two men to steer the city out of its financial crisis.
Fear of a bankruptcy filing has swept through Atlantic City since January, when New Jersey Gov. Chris Christie appointed two men to steer the city out of its financial crisis.
NEW YORK (The Deal) -- Fear of a bankruptcy filing has swept through Atlantic City ever since New Jersey Gov. Chris Christie in January appointed two men to steer the gaming city out of its financial crisis.
Whether Kevin Lavin, A.C.'s emergency manager, and his special consultant, Kevyn Orr, can keep the troubled city from entering Chapter 9 bankruptcy protection is still very much in doubt. Lavin is due to submit a concrete turnaround plan on June 30, which doesn't provide a lot of time to reach agreements with key stakeholders, especially since the preliminary report Lavin submitted on March 23 revealed that the city could face a liquidity crisis as soon as the third quarter of this year.
"Out-of-court is the best way to go, but it requires people to agree-which they don't have to [do] because there's no judge-and it requires them to agree within a certain timeframe," said Van Conway, CEO and president of Detroit-based turnaround firm Conway Mackenzie, which served as Detroit's operational restructuring adviser during its Chapter 9 stay. "The plan would be always to avoid a Chapter 9 because it's very expensive, and it'll be longer."
While on the Detroit assignment, Conway worked with Orr, who navigated the Motor City through bankruptcy as its emergency manager. His mere presence in Atlantic City, of course, is both comforting and threatening. He has the experience of what a municipal bankruptcy would be like, and he is credited with doing a good job during Detroit's 17-month stay.
But will his familiarity with Chapter 9 make him favor it?
Neither Orr or Lavin, who formerly worked at turnaround advisory firm FTI Consulting, or their representatives returned calls or e-mails, but people familiar with the situation said they believe both men will be hard-pressed to keep Atlantic City out of bankruptcy.
"I'm not suggesting that we're there yet," said Lisa Washburn, a managing director of Municipal Market Analytics Inc., a Concord, Mass., municipal credit research firm. "It just seems like it's an aggressive timeline that the city is under given its liquidity needs. Things have to go just right in order to be able to have the negotiations settled, or close to settled, by the the end of June and have the money that's needed to make debt service payments in August."
Lavin's preliminary report made waves by suggesting adjustments to debt payment and maturity schedules, which made some observers of the Atlantic City situation question whether he may ask bondholders to take a haircut.
According to Conway, when you look at the $101.1 million hole in the city's 2015 budget and the $47.1 million deficiency in the school district's balance sheet, it's hard to imagine that bondholders wouldn't be asked to share the pain.
"Given the magnitude of the shortfall, it would seem very difficult to balance [Atlantic City's] budget without some type of adjustment of payments to bondholders," he said.
If bondholders take a hard line and refuse to accept adjustments, he asserted, "You're probably dealing with a Chapter 9."
This is where the specter of Detroit's bankruptcy, Conway said, could be used to convince debtholders to accept adjustments, since a Chapter 9 filing for Atlantic City would likely be longer and messier.
While both cities rest their fortunes on a single industry -- Detroit on automobiles, Atlantic City on casinos -- the differences between them are vast.
Detroit is much larger: It has a population of 688,701, while the Jersey Shore town has only 39,551 people. But the major difference is that Atlantic City's woes are mostly rooted in the decline of property taxes from casinos. Detroit's stemmed mostly from a population decline, shrinking tax revenues and hefty liabilities.
Four of Atlantic City's casinos have shut down over the past two years, leaving eight in operation. Lost revenue from those closed casinos and also from the existing properties' declines due to increased competition from properties elsewhere is a much larger problem than the city's $270.7 million in funded debt and $224 million in unscheduled obligations, which include tax appeals, litigation expenses and compensation costs. The casinos provide much more revenue to the city than its residents do.
By comparison, Detroit entered bankruptcy in 2013 with more than $18 billion in liabilities.
"It's always beneficial to have a bit more liquidity, but when you look at the legacy liabilities, cutting debt service wouldn't provide that much relief," Municipal Market Analytics' Washburn said. "You're not going to solve Atlantic City's problems solely through cutting legacy liabilities."
Making city employees, unions and casinos endure sacrifices without impairing the bond debt could be unpopular, however.
"If they're looking for everyone to share in the pain and that becomes the view, then that's a harder thing to negotiate," Washburn asserted. "A true outright haircut, like what they did in Detroit, would be much more difficult [outside of court]."
For Atlantic City to avoid defaulting on its next significant debt payments, it must clear a number of hurdles. Payments adding up to about $18.6 million are due throughout August, while payments adding up to $13.2 million are due during the first half of December, according to a March 25 report from Moody's Investors Service.
According to Moody's analyst Josellyn Yousef, the New Jersey legislature needs to pass two bills to redirect income to the city's coffers by June or July. One would take $17.5 million in excess Investment Alternative Taxes on gaming revenues, while the other would absorb $30 million of marketing funds that the Atlantic City Alliance uses to draw tourism to the city.
Atlantic City Mayor Don Guardian said he thinks the city will "absolutely" succeed in solving its problems before it encounters a cash shortage. He noted that New Jersey's 60-day extension of a $40 million loan originally set to come due March 31 buys some time for those bills to pass, and he hinted at the possibility of additional state aid.
"July 1 is the [first day of the] budget year, that's when the state's going to tell you what they're going to do to help Atlantic City," Guardian said.
In the meantime, the Atlantic City City Council and Atlantic City Board of Education are working to make staffing cuts and identify additional income, he said.
Other cash conservation efforts are being made, too. Lavin said in his March 23 report that he hopes to defer $42 million in state health benefit and pension payments this year, which would conserve cash.
But Moody's Yousef said deferring such payments is only a short-term fix, since those payments will be due again next year.
Atlantic City officials were hoping to refinance a $40 million loan from New Jersey with a new bond offering, but they face a major obstacle. Late last month, Borgata Hotel Casino & Spa sued the city to foil its plan to raise $43 million in order to repay the state loan.
The casino, which is owed $88.25 million in property tax refunds, argued that it should be paid before the city repays the state.
"As it stands right now, we understand that it will be difficult for the city to issue bonds with that lawsuit looming," Yousef said.
Washburn believes the Borgata lawsuit will only embolden other creditors to dig in their heels. "I don't know a creditor that doesn't want to get paid first," she said. "[Borgata] has opened the door for creditors to start positioning themselves," she said.
In an e-mailed statement, Borgata president and COO Tom Ballance said he would prefer to work something out before the lawsuit is litigated.
"As a creditor, we are pursuing this litigation solely to protect and preserve our rights," he said. "We strongly prefer discussing this matter directly with city officials and the emergency manager. We remain hopeful they will engage us in talks to resolve this matter amicably outside of court."
Discussing the matter may be in Atlantic City's best interest, since lawsuits can be enough to spur a municipal bankruptcy filing.
Take the Town of Mammoth Lakes, Calif., which filed for Chapter 9 on July 3, 2012, after a developer sued seeking $42.7 million for an alleged breach of contract to build hotels and condominiums. Judge Thomas Holman of the U.S. Bankruptcy Court for the Eastern District of California in Sacramento dismissed the case later that year after the parties reached a settlement to lower the judgment to $29.5 million.
If Borgata and other creditors take to the courts to protect their rights, "There's only a few ways to prevent [an onslaught of lawsuits]. Either pay the debt, get all the creditors to agree on a settlement, or stop the lawsuits by filing a Chapter 9, so that the city's got some breathing room," Washburn said.
Even if Borgata reaches a repayment plan with the city and drops its lawsuit, Atlantic City will still have to ease investors' jitters about its financial condition in order to issue new bonds.
Some public entities have braved the market at inopportune times. Yousef cited the commonwealth of Puerto Rico as an example of an issuer that has come out with a municipal bond issuance while in dire financial straits. But she noted that the commonwealth hasn't tried to access bond markets since it was downgraded to Caa1, and Moody's gave Atlantic City a multinotch downgrade to Caa1 from Ba1 on Jan. 23 following Christie's appointment of the emergency manager.
If New Jersey lends a hand, Atlantic City could craft a debt issuance that would make investors feel safer, sources agreed.
According to Michael Comes, a fixed-income portfolio manager and vice president of research at Cumberland Advisors, a structure that would send debt service funds directly into a trust for bondholders without passing through the city's general fund would go a long way toward making investors comfortable. Comes said he believes the state has the power to help Atlantic City by dedicating a revenue stream to the city to back new bonds, or helping the city collateralize borrowing for its assets.
Yousef pointed to New Jersey's Qualified Bond Act, which would send aid money from the state directly into a trust that would be used for bond payments. She said that structure would allow the bonds to benefit from New Jersey's A2 bond rating.
The troubled Philadelphia School District in February issued bonds based on a similar program called the Pennsylvania School Credit Enhancement Direct-Pay Intercept Program, which also puts funds directly into a fund for bondholders.
But Washburn wonders just how far New Jersey can go.
"The state doesn't have a lot of flexibility in its budget, and it did just propose to cut back on its transitional aid [for distressed municipalities] for next year," she said.
Luckily for Atlantic City, however, New Jersey can't turn a blind eye to the financial importance of the city's casinos, either.
"What makes Atlantic City more important to New Jersey is that it generates about $200 million of casino revenue taxes for the state's budget," Washburn asserted. "So there is some incentive there [for the state] to at least try to keep as much of that revenue stream coming in as it can."
As far as amending the existing bond debt, Washburn said that a total refinancing, if it could be arranged, would be much easier than an out-of-court deal to amend maturities and payment schedules.
She noted that the vast majority of distressed municipal situations that have surfaced have had most of their debt insured.
But, she added, "you just don't have that here. About 60% of [Atlantic City's] bonds are uninsured, which makes out-of-court negotiations that much more difficult."
For municipalities such as Detroit, Stockton, Calif., San Bernardino, Calif., and Harrisburg, Pa., bond insurers have played a pivotal role in restructuring negotiations, serving as centralized creditors that are much simpler to deal with than far-flung, numerous groups of bondholders.
In some cases, municipalities will work out deals with the bond insurers under which the insurer will pay bondholders according to schedule, while the municipality will repay the insurer on a delayed schedule. Such a tactic would only go so far to help Atlantic City, since the majority of its bonds aren't insured.
Another factor that will make it difficult for Atlantic City to reach a deal to amend its bond debt is the investor mix. The city's bonds are held by a high number of retail investors, who lack the sophistication and restructuring acumen that institutional investors bring to the table.
"It's a more diverse creditor base that needs to be negotiated with, and some [bondholders] may lack familiarity with negotiating tactics altogether," Washburn warned. "It may be hard to coalesce around a restructuring."
As the city tries to figure out how to deal with its bondholders, officials are hoping to protect liquidity by passing a measure to transform casino revenues into a payment-in-lieu-of-taxes, or PILOT, structure.
Washburn noted that while a PILOT structure wouldn't solve Atlantic City's problems, "it does prevent these large tax refunds that have been really at the root of the high increase in debt that's been issued recently because they've had to issue bonds to pay back the tax refunds," she said. "That's really what's driven up their debt in the last several years."
Atlantic City currently owes its eight casinos about $200 million in tax refund payments, by Moody's estimates.
The Casino Association of New Jersey on March 30 reiterated its support for the Atlantic City Stabilization Act, which was introduced by state Senate President Steve Sweeney late last year as a way to adopt a PILOT structure.
But a New Jersey story wouldn't be complete without mentioning the state's divisive political situation, with the controversial Christie on one side and a Democratic-controlled state Senate on the other.
Sweeney said that a bundle of bills that could aid Atlantic City, including the Casino Property Taxation Stabilization Act that would set up a PILOT structure, has been sitting on Christie's desk for five months.
"The governor refuses to commit to sign," Sweeney said.
Sweeney's PILOT plan would bring in an estimated $150 million for the next two years and $120 million for a period going forward, as long as revenues stay stable. Sources said the amount is lower than what the casinos pay now, but it would eliminate the uncertainty of the property tax appeal process that the city has faced in as casinos reassess their declining values.
Sweeney noted that casinos have already filed tax appeals this year, something that wouldn't have happened if a PILOT bill had been enacted.
Christie's office declined to comment.
Another tax issue involves the emergency manager's assumption that all casinos will make their tax payments, according to Yousef. If Revel or Trump Taj Mahal, both of which are reorganizing in bankruptcy court, were to miss payments again as they did last year, the city would have less money than it is currently accounting for. Both casinos will stay open under the plans pending in their bankruptcy cases.
What may hearten those who don't see a Chapter 9 in Atlantic City's future is that New Jersey has never had a municipal bankruptcy.
"It's very interesting because New Jersey has a history of being very much involved with bailing out municipalities and creating various restructuring plans on an out-of-court basis," said Cumberland's Comes. "At this point, they're going to do anything they can to avoid Chapter 9."
New Jersey hasn't seen a municipal default since the Great Depression, when Asbury Park was delinquent on its bond debt. Asbury Park defaulted before the bankruptcy code applied to municipalities and, after great contention, restructured its obligations outside of bankruptcy court. (These days, New Jersey's Municipal Finance Commission would have to approve any bankruptcy filing by a troubled municipality.)
Comes noted that when Detroit filed for bankruptcy, bonds issued by neighboring municipalities such as Northfield, Mich., started trading as much as 30 to 40 basis points lower, and "nobody really wanted to buy Michigan paper."
That negative example gives New Jersey an incentive to keep Atlantic City out of bankruptcy and protect the creditworthiness of its other municipalities, he said.
"If Harrisburg was able to avoid Chapter 9, I think [Atlantic City] will be able to do it as well," Comes concluded, referring to Pennsylvania's capital city and the Oct. 11, 2011, dismissal of its Chapter 9 by the U.S. Bankruptcy Court for the Middle District of Pennsylvania in Harrisburg.
Harrisburg restructured out of court by selling its garbage incinerator and issuing new parking revenue bonds, eliminating $360 million in debt.
Other municipal bankruptcies, especially the Chapter 9 filing of city of Vallejo, Calif., have also been the result of disagreements involving unions.
For Mayor Guardian, that provides hope for his city and a major reason why he doesn't think it'll end up in Chapter 9.
"There's no question about it, for bankruptcy to happen, it would have to be what you have in other cities, which is the unions fighting the city," he said. "That's not what's happening here."
Yousef said that Moody's views the appointment of an emergency manager as a "sea change" for New Jersey, adding that it "does raise concerns about the state's willingness to support Atlantic City and other municipalities."
Others agreed. Sweeney said that the appointment of an emergency manager was bad for Atlantic City's credit rating and for the creditworthiness of other troubled New Jersey municipalities, which affects their cost of borrowing.
But Conway defended the appointments of both Lavin and Orr.
"To get Kevyn Orr is good for Atlantic City because at the end of the day, they need to do some restructuring there," he said.
Atlantic City's City Council President Frank Gilliam said the relationship between the emergency management team and city officials has been "very cordial, very professional. It's not what we thought it would be. This is not a takeover."
But will it become one?
So far, Lavin hasn't paid much attention to diversifying revenue streams away from casinos and allocating funds toward revitalizing the city. Both he and Orr have their plates full focusing on cutting costs, redirecting funds, amending payments on existing liabilities, garnering more aid from the state and preserving liquidity.
In an interview, New Jersey Republican Rep. Frank LoBiondo cited a new development, the Playground at the Pier Shops at Caesars, as a sign that investment dollars are still coming to Atlantic City. The planned four-story, 500,000-square-foot shopping, dining and entertainment space is backed by Philadelphia-based real estate development firm Tower Investments.
"This is further evidence of the diversification that is starting to happen here," LoBiondo said. "Good news generates good news."
Maybe. Atlantic City needs that kind of momentum when it comes to how Lavin and Orr will address debt payment and other issues in a manner that keeps the city's bond creditors at bay. Right now, it doesn't seem to have that mojo going in its favor, and if it wants to stay out of bankruptcy, it better change it fast.
--Kelsey Butler contributed to this report.