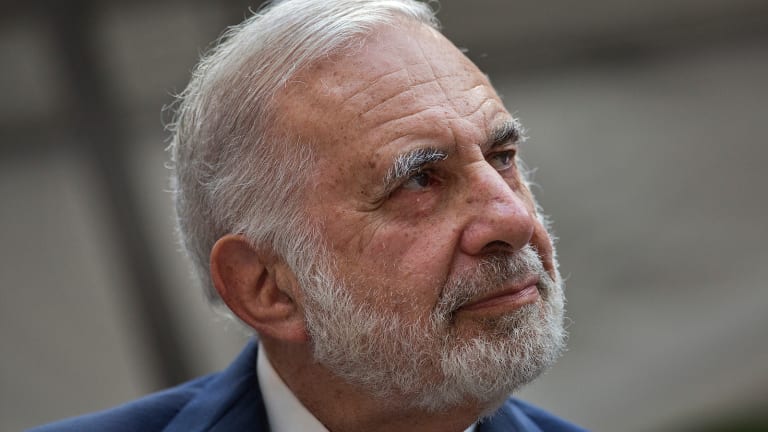 A Fujifilm Deal Could Derail Carl Icahn's Xerox Overhaul Effort
The raider-turned-activist wanted some share-price improving action at Xerox and he got it, though it definitely isn't the shakeup he had been seeking.
Carl Icahn wanted some share-price improving action at Xerox Corp. (XRX) - Get Report  and he got it, though it isn't the shakeup he had been seeking.
The document technology company is reportedly in talks with Japan's Fujifilm Holdings about a deal of sorts, all of which drove the company's share price up 5% in mid-day trading on Thursday. And while it isn't clear what kind of transaction may be shaping up TheStreet believes it could be one that seeks to help Xerox CEO Jeff Jacobson keep his job. Without a deal holding him in place, it looks like Jacobson could be on the way out.
The Wall Street Journal said, citing sources, that a full takeover of the Norwalk, Conn.-based Xerox isn't part of the discussions, but noted that an existing joint venture based in the Asia-Pacific region between the two group could make a broader tie-up more likely.
However, TheStreet believes that one possible transaction could be to have Fujifilm come in as a white squire of sorts, with a potential substantial minority investment and an agreement to vote for the document technology company's incumbent director slate. In another situation, it could put Xerox's existing shareholders in a minority position.
Either approach would make it much more difficult for Icahn, who has a 9.7% stake and is seeking to install a minority slate of four dissident directors to Xerox's 11-person board at the company's annual meeting set for May. Icahn had told TheStreet last month that his real aim is to remove Jacobson, whom he argued hasn't performed well during his short one-year tenure at the helm of the group. Icahn worries that Xerox could follow in the footsteps of Eastman Kodak, a former corporate leader that later experienced a significant decline. Xerox Chairman Robert Keegan, also on Icahn's radar, served as an executive vice president of Eastman Kodak, from 1997 to 2000.
A Xerox spokesperson declined to comment.
If a Fujifilm deal is structured this way it wouldn't be the first time that a company targeted by an activist has brought in a white squire to help it defend itself. Last year, Jonathan Litt of activist fund Land & Buildings had sought to shake up Saks Fifth Avenue owner Hudson's Bay Co. (HBC) board. However, he canceled his effort after HBC received a $500 million equity investment from buyout shop Rhone Capital, which converts into an initial 21.8% voting and equity interest. That agreement takes place as part of a deal to lease space in retail stores to the investor's partner, WeWork Companies, a global network of workspaces in buildings.
In May, Pandora Media Inc. (P) accepted a $150 million white squire investment from KKR & Co. (KKR) as part of an effort to fend off Corvex Management's Keith Meister. Pandora subsequently called off the KKR investment after it in June agreed to a deal to have SiriusXM Holdings (SIRI) - Get Report acquire a substantial minority investment in the company for $480 million.
More of What's Trending on TheStreet:
If a deal is set up as a white squire, it can open up the opportunity for Icahn or other shareholders to file a lawsuit arguing that the transaction was just made to defend the business from an activist investor and to entrench management at the expense of shareholders. However, Fujifilm's existing joint venture with Xerox suggests that a deal could have enough of a business purpose and strategic synergies that it wouldn't be considered by the courts as an entrenchment device for Jacobson and the company's board. Xerox is incorporated in New York.
The Xerox-Fujifilm joint venture has already experienced some serious problems, which raises concerns about a potential deal. According to reports in June, Fuji Xerox, the joint venture, said that due to losses from accounting problems in the South Pacific it had overstated revenue by about $340 million. Xerox owns a 25% Fujifilm stake.
Don't count Icahn out. There is a good reason they call him the CEO slayer.