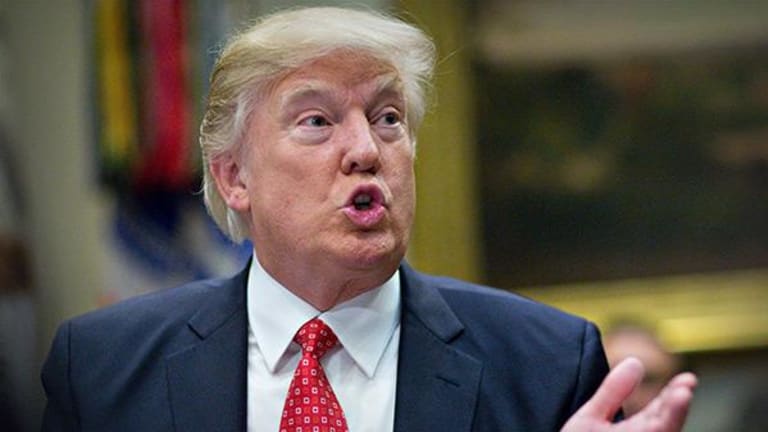 These 25 Companies Could Get a Big Profit Boost From a Little Known Part of Trump's Tax Reform
The details matter in this case.
Companies that spend effectively to develop property, plant, equipment and even their brands could get a big boost from a tax break proposed by the Trump Administration and Republicans on the House Ways and Means Committee. 
The break, a little noted part of corporate tax reform efforts, would allow certain companies to deduct from their U.S. taxable income the full amount they spend to develop a capital asset in the year they make the investment, and thereby improve their cash flow and eventual profitability. Currently, only a portion of the such capital investment is allowed to be deducted each year over the projected useful life of the asset.
But under the proposals, companies that meet certain criteria could deduct the whole amount of their investment the very first year it's spent.
Trump and House Republicans are hoping the break will lead companies to increase their capital investment in the U.S., and thereby boost the economy. 
Capital spending fell during the recession and while it has recovered, it has yet to exceed pre-recession levels, notes Charles Mulford, an accounting professor who oversees the Financial Analysis Lab at the Georgia Institute of Technology.
So both the House and Trump want to get that spending back up.
Allowing the immediate expensing of capex certainly could help U.S. companies that must spend heavily on capital investment to grow. That need is reflected in a high ratio of capex to revenues. And those will benefit the most earn high returns from that spending. As the accompanying table shows, they currently include copper miner Southern Copper, pharmaceutical maker Regeneron (REGN) - Get Regeneron Pharmaceuticals Inc. Report  truckers Old Dominion (ODFL) - Get Old Dominion Freight Line Inc. Report and Hunt (JBHT) - Get J.B. Hunt Transport Services Inc. Report  and chemical company Westlake Chemical (WLK) - Get Westlake Corporation Report .
Much of course depends on the proposals' details, and those are still not entirely clear. But all else being equal, those companies are in position to see the biggest boost to earnings from higher capex, based on an analysis by Mulford's lab of the biggest spenders among the 100 companies that report their results to the Securities and Exchange Commission and enjoy the highest returns on investment capital for their latest fiscal year.
Of course, accelerating capital spending could reduce reported earnings as well as taxable income in the short term, as the spending would result in higher depreciation, which is a line item on income statements and subtracted from revenues to arrive at earnings. But the effect would be limited, as companies would still be allowed to use straight line depreciation for reporting their results. And of course, the investments could ultimately pay off in new revenue and profit, which is more likely for the aforementioned companies than for their peers.
At this point, the details of Trump's plan differ in some ways from those of the House proposal, though both are exceedingly sparse in their specifics. President Trump's tax reform plan would allow immediate expensing for capital investments for firms "engaged in manufacturing in the U.S." On the face of it, that would rule out retailers like McDonalds (MCD) - Get McDonald's Corporation Report , Panera (PNRA) and Starbucks (SBUX) - Get Starbucks Corporation Report , all of which spend heavily in relation to their size and enjoy high returns on that capex, along with wholesalers and distributors. (The latter two companies are also holdings in the Action Alerts PLUS portfolio, which is co-managed by Jim Cramer, founder of The Deal's parent, TheStreet Inc. (TST) - Get TheStreet, Inc. Report )
What's also unclear, besides both proposals' prospects for enactment, is if Trump's plan would apply to real estate, since buildings and land are considered capital investments.
Currently, most commercial buildings and land are depreciated over a 39-year life. "So now something that took you four decades, they would allow to recover in the year of purchase?" asks Robert Willens, president of his own tax and accounting service.
The House plan is broader but even more vague, as it applies to so-called "job creators." And it would allow expensing for the development of most tangible assets, such as equipment and buildings (i.e. real estate), and intangibles such as patents, brands and other forms of intellectual property. The primary exception in the House plan is land, according to Robert Duquette, a professor at Lehigh University.
In either case, companies would have to give up their interest expense deduction in return, and since many companies borrow to invest, what Washington might give with one hand it might take away with the other. 
"People [would be] more concerned with losing the interest expense deduction than the benefit of expensing," says Willens.
The House plan and Trump's have different rules regarding this interest deduction but either way, companies should be aware they are not getting both benefits and may have to choose. 
That said, companies that generate significant returns from capital investment, spend heavily in relation to their revenues and have a lot of cash on their balance sheet and thus little need to borrow might be best positioned to benefit from the tax changes.
Among the U.S. companies on Mulford's list whose Ebitda, and thus presumably their free cash, dwarfs their capex and thus perhaps their need to borrow to fund it, are Southern Copper, Apple undefined  and Monsanto (MON) .
Although these tax changes might be significant for these companies, they might make no difference whatsoever to smaller ones. In fact, the break in a sense merely extends one to big companies that small ones already enjoy. Companies that spend no more than $2 million in 2017 can deduct up to $500,000 of that from their taxable income under Section 179 of the tax code. 
There's also some doubt that allowing the expensing of capital investment would have much of a positive impact on the economy. An August 2015 report by the Congressional Research Service examined the results of a test of the idea in 2002 and concluded that it had little or no effect on business investment. In addition, a similar study by the Federal Reserve Board in April 2006 also found the impact of such a change would be insignificant.
And if it did encourage companies to expense capital investment, Willens suggests that it's possible that expensing capex could dampen or at least complicate dealmaking. "How does this affect M&A?" he asked rhetorically, suggesting that companies could become more interested in buying assets instead of whole companies to exploit the tax break.
Mulford, on the other hand, believes the idea is worth trying. "I don't see any way that being allowed to expense capital assets would be a negative," he said. 
Editors' pick: Originally published Feb. 14.