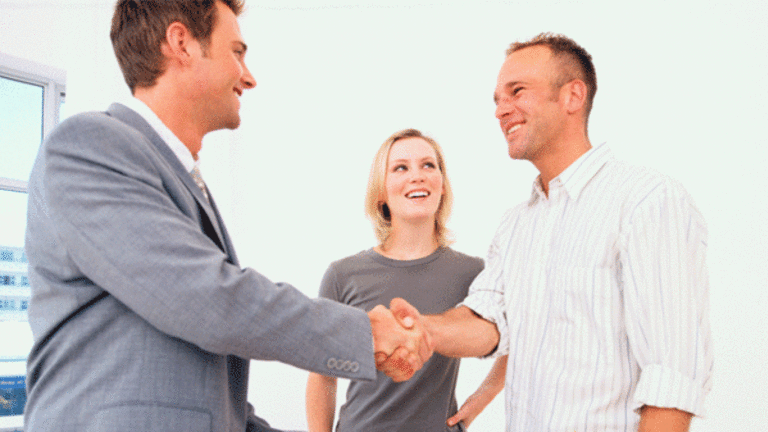 Publish date:
[video] The Deal: Devon Energy $6B Asset Buy a Big Win for Blackstone
With the biggest oil and gas deal of the year, asset manager's GeoSouthern's shale goes for top dollar.
With the biggest oil and gas deal of the year, asset manager's GeoSouthern's shale goes for top dollar.
NEW YORK (The Deal) -- Oklahoma City oil and gas explorer Devon Energy (DVN) - Get Report said Wednesday, Nov. 20, it agreed to buy oil properties in South Texas' Eagle Ford Shale from Blackstone Group (BX) - Get Report-backed GeoSouthern Energy for $6 billion in cash, giving it a high growth area it had been lacking.
Devon plans to fund the purchase with cash on hand and borrowings, which it expects to repay with free cash flow and proceeds from the sale of non-core assets. On a conference call with analysts and investors, management said assets up for sale could include Canadian conventional assets as well as non-core U.S. assets.
Devon management said on the call that the price works out to 4 times next year's estimated EBITDA and 2.5 times estimated EBITDA for 2015, well below its own current EBITDA multiple.
When asked by an analyst why GeoSouthern would sell at such a low EBITDA multiple, management said the target was looking for a liquidity event after creating a lot of value out of the properties and that there are not that many parties looking to pursue large acquisitions or that have the balance sheet to do deals of this magnitude.
Devon also said on the call that it was contacted by GeoSouthern's financial advisers in February about a potential deal but that it thought others were looking at the properties as well, which another source confirmed.
Blackstone said in a separate statement that it and its affiliates' stake in the properties will bring in around $1.54 billion from the sale, which is the largest U.S. oil and gas transaction this year. It didn't say how much it invested in the company. But a source familiar with the transaction said it was "a good deal," and comparing the sale, which clocked in at $73,170 per acre on average, to the $25,000 per acre Kohlberg Kravis Roberts & Co. LP and Hilcorp Energy Co. achieved when they sold properties in the same area to Marathon Oil Corp. in 2011 for $3.5 billion.
Global Hunter Securities Inc. analyst Sameer Uplenchwar wrote in a report Wednesday that even though Devon looks to be paying a full price for a core Eagle Ford acreage position, the deal is positive for the company and addresses its inventory problem.
Blackstone originally invested in the company in January 2011 and in February of last year helped it secure $1 billion in bank debt. Angelo Acconcia led the deal from Blackstone Energy Partners and David Foley from the Blackstone Group.
Devon's shares were up 2.6% Wednesday morning after advancing almost 5% yesterday on reports of a potential deal.
The Woodlands, Texas-based GeoSouthern, one of the first companies to successfully execute in the Eagle Ford oil play, will continue to operate all of its other assets in the Texas Gulf Coast region and other areas, but Blackstone will exit its stake in the company through the transaction.
The deal is expected to close in the first quarter.
After reports started to fly Tuesday about the impending deal, GimmeCredit LLC analyst Philip Adams published a report saying that the acquisition appeared to fit well with Devon's 239,000 acres in East Texas. He noted that Devon had $4.3 billion in cash as of September, $3.6 billion of which is offshore, but that the company said on its third quarter conference call that it was in the position to repatriate about $2 billion around year-end at a tax rate of 4% to 6%. So he expected about half of the purchase price would be financed externally, "reducing the potential credit impact considerably."
The properties produce 53,000 barrels of oil equivalent per day over 82,000 net acres with at least 1,200 undrilled locations. The risked recoverable resource is estimated at 400 million barrels of oil equivalent, the majority of which is proved reserves.
Devon president and CEO John Richels said in a statement the transaction secures a "premier acreage position" in the "very best part" of the oil play. "This acquisition enhances our already strong North American portfolio by adding another low-risk, light oil asset that provides outstanding well economics and self-funded growth," he said.
Richels added that the company expects the deal to be immediately accretive to "virtually every metric." On the conference call, Richels said the deal will boost debt-adjusted cash flow per share by 5%, pre-tax cash margin per barrel of equivalent by 10% to 15% and earnings per share by 20%.
The acreage is in DeWitt and Lavaca counties in Texas and is largely contiguous, with most of the position held by production. The company claims the position is in the best part of the play, as evidenced by the highest average initial production rates in the entire play and average estimated ultimate recoveries in DeWitt County exceeding 800,000 barrels of oil equivalent per well.
"We have considered many acquisition opportunities over the past few years, but none have met our stringent criteria," Richels said. "Our patience and disciplined approach have culminated in this outstanding opportunity."
Richels noted that companies with concentrated asset positions in the best oil plays in the country, such as the Eagle Ford, Bakken and Permian Basin, are trading at substantially higher multiples.
Devon said most of the acreage is in DeWitt County and derisked, with at least one producing well in each drilling unit. By entering the play in full development mode, Devon expects to substantially grow production in the near term while also generating significant free cash flow.
Devon expects the assets to grow at a compound annual growth rate of 25% over the next several years, reaching a peak production rate of 140,000 barrels of oil equivalent per day. It said the development drilling program is expected to fund itself and generate annual free cash flow of $800 million starting in 2015 and growing after that.
"The addition of these assets leverages our core competencies," Devon COO Dave Hager said in a statement. "The technical expertise and project management experience developed in our other large scale, unconventional development plays provide us the skillset to efficiently develop these assets and optimize the value through improved recoveries and reduced costs."
Arun Jayaram, an analyst at Credit Suisse, asked on the conference call how Devon can boost production rates in an area that appears to have peaked. Hager noted that the company plans to add one or two wells to each spacing unit that will boost production.
Just last month, Devon announced plans to merge almost all of its oil and gas pipeline, processing and transportation assets with those of Blackstone/GSO Capital Partners-backed Crosstex Energy Inc. and Crosstex Energy LP to form a new midstream company. The deal valued Devon's assets at $4.8 billion but dashed its plan to take its midstream unit public in a $400 million initial public offering.
Blackstone has been paring some of its oil and gas assets. In August, its portfolio company Alta Energy sold interests in the Duvernay shale formation in west-central Alberta, Canada, to Chevron Corp. affiliate Chevron Canada Ltd. for south of $1 billion, which a source said was "very attractive" for the private equity firm. But Blackstone also participated in giving $1.7 billion in private equity and debt monies to American Energy-Utica LLC, an affiliate of American Energy Partners LP led by former Chesapeake Energy Corp. CEO Aubrey McClendon that will explore for and produce oil and gas in the Utica Shale.
Morgan Stanley's Jonathan Cox, Bill Wicker and Michael Johnson and Goldman, Sachs & Co.'s Suhail Sikhtian, Brian Haufrect and Bill Lambert are advising Devon. Skadden, Arps, Slate, Meagher & Flom LLP's Frank Bayouth is providing legal counsel with a team that includes Sal Guerrera, Lynn McGovern, Neil Leff, John H. Lyons, Jose Esteves, Sally Thurston, Richard Aftanas, Christian Callens, Stacy Kray, Rebecca Brown, David Passarelli, Frederick Day and Kelly Whitebread.
Jefferies & Co. Inc.'s Ralph Eads and Ajay Khurana advised GeoSouthern. Simpson Thacher & Bartlett LLP represented the target with a team led by Andy Calder that included John Pitts, Mickey Baden, Matthew Einbinder, Nancy Mehlman, Adam Wells, Adeeb Fadil, Noreen Lavan, Andrea Wahlquist, Jeannine McSweeney, Michael Naughton and Marcelo Robledo.
Morgan Stanley's Cox and Johnson also advised Devon on its $10 billion exit from its international and deepwater Gulf of Mexico businesses several years ago while at Deutsche Bank.
Written by Claire Poole