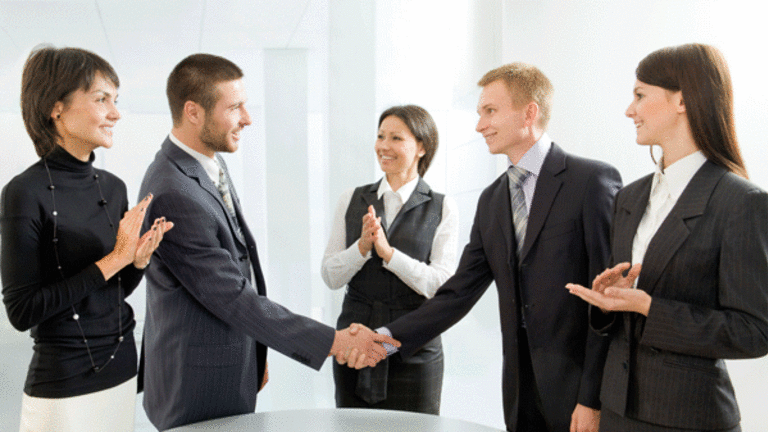 5 Unexpected Deals Themes for 2012
As deal markets slow, Ernst & Young highlights 5 reasons why deals will increase in 2012.
As deal markets slow, Ernst & Young highlights 5 reasons why deals will increase in 2012.
NEW YORK (
) -- In a year when mergers, divestitures and initial public offerings seemed on track for a sustained recovery, the second half proved to be a rude awakening. Barring any holiday mega-deals, data shows that deals markets are flat for 2011 as a result of a 22% drop in second half M&A, according to
Dealogic
.
But a M&A slowdown, political gridlock in the U.S., a European debt crisis and heightened bank risk, among other concerns won't dissuade companies from cutting 2012 deals, according to Ernst & Young. Following the release of its M&A outlook, Steve Krouskos the U.S. leader of E&Y's transaction advisory services team highlights five unexpected reasons why deals will pick up in 2012 --
TheStreet
fills in stocks that analysts point to as potential M&A targets.
5.
"Deal volumes will improve in 2012. The fundamentals will prevail over uncertainty."
Krouskos says that contrary to the direction of markets and economic growth in some of the world's largest economies - a continued slippage won't spill into C-suites. In a recent poll, Ernst & Young found that 81% of executives polled believed corporate earnings would either grow or stay at current levels in 2012. "There are a lot of strategic gaps to left fill," says Krouskos, who believes M&A will be an increasingly important way for companies to grow or streamline their operations.
Within M&A, Ernst & Young believes that hot sectors will continue to be power and utilities, healthcare, technology and financial services. It means that 2011 blockbuster deals like
Kinder Morgan's
(KMI) - Get Report
$21 billion purchase of
El Paso
( EP),
Express Scripts'
(ESRX)
$29.1 billion purchase of
Medco Health Solutions
(MHS)
and
HP's
(HPQ) - Get Report
$10.7 billion purchase of
Autonomy
may be a sign of things to come.
Within software, Deutsche Bank analysts point to
Comscore
(SCOR) - Get Report
,
LivePerson
(LPSN) - Get Report
,
Ariba
( ARBA),
Concur Technologies
(CNQR)
,
NetSuite
(N)
,
Taleo
( TLEO),
The Ultimate Software Group
(ULTI)
and
athenahealth
(ATHN) - Get Report
as some potential targets for blue chips like
Adobe
(ADBE) - Get Report
,
Cisco
(CSCO) - Get Report
,
IBM
(IBM) - Get Report
and
Microsoft
(MSFT) - Get Report
.
Meanwhile, Clayton Moran of The Benchmark Company points to takeover interest of data center companies like
Rackspace
(RAX)
and
Internap
(INAP) - Get Report
as potentially being acquired by a strategic telecom or IT company.
In an October report, Goldman Sachs analyst Robert D. Boroujerdi updated the firm's M&A Candidates Basket, called
GSRHACQN
that it calculates have a 15% chance of being taken over in the next 12 months,. Across many sectors,
Riverbed Technologies
(RVBD)
,
NetApp
(NTAP) - Get Report
,
Alexion Pharmaceuticals
(ALXN) - Get Report
,
Allergan
(AGN) - Get Report
,
Rockwell Automation
(ROC)
,
Anadarko Petroleum
(APC) - Get Report
,
Abercrombie and Fitch
(ANF) - Get Report
,
Lorillard
(LO)
,
Northern Trust
(NTRS) - Get Report
, and
Mead Johnson
(MJN)
stand out as the biggest names to watch.
Within the report, Goldman Sachs added
RPX Corp.
(RPXC)
,
Teradata
(TDC) - Get Report
,
Green Dot
(GDOT) - Get Report
and
Red Hat
(RHT) - Get Report
as new M&A picks. Companies like
Motorola Mobility
(MMI) - Get Report
,
Savvis
( SVVS) and
Varian Semiconductor
( VSEA) highlighted in previous reports were acquired in 2011.
4.
Stable to increasing company valuations will "make buyers more likely to act."
When the U.S.'s long-term debt was downgraded in August, markets tanked over 5%, but it didn't dissuade company executives from thinking their businesses would remain intact in the coming year.
As investors say the
Standard & Poor's 500 Index
earnings multiple fall more than 10% in 2011, company executives aren't throwing in the towel. A belief that companies will retain their value or rise in spite of an abundance of lingering economic concerns is a positive signal for M&A. "A view by companies that valuation levels are headed up, is a positive sign for deal making," says Krouskos.
Rising company values could potentially make agreements between buyers and sellers more likely. "Buyer-seller expectation gaps are narrowing and valuations are stabilizing," Ernst & Young cites as a reason that M&A might increase in 2012.
Already, the trend of rising deal valuations is in place. So far in 2011, a survey of over 1,000 mergers around the world shows that company valuations have risen in 2011.
This year, deals have been cut at an average on 9.2 times earnings before interest taxes depreciation and amortization and at 2 times book value, according to data compiled by
Bloomberg
earlier in December. That's an increase on the 8.35 times EBITDA and 1.87 times book value average valuation ascribed to 2010 deals, even though markets this year have shown signs of weakening.
Those rising valuations in M&A markets cut against trends in stock markets. After starting the year with an earnings multiple of 15x, the S&P 500 multiple fell nearly 13% to 13.1x as of the third quarter -- leading to overly
based on earnings.
"We are going to see the co-existence of short term volatility with mergers and acquisitions," says Krouskos. According to Krouskos, confidence in rising earnings within companies signals that they've developed resilience to the "risk on" and "risk off" volatility that investors have grown accustomed to. Companies thinking about their long-term prospects may look to buy growth or new specializations in 2012.
3.
"People may not be expecting corporate divestitures to continue."
In a year of corporate spin announcements, it may be hard for investors to imagine companies doing much more shrinking to grow share value next year. Krouskos of Ernst & Young says that by gauging corporate executives deal watchers should expect just the opposite in 2012 - a continued spin boom.
After a 12% increase in the aggregate value of divestitures so far in 2011, an October Ernst & Young survey shows that spins may only become more en vogue next year. Of the companies polled in the survey, 30% of U.S. companies expect to divest assets or business lines in the next twelve months.
In 2011, spin's to shareholders and divestitures of "non-core" assets have raised capital for some, while presenting growth opportunities for others. Energy giants like
Sunoco
(SUN) - Get Report
,
Valero
(VLO) - Get Report
,
Marathon Oil
(MRO) - Get Report
and
Chesapeake Energy
(CHK) - Get Report
have all announced programs to spin secondary assets and streamline their businesses.
With British oil major
BP
(BP) - Get Report
still holding billions in U.S. oil assets and a program to raise
through asset sales - in addition to a
of the U.S. shale industry -- there still may be plenty of energy deals yet to be cut in 2012.
Alternative energy may even emerge as a divestiture theme after a wave of late-2011 solar spins. In December, Warren Buffett's
Berkshire Hathaway
(BRK.A) - Get Report
entered the divestiture sweepstakes when its MidAmerican energy unit bought billion dollar -plus sized projects being built by
First Solar
(FSLR) - Get Report
adding to its
alternative energy credentials
. Meanwhile,
KKR
(KKR) - Get Report
and
Google
(GOOG) - Get Report
also
teamed up to buy a solar project
as well.
See Berkshire's
.
Spins have also happened in industries like retail, technology and consumer goods, with a major impact to shareholders. Highlights include
Sony's
(SNY) - Get Report
purchase of a mobile phone joint venture with
Ericsson
(ERIC) - Get Report
,
Bank of America's
(BAC) - Get Report
sale of Pizza Hut franchises,
Citigroup's
(C) - Get Report
EMI Music and publishing sale and
Sara Lee's
( SLE) coffee and hot beverage division sale to
J.M. Smucker
(SJM) - Get Report
, among a host of deals.
"Companies are also divesting assets and spinoffs to free up cash in the future to execute deals. Businesses that are currently struggling to grow recognize the need to do transformative transactions," says Ernst & Young's vice chair of transaction advisory services Richard Jeanneret in announcing its 2012 M&A outlook.
2.
"In the new calendar year, private equity deals will pick up."
For private equity investors, concerns over the ability to get buyout financing, uncertainty about the refinance of existing leveraged investments and a slowdown in initial public offerings led to a big second half slowdown after a post-crisis high deals pace earlier in the year. As a result, private equity deals fell 7% in 2011. Expect the tide to turn back to growth in 2012, says Krouskos.
Investors currently watching private equity firms circle
Yahoo!
(YHOO)
, in addition to December buyout bids of
Talbots
(TLB)
,
Blue Coat Systems
( BCSI) may also see their companies taken private at big premiums. In U.S. takeovers, private equity firms have paid a 20% premium on average in nearly 3,000 deals, according to data compiled by
Bloomberg
.
Some of the biggest private buyouts of the year are KKR's purchase of
Samson Investment
,
Blackstone's
(BX) - Get Report
takeover of
Kinetic Concepts
( KCI) and a consortium of buyers for EMI. Additionally,
Silver Lake
turned heads when it sold
Skype
to
Microsoft
(MSFT) - Get Report
for $8.5 billion.
Currently KKR's put the most money on the deals table, shelling out $16.9 billion to buy companies, followed by Blackstone and
Apax Partners
, according to
Dealogic
data, which shows that, the three firms have accounted for roughly 18.5% of 2011 private equity buyout activity. As investor funds come into KKR and Blackstone coffers, they may put their near record cash, called "dry powder" in recent earnings calls, to work investing in companies.
1.
A looming debt crisis, won't curtail deals by African, Malaysian, Colombian and Mexican companies, in addition to those in BRIC's.
Even as cross border fears rattle markets on a daily basis, Krouskos says that after a boom in Chinese and Brazilian mergers and acquisitions, don't be surprised to see companies in Africa, Malaysia and less talked about Latin American countries like Colombia and Mexico be active in 2012.
While some deal making may be between companies unfamiliar to U.S. retail investors, it doesn't mean that the trend won't hit U.S. companies. In 2011,
Symantec
(SYMC) - Get Report
,
Chesapeake Energy
(CHK) - Get Report
,
Cephalon
and Canada's
Daylight Energy
cut large deals with players in those regions, among others.
While China reported that its GDP increased at the slowest rate in two years in the third quarter, growing at a 9.1% annualized rate, an Ernst & Young's Capital Confidence Barometer shows that "China will be the number one country in the world where companies are looking to invest or execute deals in the next year."
Recently, deals like
Huawei's
$530 million purchase of an Asian joint-venture with Mountain View, Ca. -based Symantec, taken with Sinopec's reported interest in assets held by
Marathon Oil
(MRO) - Get Report
and talks that China's
Alibaba
is looking to buy out minority-owned Asian assets held by
Yahoo
(YHOO)
potentially show increasing deal finesse that may lead to further
involving U.S. companies.
Booming Brazilian deals this year, which according to
Dealogic
utilities and energy sector data are near record levels, might spill to other Latin American neighbors like Colombia and Mexico in 2012. December deals in the region have included a
$100 million minority stake and partnership
deal cut by
Delta
(DAL) - Get Report
in Brazil's
Gol Linhas Aereas Inteligentes
(GOL) - Get Report
and
Banco Santander's
( STD) sale of a 95% stake in Colombian
CorpBanca
for $1.16 billion.
-- Written by Antoine Gara in New York