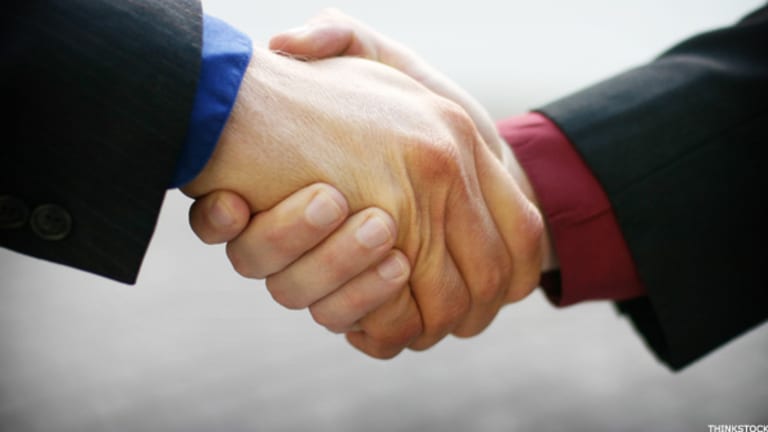 Updated to reflect analyst comments in pages dedicated to Liberty Media and Tyco International
.
NEW YORK (
) -- Every quarter hedge funds and large investors file their holdings with the
Securities and Exchange Commission
, revealing value picks, cyclical bets, growth opportunities and activist pushes.
Reading between the lines, the holdings of some of the mightiest investors in the U.S. also gives insight into 2012 expectations for the still lukewarm M&A market, which is expected by many to pop at some point this year.
There are several surprise bets that poker-faced hedge funders made in the fourth quarter. For instance,
some fund managers flocked to struggling Yahoo!
, while struggling bank bull John Paulson
dumped his holdings in America's largest banks
and some managers unveiled
.
But after reading the "tea-leaves" on what holdings say about companies, sectors and the economy, it's also worth looking over portfolio changes for companies that may cut deals in the coming year. After all, when major deals like
Kinder Morgan's
( EP) acquisition of
El Paso
( EP),
Google's
(GOOG) - Get Alphabet Inc. Class C Report
purchase of
Motorola Mobility
(MMI) - Get Marcus & Millichap, Inc. Report
and
Duke Energy's
(DUK) - Get Duke Energy Corporation (DUK) Report
deal for
Progress Energy
(PGN)
are announced, it's not much of a surprise to see the likes of Carl Icahn,
Jana Partners
and
AQR Capital Management
among the large shareholders benefitting from a premium-priced takeover.
For instance, with slumping markets and some companies struggling to grow the top-line in 2011, shareholder activists like Icahn, Jana Partners, Bill Ackman-run
Pershing Square Capital Management
and Daniel Loeb-run
Third Point
pushed for business line divestitures and asset value realization strategies that provided a big lift to shares.
Overall, because of shareholder activism and consensus in C-suites that smaller may be better and more valuable, tepid deal markets didn't temper a 2011 spinoff boom. Across all sectors, corporate divestitures were a bright spot for deal makers, rising 165% from 2011 and representing 5% of all deals activity, according to
Dealogic
.
See
5 short sighted stock spinoffs
for more on stock spinoffs.
A poring over filings and top investor holdings shows that some funds are buying the deal rumor and are well positioned to reap big rewards from any future announcement, as investors jockey for 2012 positioning.
It's especially the case because some funds are looking to improve on a mediocre 2011. Hedge funds posted
as market volatility proved to be a challenge even for pro investors. Hennessee Group, an adviser to hedge fund investors, said in January that its
Hennessee Hedge Fund Index
dropped 4.3% in 2011, compared to a flat performance for the
S&P 500
. It was the second year in a row that hedge funds failed to beat equity indices.
A look through this week's filings show that some investors are making big bets on deal activity, with the potential for a quick and sudden jolt to their portfolios. Here are
five deals to watch for in 2012
.
Dish Network
DISH Network
(DISH) - Get DISH Network Corporation Class A Report
, long in the M&A rumor mill, is now increasingly the target of hedge fund and activist investors as the company mulls over both acquisitions and asset sales.
The satellite pay television provider and its Chairman Charlie Ergen spent 2011 in the M&A market, buying up $1.38 billion worth of spectrum from bankrupt -TerreStar Networks, which paved the way for a similar deal to buy wireless spectrum from
DBSD North America
, a satellite communications company also in bankruptcy. With the spectrum purchases, DISH Network emerged as a deals favorite at the end of 2011, as a $39 billion mega-merger between
AT&T
and
T-Mobile USA
was iced by the U.S>
Department of Justice
on antitrust concerns.
With hedge funds and activists now known to have jumped into the company's shares, it's especially important to consider whether the investors are targeting an M&A-based stock boost.
After AT&T and T-Mobile walked away from what was the largest merger of the year, DISH Network Chief Executive Joe Clayton said that the company could look to continue its acquisition spree or accept a takeover offer. "We could be acquired or we could be the acquirer," said Clayton in a Jan.11
Bloomberg Television
interview.
One possibility that DISH had looked at was an offer for
NBC Universal's
Hulu
Web video business, according to October reports. However, the popular Web video channel cancelled a sale process, leaving the business in the control of its parent NBC Universal - which is majority owned by
Comcast
(CMCSA) - Get Comcast Corporation Class A Report
and part-owned by
General Electric
(GE) - Get General Electric Company (GE) Report
.
When the AT&T deal went bust, DISH Network was both seen as an aggressor in the wireless market, potentially taking a majority stake in T-Mobile USA itself in a partnership to build out a stronger national network. Additionally, its recently acquired spectrum was also seen as a target of wireless capacity-hungry AT&T.
Immediately after the merger block, Stifel Nicolaus analyst Christopher Kind said that AT&T could acquire DISH for its wireless assets, or a T-Mobile and DISH partnership could emerge. "Dish has expressed interest in combining with T-Mobile, and AT&T could look at acquiring Dish, with spectrum a key consideration," King wrote in a Dec. 20 research note. In a Jan. 19 note, JPMorgan analyst Philip Cusick proposed that a DISH and T-Mobile joint venture would be a more financially viable way for DISH to slowly take ownership of the U.S. mobile arm of
Deutsche Telekom
.
On Thursday, the
Wall Street Journal
reported that AT&T is looking at new deals such as an acquisition of
Leap Wireless
(LEAP)
,
MetroPCS
(PCS)
or DISH to help the nation's second largest carier boost its access to airwaves, benefitting high-data load smartphone services.
In February, an upstart spectrum service called
LightSquared
was dealt a near deathblow when the
Federal Communications Commission
ruled that it interfered with GPS signaling, fanning speculation that the company's owner Philip Falcone-run
Harbinger Capital Partners
may look to unload its radio spectrum assets to avert a bankruptcy. LightSquared investors include David Tepper-run Appalosa Management,
Farallon Capital Management
and Carl Icahn, who own pieces of the company's debt, revealing an alternative way to invest in wireless markets.
But speculation on any spectrum deals are complicated by AT&T's shifting views on spectrum waivers with federal authorities, in addition to a dearth of consolidation possibilities in the strictly regulated wireless market. While, AT&T is
, it's still unclear if the DoJ has a next
.
AT&T, once defensive against spectrum waivers Okayed such transfers or leases, signaling an "change of heart" that may make the nation's second largest carrier an acquirer of DISH Network, according to a Credit Suisse note on Jan. 30.
Look for new hedge fund investors in DISH, especially activist investors to help DISH Network chose on an M&A strategy. Dan Loeb-run
Third Point
, an activist fund that pressed for a handful of corporate shakeups in 2011, jumped into DISH in the most recent quarter ended in December, taking a $116 million stake representing nearly 2% of a company's shares. Third Point was DISH's largest share buyer in the quarter.
Other funds like
Pyramis Global Advisers
,
Two Sigma Investments
and
York Capital Management
also built stakes in DISH, potentially on takeover speculation or a merger with T-Mobile, among a host of considerations.
DISH is expected to earn $14 billion in revenue and $137.1 million in 2011, according to consensus estimates of analyst polled by
Bloomberg
, who give the company's shares a $30.83 price target. In fourth quarter earnings due on Feb. 23, DISH is expected to earn 61 cents a share, according to consensus estimates polled by next
. Analyst estimates show that in 2013, DISH's revenue is expected to grow, while earnings and profit margins fall.
The Colorado-based company's shares rose over 20% in the quarter, bolstered by takeover speculation. DISH Network shares are up just over 1% year-to-date, underperforming major indices. For more on DISH shares, see
.
Tyco International
After announcing a second phase of its epic
dismantling
,
Tyco International
(TYC)
is now set to both be a value proposition for shareholders as it spins its ADT and flow control businesses and an M&A target, potentially motivating some hedge funds to jump into shares of the industrial giant.
On Sept. 21, Tyco announced it would spin its residential security business called ADT and its flow control business into separate publicly traded companies, adding to the de-consolidation of Tyco from an industrial conglomerate with a near $100 billion market cap. In 2007, the company spun its
Covidien
(COV)
healthcare business and its
TE Connectivity
(TEL) - Get TE Connectivity Ltd. Report
business in two shareholder spins. If the September spins and one announced by Covidien in December were to pass, the empire could be whittled down to
.
Shareholders in an spin or an exchange offer may benefit from the growth of a leaner Tyco International and the growth of child entities, while the separated businesses may also become easier to swallow as M&A targets, potentially adding a catalyst for shares.
After
ABB
(ABB) - Get ABB Ltd. Sponsored ADR Report
announced a $3.4 billion deal to buy electrical equipment manufacturer
Thomas & Betts
( TNB), Morgan Stanley analyst Nigel Coe cited a post-split as the "most likely" takeover target, just as the engineering industry enters in the biggest M&A cycle in a decade.
In filings released this week, hedge fund
Westfield Capital Management
unveiled an over 4 million share position in Tyco International, or a near $200 million stake. Meanwhile,
Maverick Capital
added over 3 million shares to its Tyco holding, more than doubling its stake to nearly $300 million. Westfield Capital Management seems to have a fancy for companies that need or are considering de-consolidation plans. The company has top 10 positions in
Valero
(VLO) - Get Valero Energy Corporation Report
and
Tesoro
(TSO)
, both which announced 2011 spins. The fund also has stakes in
Oracle
(ORCL) - Get Oracle Corporation Report
,
United Technologies
undefined
and
Vertex Pharmaceuticals
(VRTX) - Get Vertex Pharmaceuticals Incorporated Report
, which all tried their hand at the deals game. In the most recent quarter, Westfield built the bulk of its stake after paring a June position of 1.6 million shares almost completely, signaling a bet on strong value in the spin or possible M&A.
Maverick Capital Management's share buying also reflected a re-ignition of interest in Tyco International as a key investment. The fund held 6.3 million shares as of the quarter ended in Sept. 2010, but it liquidated that stake by December of that year. From June 2011 through September, Maverick returned to Tyco, buying up over 2.8 million shares. With its fourth quarter buying, Tyco International is now Maverick's fourth largest holding, only surpassed by
Apple
(AAPL) - Get Apple Inc. (AAPL) Report
,
Marvell
(MRVL) - Get Marvell Technology Group Ltd. Report
and
JPMorgan
(JPM) - Get JPMorgan Chase & Co. (JPM) Report
.
James Dinan-run
York Capital Management
is making a similar, albeit smaller Tyco play as the company proceeds with spin plans that may generate strategic interest. Once a holder of over 5 million Tyco International shares, York Capital Management slashed its stake from June through September, but fourth quarter purchases signal that the company is a value play.
Even if a takeout emerges, the company's core business is showing signs of improvement. "Tyco's fundamental momentum and operational margin improvement continue to underscore that nobody in the company appears to be distracted by its upcoming split into three separate legal entities," wrote William Blair analyst Nicholas Heymann in a Jan. 31 note. Heymann gives Tyco International shares an "outperform" rating and a price target of $57.
Tyco International is expected to earn $18.8 billion in revenue and $1.7 billion in profit in 2012, with those figures growing to $18.9 billion and $2 billion respectively in 2013, according to consensus estimates of analysts polled by
Bloomberg
. Those analysts give Tyco International a price target of $55.47 a share.
After an over 10% fourth quarter rally on the company's spin plans, Tyco ended 2011 up over 12%. With a stronger industrial and business outlook for 2012, the company's shares have continued to rally in 2012, posting an over 4% gain to $48.65 year-to-date.
For more on Tyco shares, see
9 ex-dividend stocks with a "buy" rating
and
3 stocks riding a 2012 M&A wave
.
Liberty Media
Like with DISH Network, hedge fund investors in
Liberty Media
(LMCA)
will have to decide whether the media conglomerate will be a buyer or seller.
The quixotic John Malone-Chaired cable and media conglomerate with stakes in
Barnes & Noble's
(BKS) - Get Barnes & Noble, Inc. Report
,
Live Nation
(LYV) - Get Live Nation Entertainment, Inc. (LYV) Report
and
Sirius XM Radio
(SIRI) - Get Sirius XM Holdings, Inc. Report
could be a buyer or seller of companies in 2012, and that's enough to pique the interest of Warren Buffett-run
Berkshire Hathaway
,
Tiger Global Management
,
Och Ziff Capital Management
and David Einhorn-run
Greenlight Capital Management
, among a bevy of activist and value oriented investors.
In November, Liberty Media opened up a $1.5 billion credit facility, which was considered by analysts to be a financing that could lead to acquisitions. In a Nov. 11 research note, Robert Routh of Phoenix Partners wrote that the loan could be used for Liberty Media to help purchase Barnes & Noble, which it already holds a near 17% stake in. Previous to Liberty Media's $204 million stake purchase, it had offered to buy a controlling 70% stake in the struggling bookseller for $17 a share, but the company's Chairman and 30% shareholder Leonard Riggio rejected the offer in May 2011.
In January, Morningstar analyst Peter Wahlstrom said that Liberty Media could also look to buy Barnes & Noble's
Nook
digital books unit after the company announced a spinoff plan of the fast growing business.
For more on Barnes & Noble's spin strategy and earnings struggles, see
4 deals that rewrote Barnes & Noble history
.
Another possibility is for Liberty Media to boost its stake in satellite radio giant Sirius XM radio, as prospects for the debt-laden and once near bankrupt company brighten. Such a move might be strongly timed for an auto's rebound that would
and its in-vehicle satellite radio business. In November, the
New York Post
reported that Liberty Media Chairman and near 2% shareholder was in talks to increase the company's Sirius investment, which presently stands at 40% after a life-saving preferred share investment and $530 million loan in Mar. 2009. At that time, the auto industry was in the process of crumbling, with General Motors and Chrysler reeling toward bankruptcy.
In a Feb. 9 report, Pivotal Research Group analyst Jeffrey Wlodarczak increased his price target for Liberty Media to $107 a share, driven by an increase in the value of Sirius XM Radio. "We continue to believe Liberty inevitably increases its stake in SIRI above 50% prior to an inevitable merger," wrote Wlodarczak, who noted that by clawing back
Starz
, the company now has up to $9 billion that it can use for share buybacks or acquisitions of investments like Sirius and LiveNation.
Tiger Global boosted its stake in Liberty Media to nearly 2 million shares and Och Ziff Capital Management more than doubled its stake with an over 1.4 million share position, but both moves were overshadowed by Warren Buffett and David Einhorn's initial investments in the company.
For Och Ziff, the share buying represented a continued incremental addition to the firm's Liberty Media stake that was opened in the quarter that ended in Mar. 2011, while Tiger Global's investment signaled a renewed interest in the company after paring most of a 3.5 million share stake between Dec. 2010 and Sept. 2011.
Meanwhile, Buffett bought over 1.7 million shares valued at roughly $150 million, while Einhorn's Greenlight Capital took a 980,000 share stake now worth over $84 million. Here's a look at
Warren Buffett's biggest stock investments
A dark horse in the share buying was activist fund
Jana Partners
, which boosted its stake to 1.3 million shares, nearly doubling a Liberty Media stake that was opened in Sept. 2011.
Liberty Media is expected to earn $1.6 billion in sales and $191 million in profit in 2011, according to consensus estimates from analysts polled by
Bloomberg
, who give the company's shares a price target of $97.13. In 2012, the company's sales are expected to rise to $1.9 billion, but profits are expected to fall to $117 million on shrinking margins. In fourth quarter earnings, Liberty Media is expected to earn 32 cents a share, according to consensus estimates from
.
Cytec Industries
The hedge fund investors who piled into
Cytec Industries
(CYT)
in the fourth quarter were richly rewarded when the company confirmed it had hired JPMorgan to help it decide on a spin or sale of its coating resins business. On the news of the strategic decision making, the firm's shares jumped, putting 2012 gains near 30%.
"We are committed to maximizing the value of the Coating Resins business. The decision to explore separation options for the entire business is consistent with our strategy of focusing on our remaining profitable and growing segments," said Cytec Industries Chief Executive Shane Fleming in a fourth quarter earnings statement.
For Barry Rosenstein-run Jana Partners the announcement couldn't have been timed better. The investment fund took an over 3% stake in Cytec Industries worth roughly $85 million in the fourth quarter. In third quarter earnings, the maker of plastic parts used in airplanes disclosed that it would look at strategic alternatives for its coating and resins business. Jana Partners profited off of many of the biggest spins in 2011. Among its top 10 holdings,
Marathon Petroleum
(MPC) - Get Marathon Petroleum Corporation (MPC) Report
,
El Paso
( EP),
McGraw Hill
( MHP) and
Netflix
(NFLX) - Get Netflix, Inc. (NFLX) Report
all attempted spin or sale plans, with Netflix quickly reversing course. Overall, Cytec Industries is Jana Partners' sixth largest stake, while Liberty Media is its ninth largest holding.
Since October, the Woodland Park, N.J.-based company's shares have rallied as asset value realization strategies become more probable.
Other large shareholders benefitting from a fourth quarter and 2012 rally, are
RoundKeep Capital Advisers
,
Millennium Management
and
Two Sigma Investments
.
Cytec Industries is trying to boost earnings by closing a plant in Brazil for its resins business, while exiting some business lines to re-invest in waterborne and radiation-cured coatings, the company said in its third quarter earnings. The coating resins business accounted for 52% of Cytec Industries' overall sales in 2010. However in third quarter earnings, Cytec projected that the unit would post an operating loss of up to $8 million, reducing its full year earnings to as little as $57 million, a drop from previous projections of $80 million in earnings.
In early 2011, Cytec Industries completed the sale of a chemicals business to private equity firm
HIG Capital
for $180 million.
Overall, Cytec Industries is expected to earn $3.3 billion in sales and $188 million in profit in 2012, according to consensus estimates of analysts polled by
Bloomberg
, who give the company's shares a $63.17 price target. Revenue is expected to grow to $3.4 billion and profits to $208 million in 2013.
For more on Jana Partners investments see their
.
Brocade Communications
Interestingly, as a rumored buyer of
Brocade Communications
(BRCD)
pared its stake in the networking equipment company, competitor hedge funds rushed in buying up shares in the fourth quarter as rumors of a takeover bid swirled. The company nonetheless is a perennial takeover target after putting itself up for sale in 2009.
Elliott Management
sold over 9 million Brocade shares between Nov. 3 and Jan. 12, according to filings with the SEC, even as analysts pointed to the hedge funds a possible acquirer of the company. In December, ThinkEquity analysts pointed to Elliott Management, a 10% stakeholder in Brocade, as a potential buyer. Elliott Management turned out to be Brocade's biggest share seller in the quarter.
In January,
Reuters
reported that Brocade Communications received a first round of bids from private equity buyers, citing unnamed sources. The news followed October, reports that the firm had hired technology investment banker
Qatalyst Partners
to initiate a sale process.
However, a deal offer was discounted just a day later that signaled private equity interest in Brocade was waning, according to
dealReporter
reports. On Feb. 3,
Bloomberg
reported that private equity firm
The Blackstone Group
(BX) - Get Blackstone Group Inc. Class A Report
was studying a leveraged buyout of Brocade, however a deal could be a difficult proposition because of the company's $2.63 billion size.
While ThinkEquity analysts report highlighted a private equity deal similar to Thoma Bravo's $1.3 billion purchase of
Blue Coat Systems
( BCSI) as strong precedent for a deal, the
Bloomberg
reports signaled that the small-sized private equity firms would not remain in a bidding process.
Even after long-rumored strategic acquirers of Brocade like
Dell
(DELL) - Get Dell Technologies Inc Class C Report
and
IBM
(IBM) - Get International Business Machines (IBM) Report
fell by the wayside as they cut other deals in the networking space in 2011, hedge funds nonetheless piled into Brocade's stock in the fourth quarter.
Highbridge Capital Management
bought over 2.3 million Brocade shares, while
Millennium Management
and
Two Sigma Investments
build 1 million share-plus sized stakes in the quarter. Meanwhile,
Caxton Associates
,
Delaware Management
and
Pyramis Global
added roughly 1 million shares to their holdings. For Highbridge, Brocade is now the funds third largest holding, according to its latest filing.
Brocade's shares have risen over 11% in 2011, adding to a fourth quarter gain of over 25% as earnings recovered and sale speculation intensified. Nevertheless, Brocade's shares fell in 2011 after a halving of the company's stock between June and August when some takeover candidates were removed from the M&A market.
If a Brocade sale were to emerge, the investment might match a 2010 sale of Novell, after the investment fund took a large stake and pushed for its eventual $2.2 billion sale to
Attachmate
.
In 2011, Brocade saw its profits fall by over 50% to just over $50 million, while revenue grew over 5% to $2.1 billion. In its most recent quarter ended in September, Brocade posted a $4.3 million net loss - its first losing quarter since the third quarter of 2009.
Brocade is expected to earn $2.2 billion in sales and $87.9 million in profit in 2012, according to consensus estimates of analysts polled by
Bloomberg
, who give the company's shares a price target of $5.88.
Other large Brocade shareholders include
Franklin Resources
,
Fidelity
and
Vanguard
, each with over 5% stakes in the company's shares.
For more on Brocade, see
stocks under $10 setting up to trade higher
.
>>To see these stocks in action, visit the
5 Deal-Ready Stocsk Loved by Hedge Funds
portfolio on Stockpickr.
-- Written by Antoine Gara in New York