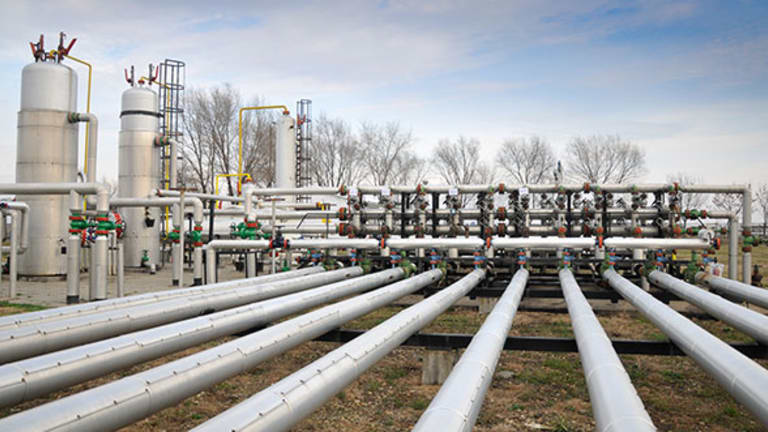 5 Companies Really Good at Getting Oil and Gas Out of the Ground
Cabot Oil & Gas was found to be the most capital-efficient company in 2014, according to a Global Hunger Securities report.
NEW YORK (The Deal) -- Capital efficiency is important in the oil and gas industry, where a company's worth is often determined by how cheaply it can get oil and gas out of the ground, and it's even more critical today with oil prices 40% lower than they were last summer. So who's the best at it?
Last month Global Hunter Securities published a 180-page study of the finding and development costs of 100 of the largest U.S. oil and gas companies, its fifth year doing so. The companies represented an eye-popping 58 billion barrels of oil reserves, 9 billion barrels of natural gas liquids reserves and 383 trillion cubic feet of natural gas reserves along with daily oil production of 12.6 million barrels, NGL production of 1.9 million barrels, gas production of 77 billion cubic feet per day and cash flow of $275 billion last year.
The 2014 winners? Cabot Oil & Gasundefined took the top prize at $5.80 per barrel of oil equivalent, which is its cost to add an incremental proved developed producing reserve -- a figure GHS says represents the "finest" finding and development metric available.
Houston-based Cabot, led by Dan Dinges, is a top operator in South Texas' Eagle Ford Shale and the Marcellus Shale in northeast Pennsylvania and has been considered by many to be a potential takeover target. Topeka Capital Markets analyst Gabriele Sorbara wrote in a report just last week that Cabot is his top pick for natural gas given its the lowest cost producer in the Marcellus with around 200,000 net acres, with the catalyst being production and Ebitda growth starting in 2017.
He said all eyes are on the Constitution Pipeline and the approaching deadline to get permits from the New York State Department of Environmental Conservation to begin construction, which would help carry Cabot's gas to market. "The shares have languished recently but have outperformed its liquids-rich Appalachia peers," he said.
Cabot was followed by Evolution Petroleum (EPM) - Get Evolution Petroleum Corporation Inc. Report at $5.84 per barrel of oil equivalent. The company, also Houston-based and headed by Robert Herlin, holds mineral interests in the Holt Bryant Unit in the Delhi enhanced oil field in northeast Louisiana -- which is operated by Denbury Resources (DNR) - Get Denbury Resources Inc. Report -- and interests in the Giddings field in Central Texas. It also has patented artificial lift equipment that enables operators to return horizontal wells that are late in their lives to production.
The technology has been successfully employed on several wells and Evolution plans to expand the business in the future, GHS wrote in a report last fall. The firm discontinued coverage of the company at that time to allocate resources to other areas but had a buy rating on the stock with a price target of $13. Shares closed Thursday at $5.91.

Other top performers in the study were Range Resources  (RRC) - Get Range Resources Corporation Report at $6.92, a Fort Worth-based company run byJeffrey Venturawith natural gas producing properties in Appalachia and Midcontinent. It also has midstream assets that could be sold or spun off, along with its Mid-Con and Nora and Bradford County assets in southern Appalachia.
However, there's really no need to shed assets at the moment with the company expected to live within its cash flow for the rest of this year and sitting on $1.2 billion in liquidity, all while delivering 20% year-over-year growth, Simmons & Co. International analyst David Kistler wrote in a report last month.
Other capital efficient players include EV Energy Partnersundefined at $7.10, a Houston oil and gas explorer led by John Walker and Michael Mercer with properties across the U.S., although most of its production is in the Barnett Shale and Appalachia. The master limited partnership was formed in 2006 by privately held EnerVest Ltd., a serial acquirer of properties -- it bought $1 billion worth of properties in the Mid-Continent in October.
EnerVest drops a lot of those properties into EVEP. Last month EVEP closed the sale of its 21% stake in some midstream assets in the Utica Shale to a unit ofWilliams Partners LPfor $575 million, giving it capital to pay down debt and make "opportunistic" acquisitions. Robert W. Baird analyst Ethan Bellamy issued a hold rating on EVEP last month with a price target of $13. Shares closed Thursday at $11.20. 
Houston-based Ultra Petroleumundefined also made GHS' most efficient list at $7.48. Led by Michael Watford, the company has natural gas reserves in the Green River Basin of Wyoming, oil reserves in the Uinta Basin of Utah and natural gas reserves in the Appalachian Basin of Pennsylvania. In August of last year, it also picked up Pinedale field properties in western Wyoming from Royal Dutch Shell (RDS.A) in exchange for $925 million in cash and some of Ultra's properties in the Marcellus and Utica shales in Pennsylvania. The deal made it the largest operator in one of the top 10 natural gas fields in the U.S.
Jonathan Wolff, an analyst who follows Ultra at Jefferies & Co., says the company's high-debt balance "gives us pause," but he's are attracted to the company's Rockies gas price leverage given tightening western supply/demand balance. Management has said it plans to address its high leverage through small asset divestitures and higher natural gas prices next year (it's banking on gas prices getting closer to $4 per thousand cubic feet equivalent next year, versus less than $3 now).
Cabot and Range also rose to the top based on GHS' favorite two measures for evaluating capital efficiency: The recycle ratio and production growth per debt-adjusted share. Others scoring well here included Chesapeake Energy (CHK) - Get Chesapeake Energy Corporation Report, Continental Resources (CLR) - Get Continental Resources Inc. Report, Concho Resources (CXO) - Get Concho Resources Inc. Report, EOG Resources (EOG) - Get EOG Resources Inc. Report, Gulfport Energy (GPOR) - Get Gulfport Energy Corporation Report, National Fuel Gas (NFG) - Get National Fuel Gas Company Report, Northern Oil and Gas (NOG) - Get Northern Oil and Gas Inc. Report, Rex Energyundefined, SM Energy (SM) - Get SM Energy Company Report, Synergy Resourcesundefined and Unit Corp. (UNT) - Get Unit Corp. Report.
Together, the group had a 2% compound annual growth rate over three years and 9% over five, versus the typical exploration and production company returning a negative 9% per year over the last three years and a negative 2% over the last five.
GHS went back last month and looked at how some companies performed on the same metric in the first quarter -- when oil prices hit bottom -- and only seven of 71 had a recycle ratio equal or greater than one. Again, Cabot, Ultra and Range were among the names. All interesting stocks to watch -- and perhaps jump on.
Read more from: