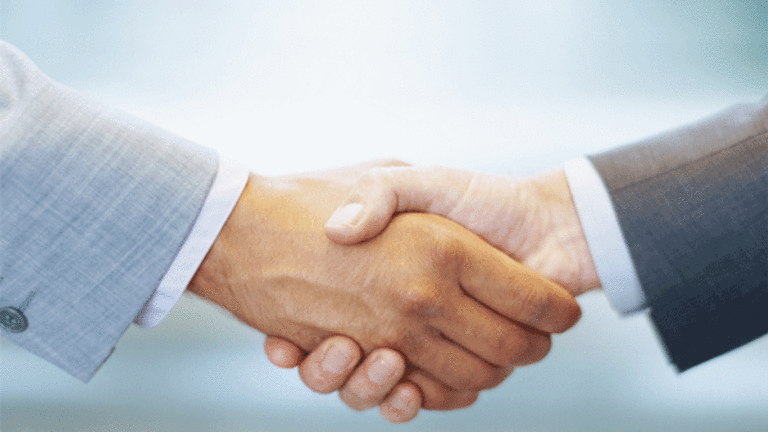 5 Big Deals That May Flop in 2012
Many big 2011 deals face 2012 threats that investors should pay attention to.
NEW YORK (
) -- Even as a U.S. debt downgrade, a worsening of the European crisis, spiking oil prices and natural disasters added unexpected twists for dealmakers in 2011, there's still plenty left to worry about in 2012.
It's key to remember that in the volatile deals landscape there's still plenty of quick and sudden change that can occur in merger negotiations or hostile takeovers, which can have a major impact on share prices and earnings.
For instance,
AT&T
$39 billion merger with
T-Mobile USA
was set to be the largest deal of the year until an antitrust suit iced the tie-up in late December. That merger fail cost
JPMorgan Chase
(JPM) - Get JPMorgan Chase & Co. Report
its U.S. M&A advisory lead and AT&T a $4 billion breakup fee charge to its fourth quarter earnings.
Overall, global M&A activity increased 3% to $2.8 trillion in 2011 with U.S. deals eclipsing the $1 trillion mark, a level not seen since 2007. In the U.S., healthcare, oil & gas, utilities, technology, real estate and telecoms were the top deal making sectors, respectively.
Corporate divestitures were a bright spot for deal makers, rising 165% from 2011 and representing 5% of all deals activity, according to
Dealogic
. In the U.S., divestitures also didn't slow in the second half of the year, as companies spun assets to bolster shares, streamline their strategy and raise capital.
For more on M&A trends and some investing ideas, see
10 Top Morningstar M&A Stock Picks for 2012
.
Even after an antitrust based-AT&T and T-Mobile USA deal breakup and a flurry of failed hostile takeovers that caused shares to gyrate in 2011, plenty of risk remains. Here's a look at five big 2011 M&A winners that could face challenges in 2012.
5.
Medco Health Solution's $29 billion sale to Express Scripts.
In July,
Express Scripts
(ESRX)
announced a deal to buy
Medco Health Solutions
(MHS)
for $29 billion in a deal to combine two of the largest pharmacy benefits managers in the U.S. However, the deal is facing antitrust scrutiny, which jeopardizes its outcome.
Currently, Medco's stock is more than 10% below the $71.36 a share purchase price, signaling investor uncertainty over the deal, or an easy stock return if it's completed.
In September, a House of Representatives subcommittee opened hearings to look at potential anti-competitive concerns raised by the tie-up, which would create the largest U.S manager of prescription drug benefits and eliminate one of Express Script's biggest competitors. The Congressional scrutiny prompted Medco shares to drop below $50 a share, over 30% below the offer price.
In December, Senate Judiciary Committee held a panel to look at the merger. Ahead of the hearing, Sen. Saxby Chambliss (R., Ga) and Sen. Johnny Isakson (R., Ga) urged regulators like the
Federal Trade commission
to do a "thorough and complete investigation" in their merger review.
However, during the Senate hearing, Express Scripts CEO George Paz argued that the company would have a sub 30% market share of corporate and government drug benefit plans and that the merger was prompted by Medco's loss of its key
Federal Employees Health Benefits Program
and
California Public Employees' Retirement System
accounts.
Nevertheless, the tie up would create a benefits giant with more than 115 million customers and one out of every three prescriptions in the U.S. The combined company would also have $110 billion in annual revenue, eclipsing the industry second
CVS Caremark's
(CVS) - Get CVS Health Corporation Report
$96 billion in annual revenue.
To antitrust calls about the merged company's customer base and earnings power, Medco Chief Executive David Snow and Paz of Express Scripts maintain that the pharmacy benefits manager business is highly fragmented and that the combination will lower costs for consumers, a key point in antitrust dealings.
In January, Deutsche Bank analyst Ross Muken wrote that he expected the merger to be approved, occurring in the vicinity of Mar. 31, slightly ahead of management's end of June deal closing estimate. Meanwhile, UBS analyst Steven Valiquette raised his 2013 price target for Express Scripts to $66 on increasing earnings per share a result of the deal, which he expects will be completed.
Nevertheless, the fear of an antitrust war remains, especially as the largest merger in 2011 was iced and others face inquiry.
Concentration battles have also been waged in the benefits sector. In 2007, Express Scripts ended a $26 billion battle for
Caremark Rx
on antitrust concerns, paving the way for the company's merger with CVS. In January, CVS Caremark agreed to pay $5 million to settle charges by the FTC that after the merger, the company unfairly increased prescription drug costs. In the settlement, the FTC did not find that the merger led to anticompetitive pricing.
To be seen is whether that tie-up will have any impact on the Express Scripts and Medco Health Solutions merger. A merger approval would be an immediate boost to Medco share prices, even as the stock posted strong end of year gains.
For more on Express Scripts, see
. See
TheStreet's
for more on the sector.
4.
Martin Marietta's Bid for Vulcan Materials.
In December
Martin Marietta Materials
(MLM) - Get Martin Marietta Materials, Inc. Report
bid $4.9 for construction aggregates leader
Vulcan Materials
(VMC) - Get Vulcan Materials Company Report
, a share offer valuing Vulcan at a 15% premium to shares in the 10 trading days prior to the bid. However shares of Vulcan Materials
are well above the $36.69 bid price
signaling that investors are betting on a price increase even as doubts on the hostile offer remail. If Martin Marietta were to withdraw the bid, it could be negative for Vulcan shares.
In the deal, Martin Marietta will contribute half of its shares to acquire Vulcan, which has nearly double its sales. While the combination values Vulcan at a premium, it was well below the company's 2011 highs and almost a third of pre-recession share price highs over $100.
Vulcan Materials has fought to fend off what it considers the low-priced bid. In late December, the company urged shareholders to reject takeover, calling it "illegal and opportunistic", citing a fairness opinion by
Goldman Sachs
(GS) - Get Goldman Sachs Group, Inc. Report
. Vulcan's management also said that tie-up created antitrust considerations, not to mention concerns surrounding the disclosure of confidential information.
In December, Vulcan filed a lawsuit contesting the terms of the merger and its process. In making a bid, Martin Marietta signed a non-disclosure agreement to keep private information obtained when analyzing Vulcan's books for a hostile bid. However, in making a share-exchange offer for the company, Martin Marietta may be compelled to release some information to satisfy SEC disclosure requirements.
Steven Davidoff, the "deal professor" of the
New York Times
wrote in a recent article that the claim was a potential
for the deal. Since then, another hitch has emerged.
In January, the U.S.
Department of Justice
filed a second request for information on the merger, signaling an increased potential for the deal to face antitrust review. If combined, Vulcan and Martin Marietta would bring together the industry's top two companies, creating the largest construction aggregates producer in the world. The second request deals with information regarding Vulcan's top revenue-producing quarries in states like Texas, North Carolina and Georgia.
Vulcan Materials is expected to lose 38 cents a share, when it announces its fourth quarter earnings on Feb.1, according to consensus estimates from
Zacks. Meanwhile, shares trade roughly in line analysts price targets of $41.08, according to consensus compiled by
Bloomberg
. Prior to the takeover bid by Martin Marietta, analyst price targets were below $34 a share, signaling a dim outlook on the company without a strategic buyer.
Vulcan Materials' largest shareholder
Southeastern Asset Management
with nearly 10% of the company's shares urged other investors to accept the takeover offer in January. The investment fund, which also owns over 13% of Martin Marietta's stock, said that if Vulcan doesn't resume merger talks, it will nominate a hostile slate of directors to move the bid forward.
While investors are betting on a price increase, watch for an a full antitrust review or a shareholder rejection of the bid to lead to an outright cancellation, which may hit shares.
For more on Martin Marietta see 20 top yielding materials construction stocks. For more on Vulcan materials see Eagle Investment Management's portfolio.
3.
Duke Energy's $13.7 billion Acquisition of Progress Energy.
In Jan. 2011,
Duke Energy
(DUK) - Get Duke Energy Corporation Report
said it will buy
Progress Energy
(PGN)
for $13.7 billion creating a regional energy behemoth in the Carolina's, serving 7.1 million customers in Southeastern states. The deal still hasn't closed on antitrust concerns.
The value of the all stock deal has increased with Duke Energy's over 20% stock gain in 2011, but the deal is facing scrutiny that may threaten Progress's gains.
In December, the
Federal Energy Regulatory Commission
blocked the merger, delaying its close into 2012 on grounds that the tie-up would be harmful to energy market competition in North and South Carolina, where both companies have a significant presence.
After a Duke and Progress Energy proposed 8-year power selling agreement to mitigate concentration issues in the Carolinas was submitted in October, the FERC rejected the plan, calling it "flawed" and leaving key anticompetitive pricing threats unaddressed. However, the rejection of the proposal was not an outright veto of the merger.
Even after the FERC order, which has delayed the merger close from 2011, Duke and Progress are committed to the merger. "The companies are planning to submit a revised mitigation proposal as soon as the analysis of the commission's order is complete," said Duke and Progress in response to the FERC order. In a recent filing, Progress Chief Executive Bill Johnson said he expects the merger to close in June, pending regulatory approvals.
The companies will now need to resubmit a divestiture plan and have it accepted ahead of a July 8 termination date. As late as October, company officials had said the merger would close in 2011.
Previous to the December regulatory stoppage, the merger had received approvals from the
U.S. Department of Justice
, the
U.S. Nuclear Regulatory Commission
and the
Federal Communications Commission
, among other approvals, which also include the shareholders of both companies.
Divestitures still are a key to utilities mergers, which can create regional powerhouses. In December, the DoJ and other regulators approved the merger between
Constellation Energy
( CEG) and
Exelon
(EXC) - Get Exelon Corporation Report
that would create a mid-Atlantic energy titan. That deal will now looks more likely to close in 2012, pending the divestiture of three power plants.
For more on utilitity stocks, see
TheStreet's
portfolio of
the highest yielding utility stocks
.
2.
Johnson & Johnson's $21.3 billion Buy of Synthes.
In April 2011,
Johnson & Johnson
(JNJ) - Get Johnson & Johnson Report
bought medical device maker Synthes for $21.3 billion, in a push by the world's second largest health products company toward medical devices. However, in November the European Commission launched an "in-depth" investigation into the tie-up.
Synthes is a leading device maker for traumatic injuries and spine repair. With the company, Johnson & Johnson would roughly double its market share in those businesses.
The European Commission, which is
reported to be close to blocking
an exchange merger between
NYSE Euronext
(NYX)
and
Deutsche Boerse
, has said it has "serious doubts" for the merger because it harm industry competition and innovation.
The second review will scrutinize whether the deal harms European consumers, who rely on the two device-making healthcare giants. "The commission needs to make sure that effective competition is preserved, in order to maintain innovation and prevent harm to patients," said European Competition Commissioner Joaquin Almunia in a statement.
Even after the second review and an extension to the review that will expire in April, Synthes shareholders approved the merger in mid-December.
For more on Johnson & Johnson, see
TheStreet's
portfolio of
the highest yielding drug stocks
.
1.
Carl Icahn's Takeover Mania.
After returning over 30% on his holding's in 2011, Carl Icahn, the legendary shareholder activist may see his fate turn as he chases takeover attempts, mergers and increasingly complex proxy campaigns.
In 2011, Icahn pushed spin offs of non-core exploration and intellectual property assets in his billion dollar plus-sized minority stakes
El Paso
( EP) and
Motorola Mobility
(MMI) - Get Marcus & Millichap, Inc. Report
, respectively. When the push to monetize assets yielded full company sales, the deals netted the investment mogul impressive returns as
Kinder Morgan
(KMI) - Get Kinder Morgan Inc Class P Report
and
Google
(GOOG) - Get Alphabet Inc. Class C Report
swooped in and paid big premiums to buy the companies.
The El Paso deal was the biggest takeover of 2011 and Google's purchase of Motorola Mobility was both the biggest U.S. tech deal of the year and the high water mark in a Silicon Valley patent M&A war. For more on Carl Icahn see his
.
However, Icahn also started a strategy to push for takeovers among his large holdings. In July, Icahn submitted a $10 billion bid for cleaning products giant
Clorox
(CLX) - Get Clorox Company Report
, offering $76.50 a share for the company, one of his largest holdings at the time with a 9.4% stake worth nearly $5 billion. When submitting the bid, he indicated that strategic buyers like
Procter & Gamble
(PG) - Get Procter & Gamble Company Report
,
Colgate-Palmolive
(CL) - Get Colgate-Palmolive Company Report
,
Kimberly-Clark
(KMB) - Get Kimberly-Clark Corporation Report
and
Unilever
could pay $100 for the company and be stronger acquirers.
All Icahn needed for the bid to work was shareholder support. That didn't materialize and in September, Icahn withdrew his bid and focused on other takeover efforts like a scrap metals giant
Commercial Metals
(CMC) - Get Commercial Metals Company Report
and a truck-making tie-up between large holdings
Navistar
(NAV) - Get Navistar International Corporation Report
and
Oshkosh
(OSK) - Get Oshkosh Corp Report
.
As those M&A attempts come up against January proxy deadlines, it increasingly looks like Icahn's strategy to push for takeovers and M&A may not yield desired results.
On Jan. 11, Icahn withdrew his $1.73 billion hostile bid for Commercial Metals after less than 40% of the scrap metals giant's shareholders tendered their shares, meanwhile a proxy campaign to nominate a slate of directors to Oshkosh's board, who will likely push for a sale, may not succeed either.
Both Commercial Metals and Oshkosk are in cyclical construction and industrial-related businesses that may be nearing a bottom after a post-crisis lull. But, Icahn doesn't invest in gradual economic recovery and new management initiatives. He pushes for immediate change.
In 2012, look for Icahn to either start winning proxy contests or tack in strategy by finding companies with assets to sell, instead of trying to get into companies that need to be sold quickly.
For companies in Icahn's sights, his success and failure will have a big impact on their stocks. Commercial Metals shares are down over 10% since Icahn withdrew his tender, even as the
S&P 500
has gained.
For more on stocks that may benefit from a cyclical recovery, see
Barrington Research's best stock picks for 2012
.
-- Written by Antoine Gara in New York