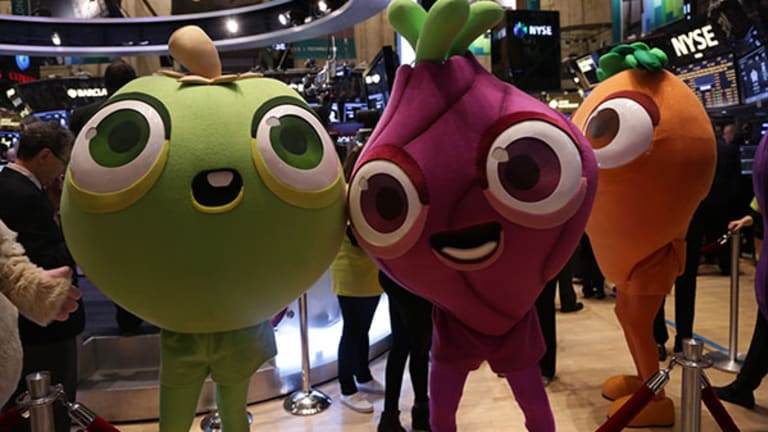 $5.9 Billion King Digital Deal Moves Activision Blizzard Toward Mobile Games
King Digital has more monthly users than Twitter but relies heavily on games from the 'Candy Crush Saga' franchise. Activision swooped in, looking for mobile growth.
King Digital has more monthly users than Twitter but relies heavily on games from the 'Candy Crush Saga' franchise. Activision swooped in, looking for mobile growth.
With Activision Blizzard's (ATVI) - Get Report$5.9 billion purchase ofKing Digital Entertainment (KING) , the producer of the Call of Duty and World of Warcraft gaming franchises aims to become a force in mobile entertainment as well.
"We will have one of the largest entertainment networks in the world, with over half a billion monthly average users," Activision CEO Bobby Kotick said during an investor call on Tuesday, Nov. 3.
Mobile gaming is a $36 billion market, Kotick said, and the purchase would "enhance our position as the most profitable interactive entertainment company in the world."
The King deal also draws attention to mobile gamers Glu Mobile (GLUU) - Get Report and Zynga (ZNGA) - Get Report as well as private gaming companies such as SuperCell and Kabam.
Activision on Monday agreed to pay $18 per share in cash for King. Activision expects to close the deal in spring 2016.
Driven by hits Candy Crush Saga and Candy Crush Soda Saga, King has more monthly average users than Twitter (TWTR) - Get Report . Activision instantly would gain popular titles in the fastest-growing gaming segment, but it would rely heavily on a narrow group of titles related to Candy Crush.
While King is profitable, its revenue is sliding. The company generated nearly $2.3 billion in 2014 sales, but Wedbush Securities expected the figure to drop to just under $2 billion this year and to less than $1.9 billion in 2016.
Netting out King's cash, the enterprise value of the deal is $5 billion, or about 6.4 time the target's adjusted earnings before interest, taxes, depreciation and amortization. Activision plans to pay for the acquisition with $3.4 billion in offshore cash and with debt.
"It gives Activision high-margin digital revenue streams, and it moves the company forward into mobile," Mizuho Securities analyst Neil Doshi said.
The reliance on Candy Crush is a concern, though.
"The big question is can this company expand and develop new successful mobile gaming hits," Doshi said. "The flip to that is Activision could potentially use King as their mobile game development center."
King has 475 million monthly active users, Doshi observed, compared with Twitter's 320 million. The company would have paid substantially more if it acquired a private gaming outfit, the analyst said.
Shares of Activision, the target and other publicly traded mobile gaming companies bounced higher on Tuesday.
King's shares gained $2.30, or 14.8%, to $17.84 per share. Activision shares rose $1.25, or 4.6%, to $35.82.
Zynga climbed 6 cents, or 2.5%, to $2.45. Glu Mobile shares closed at $3.84, up 4.4%.
Macquarie Capital analyst Ben Schachter suggested in a Tuesday note that large gaming companies such as Electronic Arts (EA) - Get Report and Take-Two Interactive Software (TTWO) - Get Report are unlikely to bid for Zynga or Glu, but he said the companies could appeal to media groups or overseas gaming companies.
SoftBank (SFTBF) boosted its stake in Supercell, the Helsinki, Finland, maker of Clash of Clans, to 73.2% in June. Kabam, which developed Kingdoms of Camelot, has backing from investors including Alibaba (BABA) - Get Report , Google's (GOOGL) - Get Report Google Ventures, Time Warner's (TWX) Warner Bros., Metro-Goldwyn-Mayer Studios, Intel (INTC) - Get Report , Canaan Partners, Redpoint Ventures and Pinnacle Ventures.
Activision retained Goldman Sachs bankers Ian Spaulding, Andy Gordon and Michael Ronen and a team from Bank of America/Merrill Lynch including Anwar Zakkour, Dan Kelly, James Lindsay and Sanjay Rijhwani. The buyer received counsel from Jeffrey Rosen and William Regner of Debevoise & Plimpton; Mason Hayes & Curran lawyers including Justin McKenna, Matthew Cole and David Mangan; and a team from Allen & Overy led by Dirk Arts.
JPMorgan Securities bankers Mark Fiteny, Anne Berry, Marco Caggiano, Xavier Loriferne, Dwayne Lysaght and James Robinson advised King. The target retained Mark Stevens, David Michaels and Ken Myers of Fenwick & West and William Fry lawyer David Fitzgibbon.