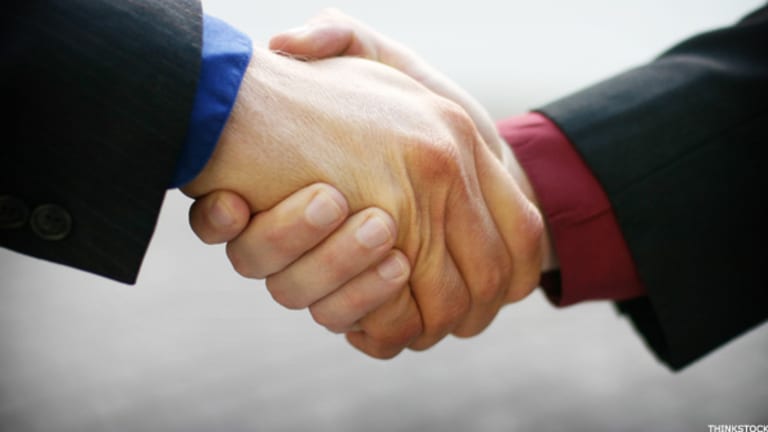 3 Shorted Stocks Too Cheap to Sell
Here's a look at 3 shorted stocks that may be too cheap to sell if acquirers weigh bids.
NEW YORK (
) -- With an eerie quiet on the U.S. deals front, takeover premiums have been wiped from many companies in the M&A rumor mill. But for some highly-shorted companies, valuations may be at a point where takeover interest is more likely, making for a risky short even if fundamentals continue to deteriorate.
In a screen of heavily shorted stocks with low enterprise values relative to earnings before interest, taxes, depreciation and amortization, information provider
Data Explorers
was able to identify 61 companies with a short interest over 10% and swooning valuations. Data Explorers screened around the world for highly shorted companies with low or falling valuations and a market cap above $1 billion.
"Companies which have seen a fall in their share prices in the last year implies profits for short sellers, yet their low valuations could make them a potential acquisition target. Should this happen, a short seller would be exposed to any takeover premium offered by bidders," wrote Data Explorers in a March 3 report.
Data Explorers arrived at over 60 names scattered across the world, however five stand out as battleground stocks either because of their valuation, short interest or previous M&A speculation.
Here's a look at
that may be too cheap to sell, according to
Data Explorers
For more on deal activity and trends, see
10 Companies Primed for a Post-Bankruptcy Comeback and
5 Tough Sells in the Tech Sector. For more on M&A bankers and pending deals, see why
2012 deals hinge on Goldman's idea of fairness .
3.
Veeco Instruments
(VECO) - Get Veeco Instruments Inc. Report
As of Data Explorers' screen published earlier in March, light emitting diode
LED manufacturer Veeco Instruments has both a low enterprise value to EBITDA and a high short interest that can be a dangerous cocktail to shorts, especially if M&A rumors resurface.
The Plainview, N.Y.-based designer of LED and solar systems currently has a low enterprise-value-to-EBITDA ratio of 2.0 to go with a short interest that's over 35% of outstanding shares, making it the most shorted company among possible takeover targets highlighted by Data Explorers. Already, a near-40% 2012 surge in Veeco Instruments shares has likely been tough to bear for shorts.
Nevertheless, huge questions remain for the company's 2012 earnings, as it tries to curtail an over-40% share lull in the last 12 months.
Analysts polled by
Bloomberg
give Veeco Instruments a price target of $27.40 a share, on an expected plummet in 2012 sales and profitability. Veeco is expected to see its sales fall by nearly 50% to $534 million, cutting profits by over two-thirds to $36.71 million, according to consensus analyst estimates.
Still, the company's falling stock value could spur an opportunistic private equity or strategic acquisition, according to previous analyst speculation.
In 2010, Citigroup analysts noted that
Toyko Electron
could show interest in U.S. semiconductor leaders like
Applied Materials
(AMAT) - Get Applied Materials, Inc. Report
, while it could also look at a LED specialist like Veeco or
Ultratech
(UTEK)
.
After a wave of semiconductor M&A, including a multibillion-dollar acquisition of
Varian Semiconductor
by Applied Materials, Veeco re-emerged as a takeover candidate. Exane analysts pointed to Veeco and European peer
Aixtron
as possible takeover targets in the LED space, with
KLA Tencor
(KLAC) - Get KLA Corporation Report
,
Novellus
(NVLS)
and
ASML Holdings
(ASML) - Get ASML Holding NV Report
as potential acquirers.
Even without an M&A bid for Veeco, the company could continue a 2012 rally after falling roughly 50% in 2012. Oppenheimer technical analyst Carter Worth highlighted Veeco as a company that could benefit from a "bearish-to-bullish" reversal in sentiment in a Feb. 27 note.
Earlier in February, Veeco forecast earnings per share below analyst expectations, pushing shares down. Still, revenue expectations were within the range of analyst expectations. Prior to the muted guidance from management, Citigroup had highlighted that Veeco and Aixtron would issue 2012 earnings guidance "well below" estimates, citing more competition in Veeco's metal organic chemical vapor deposition systems from low-cost Asian manufacturers.
2.
First Solar
(FSLR) - Get First Solar, Inc. Report
The solar industry pops up in Data Explorers screen of shorted takeover propositions, with struggling
First Solar
(FSLR) - Get First Solar, Inc. Report
standing out as the largest name.
At a market cap of over $2 billion, First Solar is still the largest U.S. solar manufacturer and one of the largest in the world, even after an over-80% 12-month share plummet. At an enterprise-value-to-EBITDA ratio of below 5 and a short interest of nearly 20%, a strategic or private equity acquirer could smoke out First Solar shorts.
A stock that's been above $160 in 2011 and has suddenly fallen so far is logical as a
strategic target for a stronger acquirer. But with shares falling near all-time lows below $30 a share, it looks like a takeover premium has been erased from First Solar's stock.
In contrast to other industry peers like
SunPower
(SPWRA)
and
MEMC Electronics
(MEMC)
, First Solar is still expected to turn a profit through 2012 as solar panel margins continue to fall on increasing Chinese competition, oversupply and a withdrawal of government support to the industry.
In late February, the company cut its 2012 earnings guidance, leading to a sharp drop in shares, while it also reported a $4.74 a share fourth quarter loss that was well below $1.02 a share profit expectations, according to analysts polled by
Bloomberg
.
But with shares now at
all-time lows and what may be a nadir, long-rumored acquirers may look to cut a deal.
In a December article,
Bloomberg
noted that the world's leading thin-film solar-panel maker may be easier to swallow now that it's market cap fell from levels as high as $25 billion when it was on Goldman Sachs's "conviction buy list." The article cited R.W. Baird analysts who noted
General Electric
(GE) - Get General Electric Company Report
and
Siemens
(SI) - Get Silvergate Capital Corp. Class A Report
as possible acquirers. Separately, Kaufman Brothers analysts said that the firm could be bought at a 50% premium.
Maxim Group analyst Aaron Chew noted that a GE acquisition of First Solar was "more feasible" as the company's shares fell below $50 in November, making a prospective deal worth as little as $5 billion. Since then, First Solar shares have continued to plummet, possibly lowering the takeover price. Also in November, Jefferies analysts pointed to Siemens,
Samsung
and
LG
as possible acquirers in the solar space.
But significant headwinds remain, including legal and product-related liabilities. Earlier in March, First Solar disclosed a
Securities and Exchange Commission
investigation into the possibility the company had violated
Regulation Fair Disclosure rules with regard to earnings. In addition, First Solar added to warranty charges related to panels it's made for multibillion-dollar solar plant developments, on the possibility that panels underperform in extreme heat. The liability remains to be seen.
Overall, analysts polled by
Bloomberg
expect First Solar to earn $3.6 billion in 2012 revenue, generating $341 million in profits. However, on weak guidance, analyst expectations for first quarter and 2012 earnings have been on a downtrend in recent weeks. Analysts give First Solar shares a $36.90 a share price target.
Best Buy
(BBY) - Get Best Buy Co., Inc. Report
By far the largest-cap company in Data Explorers screen of heavily shorted takeover targets,
Best Buy's
(BBY) - Get Best Buy Co., Inc. Report
falling earnings and cash-generating abilities are seen as a target for a private equity player, even if the company continues to lose out to online retailers like
Amazon
(AMZN) - Get Amazon.com, Inc. Report
in electronics sales.
As a result of weaker-than-expected earnings and a strengthening of Amazon's electronics retail proposition, Best Buy's shares have plummeted in the last 12 months, even after its biggest brick-and-mortar rival
Circuit City
was liquidated.
The Richfield, Minn.-based big box electronics retailer currently trades at roughly an enterprise-value-to-EBITDA ratio of 3, while short interest lingers at over 10%, according to Data Explorers. At a market cap of $8.6 billion, the company would nevertheless be a sizeable acquisition in a lukewarm M&A market.
Best Buy's margins continue to contract, leading to falling year-over-year profitability that puts the company's strategic direction in doubt. Nevertheless, the company's $50 billion plus in annual sales are still able to generate over $1 billion in quarterly cash, making it a possible private equity takeover target. In a January article,
Bloomberg
cited Morningstar and Telsey Advisory Group analysts who noted private equity as a possible acquirer of Best Buy.
Nevertheless, a potential acquirer would find a host of challenges in a Best Buy acquisition. The company, which is just beefing up its online presence, had inventory issues during the 2011 holiday season that signal it's far behind Web competitors. Meanwhile the company's chairman Richard Schulze owns a near 20% stake in Best Buy, adding a wrinkle to a takeover bid. Finally, a private equity buyer would need to line up a significant amount of financing in the still slow debt markets.
Finally, Best Buy has also been rumored to be looking at Chinese acquisitions as a way to continue its push into fast-growing BRIC economies and compete against local players like
Gome
.
In 2012, consensus analyst estimates compiled by
Bloomberg
signal that Best Buy will have flattish revenue and will turn to an over $1 billion loss after turning a $1.3 billion 2011 profit. Those analysts give Best Buy shares a $28.12 price target, a near 20% premium to current share prices of $24.55.
For more on Best Buy shares, see
TheStreet's portfolio of high yielding retail stocks and
Highbridge Capital Management's portfolio .
>>To see these stocks in action, visit the
3 Shorted Stocks Too Cheap to Sell
portfolio on Stockpickr.
-- Written by Antoine Gara in New York