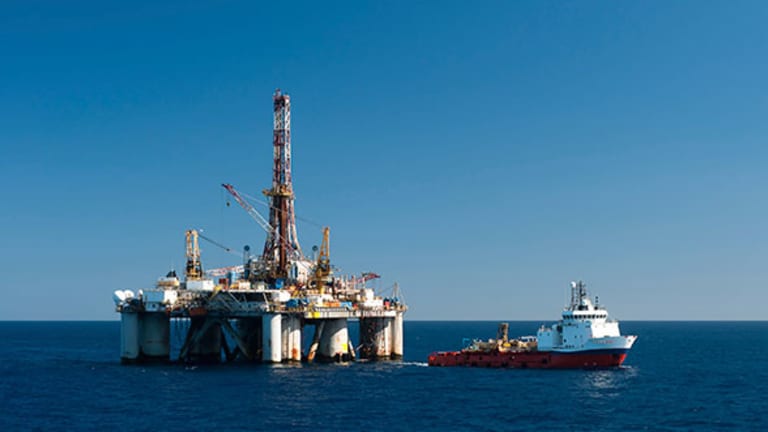 22 Oil and Gas Stocks to Buy as Oil Prices Bottom
Some analysts say now may be the time to re-enter the market and pick up some bargain energy stocks as oil prices fall below $50 a barrel.
NEW YORK (The Deal) -- Analysts who follow the oil and gas industry are reluctant to call a bottom to the current downturn, especially after oil prices fell below $50 per barrel last month and have struggled to rise above that seemingly new threshold. 
But some observers are sticking their necks out, saying now may be the time to re-enter the market and pick up some energy stocks on the cheap. 
Global Hunter Securities Inc. analyst Ken Sill wrote in a report Wednesday that he doesn't believe oil prices are sustainable in the mid-$40s and thinks stocks will at some point rally along with an oil price recovery. "Based on our analysis, we believe this may prove to be a potential entry point to consider selectively adding to oil service positions," he said.
He said past trading patterns suggest that the small-cap services and land drilling sectors have seen the greatest upside during rising oil price environments as well as the highest net returns since Jan. 28. Those with the highest net returns include Xtreme Drilling and Coil Services Corp., Cameron International Corp. (CAM) , Nabors Industries Ltd. (NBR) - Get Nabors Industries Ltd. Report, Flotek Industries Inc. (FTK) - Get Flotek Industries, Inc. Report, Halliburton Co. (HAL) - Get Halliburton Company (HAL) Report, Basic Energy Services Inc. (BAS) - Get Basic Energy Services, Inc. Report, Patterson-UTI Energy Inc. (PTEN) - Get Patterson-UTI Energy, Inc. Report, Weatherford International plc (WFT) - Get Weatherford International plc Report, RPC Inc. (RES) - Get RPC, Inc. Report and Schlumberger Ltd. (SLB) - Get Schlumberger NV Report. 
Sill noted that eight stocks that have appreciated during the upturn and have held to less than 20% declines during the subsequent downturn include Xtreme, Cameron, Halliburton, RPC and Schlumberger as well as Baker Hughes Inc. (BHI) , Natural Gas Services Group Inc. (NGS) - Get Natural Gas Services Group, Inc. Report and Hornbeck Services Inc. (HOS) - Get Hornbeck Offshore Services, Inc. Report.
To nobody's surprise, the worst-performing stocks have been the offshore drillers, seismic companies and transportation stocks and may ultimately prove to be deep-value plays, he said. "But the limited response to previously rising oil prices suggests that investors are currently not seeing that long-term potential," he noted.
As excess inventories are worked off and non-OPEC production falters, Sill expects that capital will return first to the service-intensive North American drilling and completion business, although he doesn't expect a recovery until 2016. "The recent swoon in oil prices has only called the timing and trajectory of the recovery into question but not the recovery itself, in our opinion," he said.
Meanwhile, on the E&P, or exploration and production, front, Topeka Capital Markets analyst Gabriele Sorbara wrote in a report Monday that recent conversations have revolved around the view that oil prices and the E&P sector may be bottoming technically. "We remain cautious, given the lack of catalysts to push oil higher near-term, but concede that oil and the E&P stocks are oversold and may have a violent snap back, driven by short-covering and/or any positive surprises," he said.
Sorbara's favorite overall names include Energen Corp. (EGN) , Pioneer Natural Resources Co. (PXD) - Get Pioneer Natural Resources Company Report, Diamondback Energy Inc. (FANG) - Get Diamondback Energy, Inc. Report and Cabot Oil & Gas Corp. (COG) - Get Cabot Oil & Gas Corporation Report, with his best oil picks being EP Energy Corp. (EPE) - Get EP Energy Corp. Class A Report, Oasis Petroleum Inc. (OAS) - Get Oasis Petroleum Inc. Report and SM Energy Co. (SM) - Get SM Energy Company Report and his best natural-gas names in the Utica Shale being Eclipse Resources Corp. (ECR) - Get Montage Resources Corp. Report and Gulfport Energy Corp. (GPOR) - Get Gulfport Energy Corporation Report.
If this is indeed the bottom, mergers and acquisitions may follow. Sorbara is expecting deal activity in the industry to pick up in the next six months, but more likely smaller deals -- leasing and bolt-ons -- over large, more expensive corporate transactions, noting that Concho Resources Inc. (CXO) - Get Concho Resources Inc. Report and Whiting Petroleum Corp. (WLL) - Get Whiting Petroleum Corporation Report have both expressed that interest. He said companies have said on conference calls that they remain proactive in evaluating acquisition and divestiture opportunities in the market but the valuation spread between buyers and sellers remains wide.
"We believe some management teams are becoming more realistic, although not many are willing and do not need to sell assets or their entities at the bottom of the commodity cycle," he said.
Sorbara thinks West Texas' and New Mexico's Permian Basin and the Appalachia area will attract the most M&A activity. He thinks Energen, Diamondback and Laredo Petroleum Inc. (LPI) - Get Laredo Petroleum, Inc. Report the most likely corporate takeout candidates in the Permian, and Eclipse and Gulfport in Appalachia. Let the deals begin. 
Read more from: