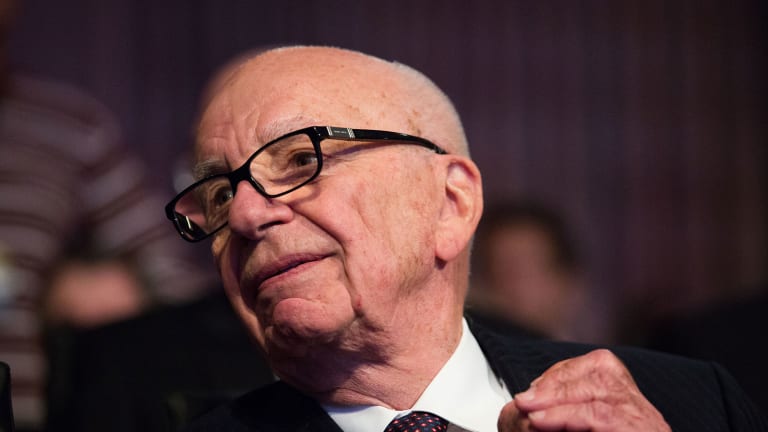 21st Century Fox Confirms $14.6 Billlion Takeover Bid for Remaining Sky Stake
Fox will acquire the remaining 61% of Europe's biggest pay-TV company.
Twenty-First Century Fox (FOXA) - Get Report confirmed Thursday it would acquire the remaining shares it doesn't already own in European pay-TV and internet provider Sky (SKYAY) for £11.7 billion ($14.6 billion).
Sky shareholders will receive £10.75 per share in cash, which represents a 40% premium of the closing price of Sky's shares on December 6, the last business day before Fox made its initial offer for the 60.9% it doesn't already own. The price also represents 11.4 times Sky's adjusted Ebitda of £2.18 billion for the year ended June 30, the Fox statement said.
While the London-based Sky's independent committee unanimously agreed to the proposal, stringent conditions on the dividend and a bullish broker outlook for Sky as a standalone could mean that Fox faces an uphill battle to secure the backing of minority investors in its attempt to acquire a piece of the broadcaster it does not already own.
Fox expects to complete the purchase before the end of 2017.
Fox also said Sky will not pay any dividends for its 2017 year fiscal, which ends in June. Analysts had been expecting a pay-out of 35.0 pence per share according to FactSet.
In addition, the U.S. buyer said it will reduce its £10.75 offer price proportionally if the dividend for the six months to December 31 exceeds 13.06 pence and if, for the year ending June 30 2018, the payout exceeds 21.8 pence. Analysts had pencilled in a dividend of 37.0 pence per share for 2018.
Shareholders will, however, will receive a special dividend of 10 pence per share in 2018 if the transaction is not completed before December 31, 2017.
The details on Fox's proposals come just hours after a research note was published by UBS in which it slapped a 12-month price target of £13.70 on Sky shares, under its 'base case' scenario. But the broker forecast that if revenues grow stronger than is expected and the company makes more progress on cost cuts, then the shares could be worth as much as £15.90 at some time over the next 12 months.
The Rupert Murdoch media empire last pursued Sky publicly in 2010, but the effort was thwarted when it emerged reporters at his newspaper companies had hacked into mobile phones of celebrities, politicians and others. The scandal eventually led to the closure of New of the World, a London tabloid.
The deal also follows Fox's failure to acquire Time Warner in 2014 in a deal valued at $80 billion.
London-based Sky's independent committee unanimously agreed to the proposal saying that the premium offered to shareholders - 36% to the closing price of Sky's shares on December 8, the last business day before the start of the offer period-would benefit them.
"The enhanced capabilities of the combined company will be underpinned by a more geographically diverse and stable revenue base," Fox said. "It will also create an improved balance between subscription, affiliate fee, advertising and content revenues. This combination creates an agile organization that is equipped to better succeed in a global market."
Sky shares fell 0.8% in London following the bid confirmation to trade at £9.74 each by 14:10 p.m. GMT.