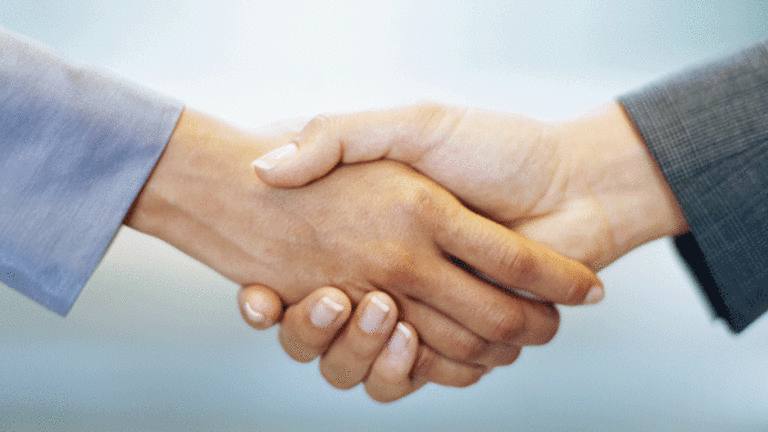 2012 Deals Hinge on Goldman Sachs' Idea of 'Fairness' (Update 1)
If Goldman Sachs hostile bid 'adequacy' opinions may be a signal of rising valuations.
Updated to include additional M&A data, analyst research and closing share prices
NEW YORK (
) -- Should investors beware of big takeover bids bearing a share premium? For
Goldman Sachs
(GS) - Get Goldman Sachs Group Inc. (The) Report
, the answer increasingly signals an emphatic "yes."
A flurry of recent high-priced bids from big-league buyers such as
Roche
,
Martin Marietta
(MLM) - Get Martin Marietta Materials Inc. Report
and Carl Icahn have all been given the thumbs down by Goldman as the Wall Street bank offered less than favorable "fairness opinions" on the bids.
While shareholders are the ultimate arbiter of whether a bid is fairly priced, those deals reveal that Goldman Sachs is becoming more vocal on M&A prices and the management of the targeted companies are more than happy to use Goldman's word to scuttle a deal in hopes of a higher offer or an earnings recovery.
A fairness opinion is given by an investment bank as an independent analysis that should help shareholders sort between what is a fairly valued bid and what is opportunism.
So far, Goldman has seen a lot of opportunism. In three of the largest hostile offers of 2011 and early 2012, Goldman Sachs investment bankers have urged company managers and shareholders to turn down bids, with the expectation that either share price gains or a stronger offer would be available in the future.
The near $5 billion recent hostile offers for both genomics machinery maker
Illumina
(ILMN) - Get Illumina Inc. Report
by Roche and construction aggregates giant
Vulcan Materials
(VMC) - Get Vulcan Materials Company (Holding Company) Report
by Martin Marietta were considered "inadequate" by Goldman Sachs.
The bank has also taken a dim view on premium priced offers from activist investor Carl Icahn for
Clorox
(CLX) - Get Clorox Company (The) Report
in 2011 and
Commercial Metals
(CMC) - Get Commercial Metals Company Report
earlier in the year.
In each case, Goldman's opinion spurred management to reject an offer to often messy but still uncertain results.
With many hostile offers now coming toward an offer price nexus or previously announced negotiating deadlines, watch for bid boosts or deal breakups to be a strong indicator for both M&A activity and takeout premiums, which were a key to share gains for many investors in 2011.
Overall, the market for deals has slowed in 2012, even after
Glencore's
with
Xstrata
earlier in Feb. January was the worst month for M&A globally since Aug. 2009, according to
Dealogic
data.
Nevertheless, M&A premiums and markets are on the rise almost two months into the new year. Acquirers have paid a 42.9% premium for U.S. companies in 2012, according to
Bloomberg
data, a lift compared with the 31.1% premium paid in 2011. Meanwhile, the markets hit a major post-crisis milestone on Tuesday when the
Dow Jones Industrial Average
briefly
for the first time since 2008.
For more on activist M&A, see
5 deal ready stocks loved by hedge funds
and
. For more on Goldman Sachs, see
financial stocks bought and sold by hedge funds
.
After German pharmaceuticals giant Roche offered Illumina $44.50 a share in January, analysts and investors reacted to the bid by signaling that
a bidding war
might emergy for the company among large players like
Johnson & Johnson
(JNJ) - Get Johnson & Johnson Report
and
Becton Dickinson
(BDX) - Get Becton Dickinson and Company Report
, pushing shares far higher. Nevertheless, Roche maintained that its bid represented an over 60% premium to Illumina's shares prior to deal rumors and stated that it wouldn't increase the offer.
In February Illumina enacted a poison pill to thwart Roche from building a large share stake and it rejected the unsolicited offer, citing a fairness opinion from Goldman Sachs showing the underpricing of the takeover bid. Some shareholders are now suing Illumina for not further considering the bid, while reports indicate that Roche may extend the tender offer that's set to expire on Feb. 24.
Even with Illumina's aversion to a takeover, the company's shares are far higher than Roche's bid, signaling expectations of an offer increase, a competing bidder or a longer-term earnings boost. Illumina shares have maintained a near 15% premium above Roche's offer price, while consensus analyst estimates polled by
Bloomberg
give the company a $56.07 price target, signaling that Goldman and co-adviser
Bank of America Merrill Lynch
(BAC) - Get Bank of America Corporation Report
are correct to advise management to hold out.
A similar dynamic played out in Martin Marietta's December
all-stock offer
for Vulcan Materials, which would give 0.5 Martin Marietta shares for each Vulcan share. Though the bid represented a 15% premium, Vulcan's management rejected the bid citing price opportunism that was confirmed by a
bid inadequacy opinion from Goldman Sachs
.
Analysts and investors seem to agree with Vulcan management and its bankers that the company will soon benefit from a construction recovery that will bolster its business of producing aggregates for buildings and roads, or that a more lucrative share offer is in store.
Currently, Vulcan Materials share prices of $46.12 indicate a higher than 0.5 share conversion, supported by a price target of $45.71, according to consensus estimates of analysts polled by
Bloomberg
.
Vulcan Materials' third largest shareholder
Southeastern Asset Management
with nearly 10% of the company's shares urged other investors to accept the takeover offer in January. The investment fund, which also owns over 13% of Martin Marietta's stock, said that if Vulcan doesn't resume merger talks, it will nominate a hostile slate of directors to move the bid forward.
To fight off a takeover, Vulcan Materials plans to sell $500 million in assets in the next 18 months to improve tis liquidity, balance sheet and restore its dividend, which was cut to 1 cent from 25 cents in 2011.
It's not just strategic acquisitions that Goldman Sachs had deemed inadequate; the investment bank has also been hired by many companies looking to thwart takeover bids from Carl Icahn.
In July, after Carl Icahn unveiled a $78 a share or over $10 billion cash offer for consumer products giant Clorox, the company hired Goldman Sachs and
JPMorgan
(JPM) - Get JP Morgan Chase & Co. Report
to give a fairness opinion.
Clorox's management called Icahn's premium priced bid "highly conditional" and substantially undervaluing its businesses, claims that were supported by Goldman Sachs opinions of bid inadequacy. Icahn then nominated a hostile slate of directors in a proxy contest to push the bid through or seek a sale to a strategic buyer to boost the shares of one his largest holdings at the time.
However, Clorox shareholders sided with management and Goldman's opinion in voting against Icahn's board appointees, leading to Icahn's withdrawal of his offer and share stakes.
But the bigger question is whether Goldman -- and management -- are making the correct calls.
Icahn would likely say an emphatic "no," with share prices currently proving his point.
After Icahn pulled his Clorox offer shares slid to the mid $60s and have barely touched $70 a share since. Currently, Clorox shares sit at $67.71, roughly 14% below Icahn's offer. Analysts don't expect an improvement in the company's earnings enough to push Clorox's stock beyond Icahn's bid anytime soon. Currently analysts polled by
Bloomberg
give Clorox a price target of $69.50 a share, more than 11% below the hostile offer.
Meanwhile, Icahn's $15 a share $1.73 billion bid for scrap metals giant Commercial Metals was also frustrated by management backlash, a Goldman Sachs and
Moelis
inadequacy opinion and shareholder disinterest to a direct tender, which expired without significant backing. The activist ended up pulling his offer, in what was a
rough start to January
.
When Goldman Sachs reinitiated coverage of Commercial Metals after Icahn's January exit it slapped a "sell" rating on company shares and a $10 a share price target. While Goldman Sachs's research and investment banking divisions are walled from each other and don't communicate on valuation, the report signals that Icahn's offer may have represented the best bet for shareholders.
Commercial Metals shares sit at $13.48 a share; roughly 10% below Icahn's bid. Nevertheless a price target of $16.50 a share according to consensus estimates polled by
Bloomberg
signals that the company may recover in value.
For company management, rejecting a hostile bid can net continued high salary for incumbent executives. For investment banks, hiring on opinions is a way to earn important advisory fees. Overall, Goldman Sachs pulled in over $1.7 billion advising mergers in 2011, which includes fees earned for providing fairness opinions. While the firm is helping to defend some of the largest outstanding hostile offers, it did not have a top 10 overall position in fairness opinions, according to
Dealogic
.
Watch for a resolution to multi-billion dollar bids for Illumina Vulcan Materials that Goldman Sachs has deemed to be inadequate as a leading indicator for both M&A premiums and if a further boost or a fall in stock valuations is in store, in addition to
for
CVR Energy
(CVI) - Get CVR Energy Inc. Report
If Icahn, Roche and Martin Marietta were to walk away from hostile offers, along with threats by Westlake Chemicals to do the same in its $1 billion bid for
Georgia Gulf
(GGC)
, it may be a damper on expectations of continued M&A and share price boosts, while bid increases would signal a strengthening of valuations to go with Goldman Sachs fairness advice.
Goldman Sachs did not respond after repeated requests for comment.
-- Written by Antoine Gara in New York