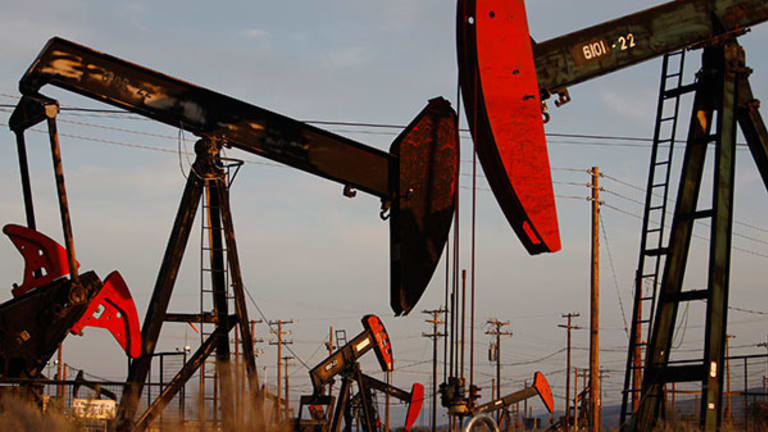 14 Oil Companies That Should Start Looking for Merger Partners
By joining forces, two oil and gas explorers could cut duplicative functions, capture economies of scale, increase buying power and build stronger balance sheets.
Amid all the hubbub over the slide in oil and gas prices, the consensus seems pretty clear about who will hurt the most: Smaller independent exploration and production companies.
Unlike the integrated oil companies, they don't have other divisions like refining, marketing or chemicals to fall back on when times are tough. Many of them borrowed money in the good times to fund their drilling programs, which will now have to be cut back. And they can't just go out and sell assets, as they'd get half of what they would have just last summer, which wouldn't make shareholders too happy and would lead their banks to redetermine their reserve-based borrowing bases, which is probably going to happen anyway with lower oil prices. "The E&P universe has been forcibly pushed into capital preservation mode," Global Hunter Securities Inc. wrote in a note Feb. 3.
With so few options at their disposal, how about hitching?
There are at least 14 publicly traded exploration and production companies with market capitalizations between $100 million and $500 million that would probably be better off combining with a similarly sized rival, observers say. Among the names on that list: Jones Energy Inc. (JONE) , Approach Resources Inc. (AREX) - Get Approach Resources Inc. Report , Penn Virginia Corp. (PVA) , Goodrich Petroleum Corp. (GDP) - Get Goodrich Petroleum Corporation Report , Resolute Energy Corp. (REN) , Gastar Exploration Ltd. (GST) , Comstock Resources Inc. (CRK) - Get Comstock Resources, Inc. Report , Petroquest Energy Inc. (PQ) , Ring Energy Inc. (REI) - Get Ring Energy, Inc. Report , Swift Energy Co. (SFY) - Get SoFi Select 500 ETF Report , Callon Petroleum Co. (CPE) - Get Callon Petroleum Company Report , Triangle Petroleum Corp. (TPLM) , Northern Oil and Gas Inc. (NOG) - Get Northern Oil and Gas, Inc. Report and Energy XXI Ltd. (EXXI) .
Industry watchers say investment bankers are starting to shop the notion around to smaller independent oil and gas companies as a way to generate fees in what's expected to be a dismal year for equity and debt offerings.
The idea has some merit. By joining forces, two liked-sized oil and gas explorers could cut duplicative functions, capture economies of scale, increase their buying power and build stronger balance sheets. PricewaterhouseCoopers' U.S. energy sector deals leader Doug Meier said in an interview on Monday he thinks there will be a lot of what he calls "efficiency" deals this year — "anything that helps a company make a combined enterprise more competitive."
The transactions could be structured as stock swaps, thus trading depressed shares instead of more valuable cash so as not to upset shareholders who think their companies are selling out at the bottom of the market.
Some of these explorers, like Approach Resources and Jones Energy, were originally backed by private equity firms but later went public, thinking they could get better valuations than in the M&A market. Now, with the slide in oil prices and the debt and equity markets mostly closed to oil and gas explorers and producers, they can't expand their operations. Management teams are unhappy, as they haven't made money in their IPOs — at least on paper — with their stock prices down significantly, and their sponsors won't put any more capital into their companies.
"Approach is a great company with a great team, but Yorktown won't give them any more money. They're stuck," a person at a private equity firm observed recently, referring to backer Yorktown Capital LLC. This person also noted that Jones Energy is in a similar situation.
For the moment, a lot of these companies are not in dire straits. Goodrich, for example, shouldn't need outside capital until next year assuming 2016 futures pricing $65 per barrel, JPMorgan Chase & Co.'s Joseph Allman and Dan Lee wrote in a report in December. "However, a prolonged bear market for oil could create more financial strains for the company," they said.
But once redetermination season begins in the spring between oil and gas companies and their bankers and many of their hedges start to fall off later in the year, "there will be motivation for companies to do deals," A.T. Kearney partner and Americas energy practice leader Vance Scott said in an interview last week.
Some companies are already in trouble. In December debt-bloated Resolute Energy — which famed buyout manager Tom Hicks bought from Natural Gas Partners in 2009 for $582 million and took public — was forced to shelve the sale of properties in West Texas' Permian Basin due to lower oil and gas prices. Then, in January, the Denver-based company had to borrow money from a hedge fund at distressed levels and cut the base salaries of its management team, including CEO Nicholas Sutton's by 95.9% to $24,000 per year.
Of course, these smaller companies could also be picked up by larger independents that don't have a lot of debt and are looking to boost their acreage in basins they're already in — and also capture some synergies. They could also be acquired by cash-rich international oil companies interested in doing some bottom fishing, with analysts pointing to Exxon Mobil Corp. (XOM) - Get Exxon Mobil Corporation Report as the most likely buyer.
But even the energy behemoth's record isn't perfect on that score, Oppenheimer's Fadel Gheit noted in a report last month. "While the Mobil merger added valuable assets and generated more than $10 billion [in] annual synergy benefits, the XTO acquisition was far less successful on plummeting gas prices and no meaningful recovery in sight," he said. Indeed, smaller companies may be better off getting married — especially given the danger of playing the singles scene.
Read more from
: