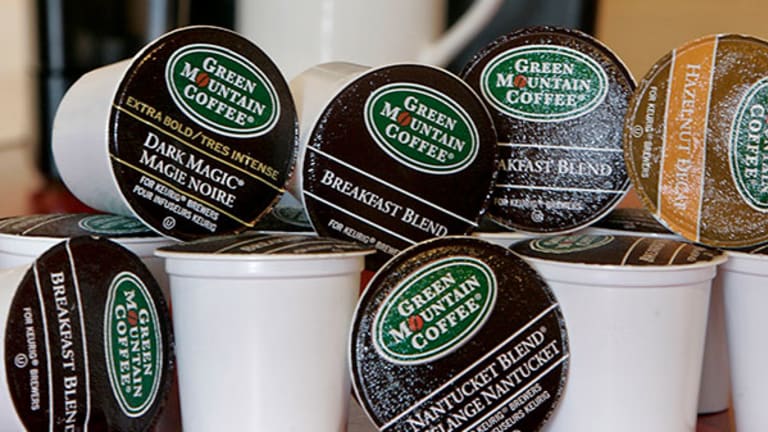 $13.9 Billion Mega-Deal Persuades Keurig Green Mountain to Go Private
A mega-offer for Keurig expands JAB Holding's presence in coffee and beverages. The deal also includes investments from Mondelez and others.
Keurig Green Mountain (GMCR) , the maker of beverage dispensers for the mass market, has agreed to be acquired by a JAB Holding-led investor group for about $13.9 billion, the two companies announced Monday morning.
The Luxembourg-based private equity firm will take the Waterbury, Vt.-based company private for $92 per share in cash, a 77.9% premium over the target's closing stock price of $51.70 on Dec. 4.
As of Nov. 13, Keurig had total outstanding shares of about 148.9 million, according to a 10-K filed on Nov. 19. At $92 per share, that would equate to nearly $13.7 billion. It also had cash and cash equivalents of nearly $60 million and restricted cash and cash equivalents of about $30 million as of Sept. 26, as well as outstanding debt of about $330 million and capital lease obligations and financing obligations of around $120 million, giving the company an enterprise value of close to $14.1 billion.
The offer, however, is below Keurig's 52-week-high of over $141 per share. The company's stock has been battered due to increased competition and questions around its devices, such as the launch of an expensive new cold-brewing system for making soda drinks at home.
In Monday trading, Keurig's stock was up about 72% on the news pegged at $89.15 per share.
JAB said it is teaming up with the same strategic minority investors who participated in the acquisition of Jacobs Douwe Egberts, including Mondelez International (MDLZ) - Get Report , as well as BDT Capital Partners and those affiliated with the firm.
Keurig as a private company will continue to be operated as an independent company, according to the announcement.
The investment by JAB is not the first in the sector, as it has made a number of coffee plays in recent years, including the purchase for approximately €7.5 billion, which at the time was the equivalent of $9.8 billion, of D.E. Master Blenders in 2013.
Then in 2014, D.E. Master Blenders combined with the coffee unit of Mondelez, paying the cookie and cracker maker $5 billion and a 49% stake in the newly formed Jacobs Douwe Egberts.
Bart Becht, chairman of JAB, said in a statement, "Keurig Green Mountain represents a major step forward in the creation of our global coffee platform. It is a fantastic company that uniquely brings together premium coffee brands and new beverage dispensing technologies like the famous Keurig single-serve machine."
Coca-Cola (KO) - Get Report , which bought a 10% stake in Keurig for almost $1.3 billion, is also supportive of the deal.
"The Coca-Cola Company is fully supportive of this transaction," said Muhtar Kent, chairman and CEO of Coca-Cola, in a statement. "We have enjoyed a strong partnership with Keurig Green Mountain, and will continue our collaboration with JAB in order to capitalize on the growth opportunities in the single-serve, pod-based segment of the cold beverage industry," he added.