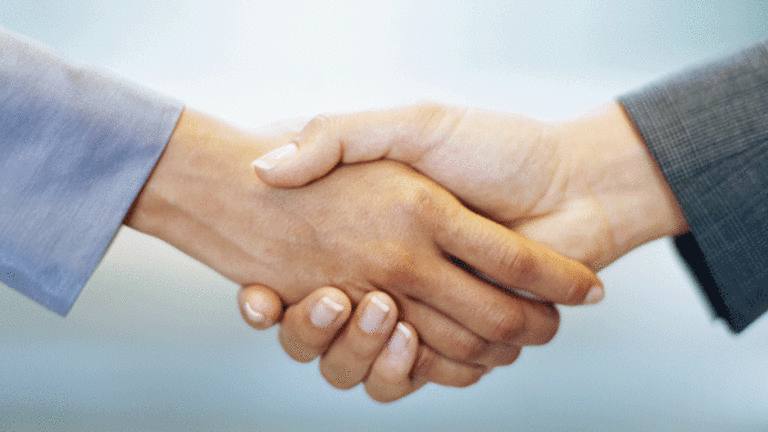 $1.25 Billion DSS Buy Likely Puts an End to Sale of Cott
Observers feel a leveraged buyout of the Canadian maker of private-label drinks is doubtful now that it has diversified and become larger.
Cott Corp.'s (COT) - Get Cott Corporation Report $1.25 billion acquisition of DSS Group Inc. last week is further indication that a leveraged buyout of the Canadian maker of private-label drinks is off the table in the near term, according to industry sources and followers of the company.
"It does diversify them, it does make them substantially larger, but it could make them less buyable than before," said a source familiar with the situation who asked to remain unnamed.
Toronto-based Cott announced Nov. 6 that it had struck a deal to buy the parent of Atlanta-based DS Services Holdings Inc., a direct-to-consumer provider of bottled water, office coffee and water filtration services, on a cash-free and debt-free basis. The seller was Crestview Partners LP, the New York private equity firm that bought DS only about 14 months ago, on Sept. 3, 2013, for an undisclosed sum.
"They [Cott and DS] both have fairly limited prospects in terms of finding buyers at attractive prices," the unnamed source said, noting that the private-label bottled water products Cott will inherit via DS face stiff competition from Pepsi Co. (PEP) and Coca-Cola Inc. (KO), as do its existing private-label soft drink, juice, flavored water, energy drink and ready-to-drink tea products.
Cott officially confirmed on Feb. 5 that it had retained Credit Suisse Group to help evaluate alternatives, but the company actually began its search for a buyer a year or so ago, the unnamed source noted.
The Deal reported in February that Cott — the company best known for its Royal Crown Cola International, or RC Cola, brand, which it owns everywhere outside North America (Dr Pepper Snapple Group Inc. owns the North American rights) — could use its cash to pursue acquisitions as an alternative means to unlock shareholder value, should it be unsuccessful in finding a buyer.
Among the factors deterring potential private equity suitors from acquiring Cott over the past several months has been the company's dependency on Wal-Mart Stores Inc. (WMT) - Get Walmart Inc. Report as its primary customer (Cott's exclusive supply agreement for carbonated soft drinks was terminated by the retailer in January 2009); the general direction of the soft drink industry amid a trend toward healthier beverages; concern about competition from the industry's more dominant players, including Coke and Pepsi; and concern about how an exit out of an investment in Cott a few years down the road would come about, according to sources
"Beverages are so cheap anyway that the branded stuff, from a taste perspective, seems to rule here," Cath Jaros, a managing director of middle-market investment firm Peakstone Group said via phone. "The whole soda business is out of favor from a nutritional point of view."
According to Levin Capital Strategies LP portfolio manager Jack Murphy, the DSS Group acquisition is logical from both a financial and strategic perspective.
The company said that its post-deal gross profit and adjusted Ebitda margins should be 27% and 12%, respectively, compared to 12% and 9%, respectively, on a standalone basis. Post-deal, Cott would have pro forma Ebitda of more than $350 million on $3 billion in annual sales.
"If you want to maximize the size of the company, you have to diversify the company away from carbonated soft drinks and a single large customer base, and this accomplishes a lot of that," Murphy said via phone. "Why would you give the company away at a low price when you can do it yourself? ... It would be relatively complex to come up with a PE deal where a company could buy Cott and simultaneously buy another company to diversify."
Levin Capital, a New York-based hedge fund, owns about 8.2% of Cott's outstanding shares.
Moody's Investor Service Inc. affirmed its B2 Corporate Family rating on Cott on Nov. 6, noting that its leverage in terms of debt-to-Ebitda is likely to sit at or slightly above 5 times, post-acquisition.
"The acquisition is transformational for Cott, taking it into an entirely new business, which presents certain new risks and challenges, but also provides for much-needed diversification given the negative long-term trends in its core business," Moody's analysts wrote in a Nov. 6 statement.
With DSS under its wing, shares of Cott could reach as high as $12 to $15 a share, Levin Capital said.
Shares of Cott have declined about 20% over the past 12 months, finishing at $6.53 on Monday.
Officials with Cott didn't return calls on Monday.