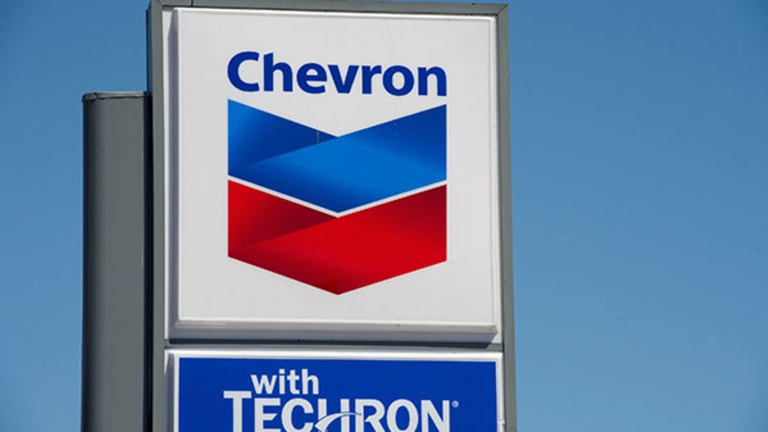 10 Oil and Gas Companies at Risk of Cutting Their Dividends
If low oil prices persist, even major oil companies could be forced to rethink their dividends.
NEW YORK (The Deal) -- Dividends are cherished by the widows and orphans set. They are a portion of earnings that companies dole out as an incentive to shareholders to buy and hold onto to their stocks. For some investors, they're a little like a Christmas gift in July -- unexpected, but gladly received. But a lot of investors rely on dividends to help supplement their income, and so when they're taken away, it comes as a bit of a shock.
That's what happened with Chesapeake Energy (CHK) - Get Chesapeake Energy Corporation Report, which said last week it was eliminating its dividend "due to the current commodity price environment for oil, natural gas and natural gas liquids and the resulting reduction in capital available to invest in its high-quality assets." It also announced an asset sale to private equity-backed FourPoint Energy that will bring in cash proceeds of $90 million.
Analysts at Tudor, Pickering, Holt & Co. said the move was "prudent," saving the company $240 million per year, noting that few investors bought Chesapeake's shares for the dividend -- 35 cents per share per year, or a 3.4% yield. "Given (the) move in commodity prices, we believe investors will continue to favor capital discipline," the analysts said.
Mike Kelly, an analyst at Global Hunter Securities, agreed that cutting the dividend is a "painful but necessary first step" to address what he thinks will be a rapidly increasing leverage position for Chesapeake, whose net debt-to-earnings before interest, taxes, depreciation and amortization ratio will approach nine by the end of next year based on his math and what the market foresees for oil and gas prices.
The news sent the stock of the Oklahoma City oil and gas company down almost 10% on the Tuesday it was announced last week to $9.25. The stock subsequently slipped to as low as $8.28 on Friday, near its 52-week low. On Thursday, it closed at $8.99, down 16 cents.
SunTrust Robinson Humphrey analyst Neal Dingmann wrote in a report Monday that he wouldn't be surprised to see Chesapeake bring in more capital by duplicating "last year's success" and shedding one or two of its seven main operating regions -- maybe the Powder River Basin and the southern part of its Mid-Continent asset, with either bringing in another $500 million. He also could see a sale of the entire company, as it's one of the most "asset rich" of the companies he covers with a net asset value "well north" of his $15 price target. A company spokesman wouldn't comment.
A sale of the company at a decent premium would make Carl Icahn happy, with his nearly 11% stake, according to a May regulatory filing.
Which oil and gas company could be next to cut its dividend? Longtime oil and gas analyst Fadel Gheit at Oppenheimer & Co. points to a table he put together that compares large oil and gas companies' operating cash flow, capital spending and dividend payouts.
Those with large cash-flow deficits -- thus making them susceptible to dividend cuts -- include BP (BP) - Get BP Plc Report, Chevron (CVX) - Get Chevron Corporation Report, Exxon Mobil (XOM) - Get Exxon Mobil Corporation Report, Royal Dutch Shell( RDSA), ConocoPhillips (COP) - Get ConocoPhillips Report, Occidental Petroleum (OXY) - Get Occidental Petroleum Corporation Report, Anadarko Petroleum (APC) - Get Anadarko Petroleum Corporation Report, Devon Energy (DVN) - Get Devon Energy Corporation Report, Marathon Oil (MRO) - Get Marathon Oil Corporation Report and Murphy Oil (MUR) - Get Murphy Oil Corporation Report.
The table shows Chevron having the largest cash-flow deficit this year at $18.6 billion, followed by Shell at almost $13 billion and Exxon Mobil at $11.4 billion.
But of any of the 10 companies, Occidental may be most susceptible to a dividend cut, as its payout is expected to make up the most of cash flow at 46%, followed by Shell at 42% and ConocoPhillips at 39%, versus 30% on average for the group.
In April, Exxon Mobil actually increased its dividend, but less than previously, while Chevron didn't raise its payout and ConocoPhillips increased its dividend by only 1%. But that was before oil prices began to slide again over the last few weeks to below $50 per barrel.
Gheit expects most companies to defend their dividend, especially the majors and the largest exploration and production companies. But he thinks a prolonged period of oil prices below $60 per barrel could undermine confidence in dividends' sustainability.
"At this low price, all oil companies are funding their dividend through additional borrowing or asset sales, and even the majors could be forced to freeze or cut their dividend, which could sink their shares," he said.
Chesapeake's not alone in making a difficult decisionsabout its dividend. Oil-services providers Ensco (ESV) , Diamond Offshore Drilling (DO) - Get Diamond Offshore Drilling, Inc. Report, Transocean (RIG) - Get Transocean Ltd. Report and Canada's Calfrac Well Services (CFWFF) have all reduced their payouts.
Schlumberger (SLB) - Get Schlumberger NV Report took a different tack, raising its dividend by 25% in January while laying off 9,000 people -- cutting costs being the alternative to cutting dividends, of course.
Jefferies analyst Eduardo Royes thinks a dividend reduction seems possible for Noble Corp. (NE) - Get Noble Corporation Report late this year or next year. Join the club.
Read more from: