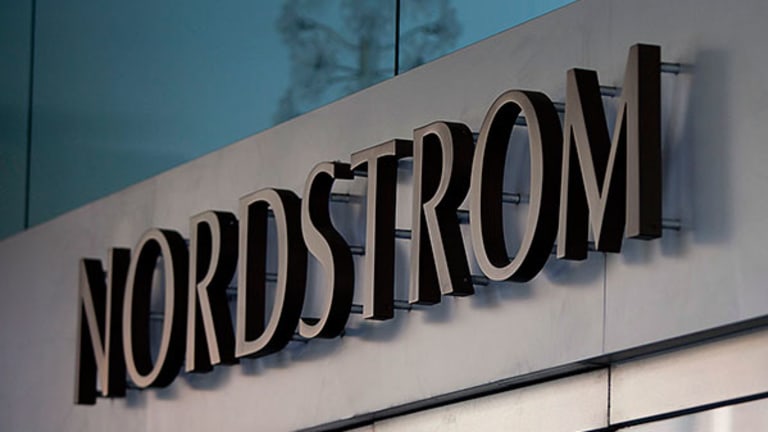 Why Nordstrom Is an Enticing Bargain for Activist Investors
The family-run company, like other retailers, has been hit by declining sales at malls. However, it has lots of assets an activist investor can push to sell.
Nordstrom (JWN) - Get Free Report , which in recent retail history has been considered the gold standard among department store operators, may have emerged as an enticing target for either activist hedge funds or private equity firms.
The Seattle-based department store banner has seen its stock rapidly decline during the last six months from nearly $76 per share on Aug. 3 to a close on Tuesday of $49.16.
That's partly because the retailer has begun to feel the effects of declining traffic at malls and individual department stores, which was already affecting key competitors, as well as the general market selloff.
The decline in share price gives Nordstrom a market cap of nearly $9 billion and, when subtracting cash of about $800 million and adding in debt of $2.8 billion as of Oct. 31, an enterprise value of $11 billion.
That's a multiple of close to 6.5 times Nordstrom's projected adjusted Ebitda of about $1.7 billion, according to data provided by Bloomberg, for the fiscal year ending Jan. 31 -- already a fairly low valuation.
And that is before accounting for property and equipment estimated by the company to be valued at roughly $3.7 billion, according to a filing with the Security and Exchange Commission.
That makes Nordstrom's stock price an undervalued bargain. Add in a fairly unlevered balance sheet and real estate assets that could be monetized and you have a retailer vulnerable to activists, private equity bidders or both.
A leveraged buyout of Nordstrom due to its real estate is not unimaginable, considering New York-based PE firm Sycamore Partners conducted such a transaction for Charlotte, N.C.-based department store banner Belk just last year.
Debt as a multiple of Ebitda of up to six times, and perhaps partly backed by real estate, could likely be found to finance an acquisition of Nordstrom. Activist involvement in a company where the founding family plays a large role is also not a barrier.
Dillard's (DDS) - Get Free Report , the family-controlled retailer based in Little Rock, Ark., has attracted activists twice, most recently by San Francisco-based firm Marcato Capital Management in 2014 and a tag team of New York-based activist investors Barington Capital Group and Clinton Group in 2007.

The moves came despite the fact that through W.D. Co. the Dillard family owns more than 99% of the company's Class B shares. W.D. Co. is controlled by Alex, Mike and William Dillard. The owners of Class B shares are entitled to elect two-thirds of the board of directors.
Cincinnati-based Macy's (M) - Get Free Report , the largest of the department store chains, is also not immune to activists agitating for it to monetize real estate in order to return money to shareholders. The company was targeted last year by New York-based activist hedge fund Starboard Value.
Aside from the valuable real estate and despite the decline of American department stores, Nordstrom has taken proactive steps in recent years towards ensuring its survival, such as expanding its off-price chain Nordstrom Rack and acquiring popular e-commerce destinations.
Consolidation in the space instigated by Hudson's Bay Co.'s (HBAYF) Chief Executive Richard Baker has shown how such companies can make billions off of real estate.

Through his investment vehicle, New York-based NRDC Equity Partners, Baker acquired Lord & Taylor in 2006 from Macy's, which was formed as the result of a merger between Federated Department Stores and May Department Stores. Baker went on to acquire the Toronto-based Canadian department store chain Hudson's Bay Co. in 2008 and merge it with Lord & Taylor before taking the newly combined company public.
In addition, Hudson's Bay sold the leases of its troubled subsidiary Zellers to Target (TGT) - Get Free Report for $1.8 billion in 2011, according to previous reports, further enriching the company. Luxury retailer Saks was added for $2.9 billion in 2013, and that was followed by a sale-leaseback deal for Hudson Bay's flagship store in Toronto that alone reaped hundreds of millions of dollars in 2014.