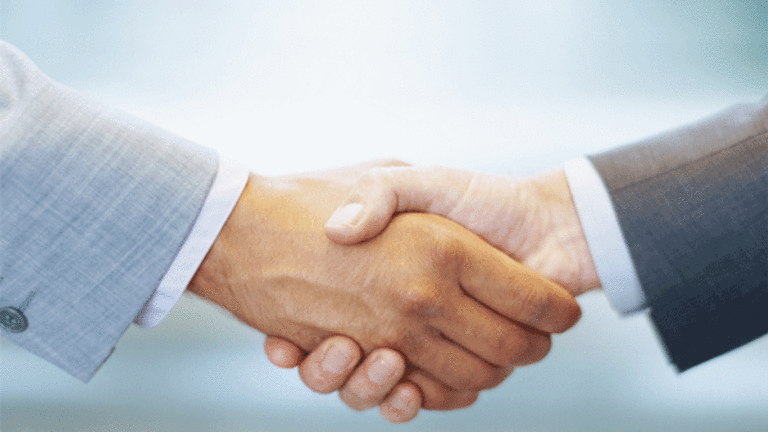 Malone's Moves Put Spotlight on Cablevision
John Malone, who all buy created cable-TV, is eager to return to the industry, a notion that could put Cablevision in play
NEW YORK (
TheDeal
) -- What's not to like about the headline slapped on Tuesday's research update from Macquarie Capital (USA) Inc. about Liberty Media Corp.'s John Malone re-entering the U.S. cable business after a 14-year hiatus? All it had to say was "He's Back ..." because it goes without saying he'll never again go away.
The Macquarie update remains neutral on Charter Communications Inc., the cable company in which Malone's Liberty Media is taking a 27.3% stake by acquiring shares from private-equity holders in a $2.6 billion transaction. But that's mostly because Charter's turnaround since emerging from bankruptcy in late 2009 has already been priced into the stock.
Shares of Liberty Media were down 0.5% to $109.53 in mid-day trading while Charter Communications was droppedin 0.9% to $102.34.
Yet the update does view the return of Malone, who headed former industry leader Tele-Communications Inc. during its explosive growth, as having "positive implications" for the cable industry in general. And let's not forget the deals that Malone seemed to forge weekly before selling TCI to AT&T Corp. in 1999. Their implications are positive for cable M&A in particular.
"He's not going to just sit there and watch his equity go up," says a longtime follower of Malone. "No, he's going to offer Charter his services for all the opportunities he sees in terms of financial and operational engineering."
One of those opportunities will almost surely be Cablevision Systems Corp., a New York-centric operator that last month sold its Optimum West unit to Charter for $1.6 billion. Optimum West, with 366,000 customers in the Rocky Mountains, had been an anomaly inside Cablevision since its acquisition in 2010. Cablevision's $1.4 billion purchase of the remote cable system -- known as Bresnan Communications LLC back then -- struck many as a concession to the acquiring company's then-COO Tom Rutledge.
After eight highly applauded years at Cablevision, Rutledge was reportedly getting bored in the job and starting to attract poachers. He wound up leaving the company anyway, under murky circumstances in December 2011, only to sign on as Charter's CEO later the same month. This means Rutledge bought the old Bresnan system twice: first for Cablevision and second for Charter.
It also means his falling out with Cablevision couldn't have been as bad as some observers thought. Why would the company sell part of itself, this reasoning goes, to someone whom its executives despised? Equally telling was Cablevision's decision to let slide a noncompete agreement with Rutledge that could have kept him from taking the Charter job in the first place.
Add to this mix the fact that Cablevision chairman Charles F. Dolan is now 86, and the perception that his son James is more interested in running the spun-off Madison Square Garden Inc. than serving as the company's president and CEO. Remember, too, that Dolan pere and Malone go way back. Not only have they done mutually beneficial deals together but Malone once sat on Cablevision's board.
Moreover, if the Dolan dynasty ever wanted some estate planning, who better than new Charter equity-owner Malone to draw up a tax-favorable deal to diversify the family out of its controlling interest in Cablevision? And if it's an operating successor the family seeks, who better than still freshly former COO Rutledge to take on that responsibility in addition to those he has at Charter?
Although a Charter-Cablevision deal has much to commend it, any such tie-up probably wouldn't be the end of the line. Much more likely is Cablevision's being used as so-called trade bait by Charter after a change in ownership. And the prospective trader most likely to be baited is Time Warner Cable Inc. The latter would love nothing better than to fill the gaps in its own New York footprint by adding Cablevision's 3.3 million subscribers in the tri-state area to the more than 1.4 million served by Time Warner Cable of New York and New Jersey.
The country's second-largest cabler would be highly motivated, in other words, to trade with a Charter-owned Cablevision in ways that, by rationalizing the New York market, rationalizes other markets as well. This seems likely to set off a wave of clustering, exiting and consolidating not seen since Malone first left the cable industry. His very return, in fact, signals the time is ripe to do the whole damn thing over again.
Written by Richard Morgan in New York