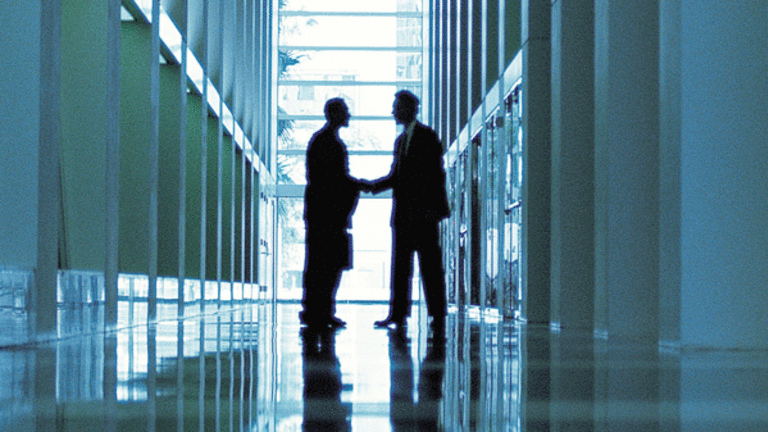 Engaged Capital Pressures HeartWare to Drop Valtech Deal
The activist investor is calling for the end of the proposed $860 million deal, vowing to campaign against it and seek board seats if its advice goes unheeded.
NEW YORK (The Deal) -- Cardiac medical device makerHeartWare International (HTWR) is under pressure from activist investor Engaged Capital on its proposed $860 million buy of Valtech Cardio.
Engaged's managing member Glenn Welling said in a letter to HeartWare's board Monday that the company should either call off its Valtech deal or face a proxy campaign. 
The investor noted the dilutive effect of the Valtech deal on HeartWare shareholders. Investors immediately expressed their displeasure with the all-stock deal Monday, pushing shares down 24% from the $81.81 per share price at market close Sept. 1 before the deal was announced.
Shares of HeartWare rose to $56.08 Monday afternoon after Engaged publicized its letter. However, shares are currently down 3.2% at $54.17.
The problem with the Valtech deal, according to the investor, is it takes the company's focus off its left ventricular assist device market.
A statement from HeartWare, responding to the activist's letter, stressed Valtech's mitral and tricuspid repair and replacement platform would aid HeartWare's leadership in the heart failure market. The statement also added that the company has received positive feedback from physicians about the target's Cardioband product.
Yehuda, Israel-based Valtech, in addition to its upfront payment, is eligible to receive milestones of up to $122.7 million, also to be paid in shares, and an earn-out payment of $375 million (in cash or stock at HeartWare's discretion) once Valtech products have reached $450 million in sales during the trailing 12-month period. There is also a provision for the issuance of warrants to purchase 850,000 shares of HeartWare at a price of $83.73, linked to the milestone of attaining $75 million in net sales for the trailing 12 months.
Engaged said LVAD devices serve an unmet need, have strong reimbursement and target an under-penetrated patient population. HeartWare's flagship device, HVAD, has 33% market share in the U.S. and 60% market share in the international market, according to Engaged's letter.
However, the main problem with the Valtech deal, according to the activist, is that it will make HeartWare less attractive as a sale prospect -- something Welling believes the company should do.
"There is no credible standalone plan that, on a risk-adjusted basis, will generate as much value as a sale to a strategic acquirer," Welling said in his letter to the board. "The recent acquisition of the company's only competitor and the significant interest shown in the asset validate our assertion. However, the decision to approve the acquisition of Valtech leaves us concerned that the board does not understand, or worse yet, is actively attempting to thwart, this inevitable outcome."

The Deal previously reported HeartWare could be a possible target following the July acquisition of Thoratec by St. Jude Medical (STJ) for $3.4 billion. Thoratec is HeartWare's main competitor. Possible acquirers for the company could include Medtronic (MDT) - Get Free Report , Boston Scientific (BSX) - Get Free Report , Johnson & Johnson (JNJ) - Get Free Report and Abbott Laboratories (ABT) - Get Free Report . At the time, a source noted Abbott in particular was looking in the medical device area. The LVAD and ventricle assist device areas were seen as attractive.
Framingham, Mass.-based HeartWare, in its statement Monday, said it respectfully disagreed with Engaged, which it noted has been an investor in the company for "just a few weeks."
"We are confident this acquisition will deliver significantly greater value to shareholders and patients alike than could be achieved through Engaged Capital's recommended alternatives," HeartWare said. "We are in active discussions with our shareholders to educate them on the strategic and financial merits of the transaction. We look forward to sharing additional information about the benefits of the transaction through the upcoming filing of our registration statement and continuing our productive discussions with all our stakeholders."
This is not the first time that Engaged has gotten involved in a large medical device company. The firm spotlighted Volcano, a San Diego, Calif.-based company as an attractive target. It was sold to Amsterdam's Royal Philips in December 2014 for $1.2 billion.
Consolidation in the medical device space has been at a fever pace over the past few years. Mid-cap companies are often seen as targets by large medical device companies. HeartWare currently has a market cap of $942.9 million.
Deals in the sector included Medtronic's $43 billion combination with Covidien, Zimmer Holdings buying its smaller competitor, Biomet, for $13.4 billion to create Zimmer Biomet Holdings (ZBH) - Get Free Report and Becton Dickinson's (BDX) - Get Free Report $12.2 billion deal for CareFusion.
Large buyers are expected to remain acquisitive. Engaged added in its letter that during Thoratec's "go shop" period, there were multiple parties that evaluated placing a competing bid for the company. As a result of this, the firm believes that HeartWare is likely to be attractive because it is Thoratec's main competitor.
"If any potential acquirer wants a place in the LVAD market," Wellings wrote in his Monday letter, HeartWare "is truly the last seat at the table."