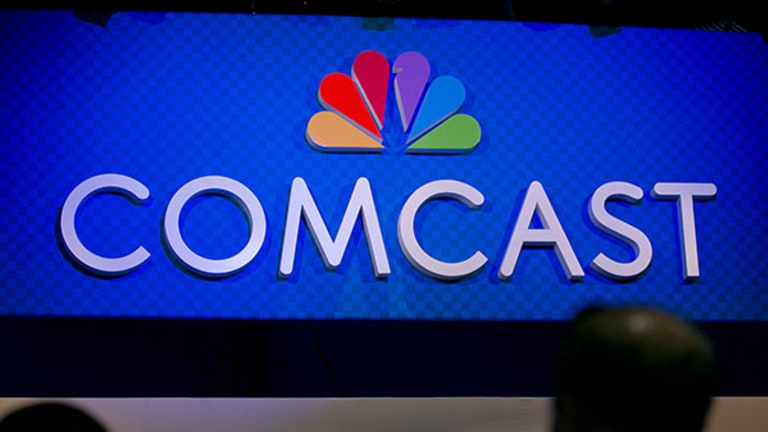 Comcast's Deal for Time Warner Cable Is Good For America
Comcast's deal for Time Warner Cable may fail on traditional antitrust tests, but common sense says that the cable industry, facing tremendous pressure and zero growth, needs to see economically sound consolidation.
Updated from 11:16 a.m ET with response from advocacy groups, analyst comments and share prices.
NEW YORK (TheStreet) -- Comcast's (CMCSA) - Get Comcast Corporation Class A Report all-stock $158.82-a-share deal for Time Warner Cable (TWC) is far superior to anything that Charter Communications (CHTR) - Get Charter Communications, Inc. Class A Report could cobble up through debt financing, synergies, net operating loss carryforwards and the like. The tie-up of the nation's biggest two cable giants may also prove less of an antitrust issue than some may expect, and may turn out to be a healthy development for the U.S. cable industry.
(The companies announced confirmation of the merger agreement in a press release Thursday).
The outcome of Time Warner Cable's takeover -- one seeming certainty amid six months of speculation -- may have fooled even the savviest cable and media investors. After assembling a $132 a share cash-and-stock bid for Time Warner Cable and a hostile slate of directors to push forward the transaction, Charter Communications and its minority shareholder Liberty Media (LMCA) appear to have lost the sweepstakes for the biggest cable industry consolidation in a generation.
It also means Brian Roberts of Comcast may have outmaneuvered John Malone of Liberty Media in a duel among two of the industry's most prolific deal-makers. Still, the deal may be less about the personalities involved and more about the economic realities of the cable industry.
That Time Warner Cable is poised to fall in the hands of Comcast in an all-stock deal, instead of Charter Communications in a highly leveraged takeover, speaks to the unease in the cable and broadcast TV industry, as disruptive technologies such as Netflix (NFLX) - Get Netflix, Inc. Report, Amazon Prime (AMZN) - Get Amazon.com, Inc. Report, Hulu and Internet behemoths like Google (GOOG) - Get Alphabet Inc. Class C Report, Facebook (FB) - Get Meta Platforms Inc. Class A Report and Twitter (TWTR) - Get Twitter, Inc. Report loom as threats. The $45 billion takeover will pay Time Warner Cable shareholders 2.875 shares of newly issued Comcast common stock for each of their shares.
The most important aspect is Comcast's stock offer vs. a heavily leveraged deal put on the table by Charter Communications, and one which Time Warner Cable rebuffed as too risky for its shareholders. With no new debt and a path towards debt reductions, the combined Comcast and Time Warner Cable will have the financial flexibility to invest heavily in their business and adapt to change, while putting to bed some looming negative developments to the broadband industry that some had feared.
Comcast said on Thursday that net neutrality agreements it agreed to in the acquisition of NBCUniversal will stand in its takeover of Time Warner Cable. It indicates that in the face of flat revenues and declining users, the combined company isn't poised to fight for usage-based broadband pricing, an issue that has alarmed internet firms like Netflix.
A "Dream Combination"
Meanwhile, low debt and a merger that Comcast says will be accretive to its free cash flow means the company and its shareholders have a clear path to profitability. The costs of a riskier deal may ultimately have been borne by customers in poor service, or changing price schemes.
Paulson & Co., a large Time Warner Cable shareholder said the deal was the best possible outcome for shareholders. "This is a dream combination," the hedge fund said in an email to TheStreet.
By contrast, Charter Communication's best offer included $83 a share in cash and a total offer price of $132 for Time Warner Cable. Given the synergies that could be realized by combining two of the biggest cable operators, that deal might have had sound economics. Unfortunately, Charter Communications continues to operate at a loss and is saddled with over $14 billion in debt.
The company's takeover proposal for Time Warner Cable relied on optimistic projections of its earnings before interest, taxes, depreciation and amortization (EBITDA), divestitures of certain assets, hundreds of millions of dollars worth of synergies and the value of things like net operating loss carryforwards.
Time Warner Cable CEO Rob Marcus said the two offers were a matter of "apples and oranges," and highlighted that shareholders in his company will receive 23% of the combined firm. Comcast said multiple times that the all-stock transaction reflected its commitment to maintaining investment grade bond ratings. The company left its long-term debt-to-earnings targets unchanged. Combined, Time Warner Cable and Comcast will carry over $70 billion in debt.
Comcast appears to be a far more straightforward deal for Time Warner Cable shareholders. While that is the case for shareholders, it is also the case for antitrust regulators.
Antitrust Issues Abound
The number one cable operator in the country, is buying its biggest competitor.
Antitrust issues abound. "This is so over the top that it ought to be dead on arrival at the FCC," said Michael Copps, special adviser to Common Cause's Media and Democracy Reform Initiative said in a statement. As an FCC Commissioner in 2009, Copps cast the lone vote against Comcast's merger with NBC/Universal.
One area of particular concern are content providers, who now "face a negotiating behemoth with close to 30 million subscribers that, oh by the way, is vertically integrated with a direct competitor (NBCUniversal)," Craig Moffett of MoffettNathanson Research said in a note. 

But even if Comcast's play for Time Warner Cable is likely to fail some antitrust tests and raise content supplier concerns, the deal could be credibly marketed as good for consumers.
Because the combined Comcast and Time Warner Cable would be far less leveraged than any Charter Communications deal, it can reinvest in its network and innovate its service offering, something that was a common theme on a call with analysts. In particular, mobile and wireless offerings appear to be an area where investment could be targeted.
That ability to invest the business comes as some stock analysts, for instance Bryan Kraft at Evercore Partners,  begin to project a new cycle of capital investment for cable operators like Cablevision (CVC) , Comcast and Time Warner Cable.
Comcast and Time Warner Cable said on Thursday that residential and business customers will benefit from technological innovation, better video service, faster broadband speeds and stronger in-home Wi-Fi. It may also give the combined company a better bargaining hand in negotiating retransmission fees with broadcast and cable networks, after years of spiraling costs. 
Whether such prospective programming cost savings would be passed onto consumers is another matter.
Both companies will be able to realize $1.5 billion in cost efficiency through the merger, and the deal is expected to immediately be additive to Comcast's free cash flow per share and balance sheet strength. That comes at a critical juncture for cable operators, as some customers cut the cord and demand for quality programming and broadband increases. 
It's far more likely that a combined Comcast and Time Warner Cable would have the firepower to reinvest in their combined network, especially if economics of the cable industry deteriorate. Rising costs, or weak financial results may also not be cast onto the backs of subscribers.
Net Neutrality
Through 2013, one of the worst years of subscriber growth for the cable industry, speculation mounted that players like Time Warner Cable would use a prospective change of net neutrality laws to begin charging internet companies like Netflix (NFLX) - Get Netflix, Inc. Report and Facebook (FB) - Get Meta Platforms Inc. Class A Report for their broadband usage. That seemed a reasonable expectation for investors in a company that had a year as bad as Time Warner Cable's. It also would be a giant step back for communications in The U.S.
Comcast appears to be committing not to go down such a path in its takeover of Time Warner Cable, a concession that wouldn't likely be a part of a Charter deal.
The deal "would undoubtedly come with an extension of the net neutrality provisions it agreed to with the NBCU deal, solving a problem for regulators and potential problem for Internet companies," UBS said in a note.
Craig Moffett, the MoffettNathanson analyst, said that internet service providers' option of moving to usage-based-pricing may be a "casualty" the deal.
A Changing Antitrust Landscape?
Antitrust plays an important role in M&A, but in uneconomic industries, regulators are likely to give a pass on some aggressive consolidation efforts.
The recent mergers of uneconomic players in the airline and telecommunications industries has spawned a new era of capital investment, service improvement and growth. There isn't much reason to believe that Time Warner Cable wasn't facing similar pressures, with Comcast presenting similar solutions.
Still, Comcast does appear to perceive some big antitrust issues. The company will acquire 11 million Time Warner Cable customers and then cast off 3 million customers, in an effort to keep its U.S. market share at 30%, or about the share the company had when it acquired AT&T Broadband in 2002 and Adelphia in 2006. Whether that goes far enough, or even addresses antitrust regulators' concerns is to be seen.
"We believe that this transaction is approvable," Comcast CEO Brian Roberts said. He also emphasized that there would be no market overlap between both companies, undermining prospective market concentration concerns.
Ultimately, the consolidation of the cable industry is likely a reaffirmation that disruptive forces are poised to alter the industry. That Time Warner Cable held out for a stock takeover with its biggest rival also indicates that the industry's brightest minds aren't willing to take on too much financial leverage.
Time Warner Cable's $158.82-a-share takeover by Comcast may raise alarming antitrust issues; it may have caught some in the media by surprise. However, it is the best deal to push the cable industry forward in a time of great change.
Comcast shares were trading lower by over 3% in Thursday trading, while Time Warner Cable shares were rising by nearly 7.5%.
As was expected, analysts fretted over Comcast's heavy use of stock and lack of debt financing. From a consumers standpoint, it may be the most attractive part of the mega-corporate merger.
Bryan Kraft of Evercore Partners increased his price target for Time Warner Cable to $175 a share based on expected value of the exchange ratio one year from now.
-- Written by Antoine Gara