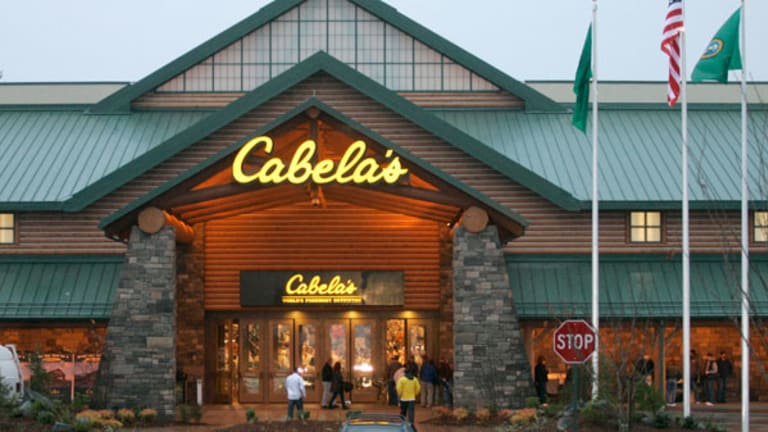 Cabela's Shares Continue to Rise After Cutting Bass Pro Deal Terms
Cabela's also restructured a deal to eventually sell its credit card unit to Capital One.
Shares of Cabellas (CAB) were up 7.28% Tuesday following an announcement late Monday that the outdoor retailer agreed to take a $500 million price cut on its sale to Bass Pro Shops and restructure a deal to sell its credit card unit as it looks to gain regulatory approval for its previously announced sale.
The Sidney, Neb.-based company said Monday after markets closed that Bass Pro Shops would pay $5 billion, or $61.50 per share to acquire its retail business. The initial deal, announced Oct. 3, called for Bass Pro Shops parent BPS Direct LLC to pay $5.5 billion in cash, or $65.50 per share.
Cabela's shares were up $3.80 from Monday's close and were at $57.49 though mid-morning trading Tuesday.
As part of the Monday announcement Cabela's said it had also restructured a deal to eventually sell its credit card unit, World's Foremost Bank, to Capital One Financial Corp. (COF) .
The credit unit sale, exact terms of which weren't disclosed, calls for Synovus Financial Corp. (SNV) , a $30 billion-in-assets bank based in Columbus Ga., to acquire about $1.2 billion in deposits as well as other assets liabilities of World's Foremost. Synovus will sell the bank's credit card assets and related liabilities to Capital One.
Synovus will retain the bank's deposits, following completion of the deal, which is expected in the third quarter. Cabela's will pay a $14 million termination fee to Capital One if the deal is terminated. Synovus will be entitled to receive from Capital One a termination fee of up to $10 million plus reimbursement for certain expenses.
Capital One's shares were off 1.72% to $81.57 per share, while Synovus' shares were up about a percent to $40.35 per share.
"It seems to us that SNV is merely serving as a regulatory 'pass-through' in this transaction for Cabela's and Capital One, and, in turn, will gain increased liquidity," wrote Hovde Group Inc. analyst Kevin Fitzsimmons in a note Monday adding that Synovus will receive about $75 million in payment from Capital One and Cabela's for its roll in the transaction.
The restructured credit card sale marks the first positive step in Bass Pro's pursuit of Cabela's that was initially announced on Oct. 3, after pressure from activist hedge fund Elliott Management, but has run into snags.
The Bass Pro Shops merger remains subject to approval by Cabela's shareholders, as well as antitrust clearance and other customary closing conditions. The credit card transaction is subject to regulatory approvals by Synovus's primary bank regulators and other customary closing conditions.
This article was written by a staff member of TheStreet.