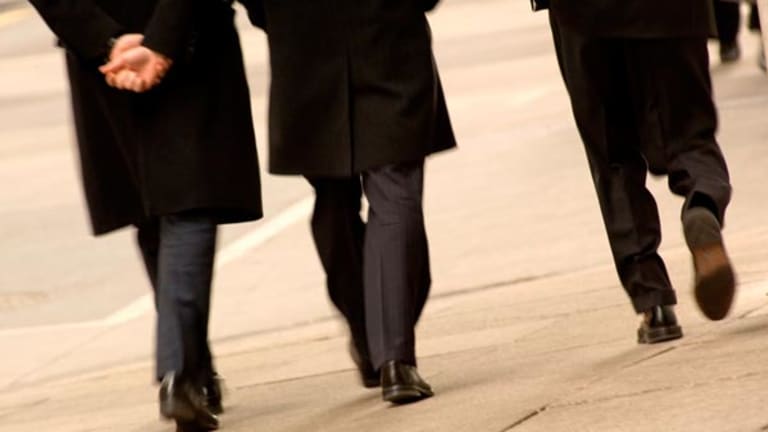 Merger Wave Lifts Stocks
Oracle's takeover triumph boosts sentiment as the S&P 500 touches a new 40-month high.
Updated from 4:16 p.m. EST
Stocks rolled higher Monday, spurred on by a year-end wave of corporate merger activity and retail sales data in November that came in better than expected.
The
Dow Jones Industrial Average
rose 95.10 points, or 0.9%, to 10,638.32, its highest close since March 1. The
S&P 500
gained 10.68 points, or 0.9%, to 1198.68, a new 40-month high. And the
Nasdaq
added 20.43 points to 2148.50, about five points shy of its high for the year. The 10-year Treasury bond was unchanged in price to yield 4.15%, while the dollar was lower against the euro and yen for the first time since last Tuesday.
Volume on the
NYSE
was 1.43 billion shares, with advancers beating decliners 2 to 1. Volume on the Nasdaq was 2.07 billion shares, with advancers beating decliners 5 to 3.
"This spurt started with good news stories from last week, buybacks and merger activity," said Barry Hyman, equity market strategist for Ehrenkrantz King Nussbaum. "It's adding tremendous excitement for this seasonally strong period."
Oil futures closed higher, with the January contract adding 30 cents to $41.01 in Nymex floor trading. Crude was at a four-month low on Friday despite a pledge from OPEC to cut 1 million barrels from its daily production quota.
In economic news, the Commerce Department said U.S. retail sales for November rose 0.1%, beating forecasts for no increase. Excluding autos, retail sales rose 0.5%, slightly higher than the consensus forecast. Sales for October were revised higher to 0.8% from the original estimate of a 0.2% increase.
"This morning's economic data highlight that economic growth is starting to accelerate," said Ken Tower, chief market strategist at CyberTrader. "Investors are seeing a return to more vibrant growth, evident in today's numbers."
Looking ahead, Hyman was cautiously optimistic about the
Fed's
Federal Open Market Committee meeting Tuesday, when the central bank's monetary policy panel is widely expected to raise the fed funds rate a quarter-point to 2.25%. "What could upset this would be if the Fed were to do something out of the ordinary tomorrow, something different from the quarter-percent increase that the market is already expecting. Right now, as long as the market continues in this pattern of removing barriers in the near term, we should be alright."
In corporate news,
Oracle's
(ORCL) - Get Report
18-month-old effort to acquire
PeopleSoft
(PSFT)
ended Monday with a definitive agreement to do the deal at $10.3 billion.
Oracle, which also reported better-than-expected second-quarter earnings, will pay $26.50 a share for its business software rival, about $2.50 a share more than its previous, "best and final" offer. Oracle gained $1.35, or 10.2%, to $14.63. PeopleSoft shares jumped $2.47, or 10.3%, to $26.42.
Two other major business combinations -- the $35 billion marriage of
Sprint
( FON) and
Nextel
( NXTL), and
Johnson & Johnson's
(JNJ) - Get Report
$24 billion buyout of
Guidant
( GDT) -- are expected to be finalized this week.
Meanwhile,
Honeywell
(HON) - Get Report
joined the M&A scrum Sunday by agreeing to buy British security-products manufacturer
Novar
for $1.5 billion. Honeywell also forecast 2005 earnings of $1.90 to $2 a share, below the Thomson First Call estimate of $2.01 a share. Honeywell rose $1.14, or 3.2%, to $36.45.
Ditech
( DITC) shares fell after being downgraded by First Albany to neutral from buy. The firm lowered its share target price to $16 from $20, citing concerns that the potential merger between Nextel, one of Ditech's largest customers, and Sprint may cause Nextel to reduce its spending in the near future. Ditech dropped $1.39, or 8.3%, to $15.34.
Toys R Us
( TOY) saw shares rise amid takeover news.
The Financial Times
reported that European group Permira had gotten together with U.S. group Apollo to bid for the toy retailer. The two companies face competition from Kolberg Kravis Roberts, Cerebus and Bain Capital. Toys R Us gained 56 cents, or 2.8%, to $20.47.
While corporate shopping was brisk, consumers continued to hesitate ahead of Christmas.
Wal-Mart
(WMT) - Get Report
said over the weekend that its general merchandise and winter clothes categories continue to struggle even as food sales remain brisk. The company maintained its estimate of December same-store sales growth of 1% to 3% from last year. Wal-Mart finished up 24 cents, or 0.5%, to $52.95.
Delphi
( DPH) was downgraded by both Wachovia and Baird to underperform from market perform. Both firms cited operating results that would be far below expectations. Delphi announced Friday that it would cut 8,500 jobs and have lower fourth-quarter earnings. Delphi lost 2 cents, or 0.2%, to $8.28.
Conexant
(CNXT) - Get Report
reduced its first-quarter revenue outlook to $140 million from previous expectations of $175 million to $185 million. The chipmaker now expects a first-quarter loss of 18 cents to 20 cents a share compared with an initial forecast of a 6-cent to 7-cent-a-share loss. Conexant cited an inventory reduction plan and a one-time charge as the reasons for the revised outlook. Shares finished flat at $1.87 having been up 5% for most of the day.
DaimlerChrysler
( DCX) announced plans to team up with
General Motors
(GM) - Get Report
to develop a hybrid engine for use in their vehicles. Shares closed up $1, or 2.2%, to $46.83.
Imax
(IMAX) - Get Report
said it anticipates 2004 earnings to exceed its prior forecast of 23 cents a share, thanks to a legal settlement and the success of the holiday movie
The Polar Express
. Imax rose 65 cents, or 8.6%, to $8.22.
Lehman Bros. upgraded shares of
Time Warner
(TWX)
to overweight from equal weight, citing upcoming events for the company as well as a change in America Online to a more advertising-dependent program. The firm raised its target price to $23 a share from $20 a share, because it expects Time Warner to reach a settlement with government regulators over its AOL unit within the next three to six months, which would free up cash for a stock buyback or special dividend. Time Warner gained 45 cents, or 2.4%, to $18.93.
Pfizer
(PFE) - Get Report
shares rose after the company said it will raise its quarterly dividend 12% to 19 cents a share. The dividend will be paid on March 8 to shareholders of record as of Feb. 11. Pfizer rose 7 cents, or 0.3% to $27.16.
Overseas markets closed mostly higher, with London's FTSE 100 gaining 0.9% to 4736 and Germany's Xetra DAX adding 1% to 4219. In Asia, Japan's Nikkei rose 0.3% to 10,789, while Hong Kong's Hang Seng fell 0.1% to 13,885.