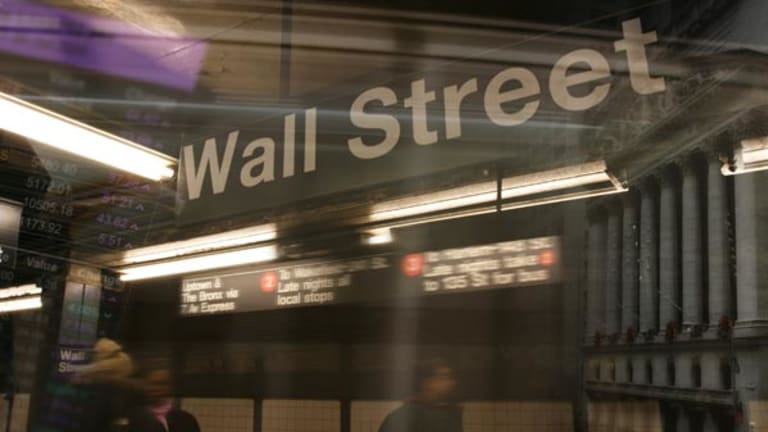 Merger Deals Boost Stocks
Tech shares and blue chips rise as the third quarter gets under way.
Updated from 4:10 p.m. EDT
Stocks in the U.S. started a new week and a new quarter on an upbeat note, as blue chips and tech shares benefited from the latest merger activity and economic data.
The
Dow Jones Industrial Average
rose 126.81 points, or 0.95%, to close at 13,535.43, and the
S&P 500
added 16.08 points, or 1.07%, to 1519.43. The
Nasdaq
was better by 29.07 points, or 1.12%, at 2632.30.
Monday marked the beginning of trading for the year's third quarter, and investors were happy to escape, at least for a day, from some of the recent volatility. Helping the mood was the M&A action.
The biggest deal was taking place north of the border, where Canada's
BCE
(BCE) - Get Report
reached an agreement to go private in a transaction worth more than $30 billion, excluding debt. The company is being bought by the private investment arm of the Ontario Teachers Pension Plan, Providence Equity Partners and Madison Dearborn.
BCE advanced $1.66, or 4.4%, to $39.45.
After the last session,
AT&T
(T) - Get Report
said it would buy rural wireless carrier
Dobson Communications
(DCEL)
in a $2.8 billion arrangement, paying a 17% premium to the stock's closing price. Shares of AT&T tacked on 35 cents, or 0.8%, to $41.85.
Several other
private-equity deals were announced, including GSO Capital Partners' $1.1 billion buyout of ice and bottled-water producer
Reddy Ice
( FRZ). Additionally, Carlyle Group said it will buy
Manor Care
( HCR) for $67 a share, making the deal worth $6.3 billion.
Reddy Ice jumped 6.9% to $30.48, but Manor Care slipped 1.8% to $64.10.
Virgin Media
(VMED)
surged nearly 18% after Carlyle Group was said to have bid $11.1 billion to take the company private. The stock finished up $4.30, or 17.6%, to $28.67.
Treasury prices jumped after the release of the Institute for Supply Management's manufacturing index. The index rose to a reading of 56.0 last month from 55.0 in May, slightly above expectations. On Thursday, the ISM will post its services index for June.
The 10-year note rose 10/32 in price to yield 4.98%, its lowest level in nearly one month. The 30-year bond added 15/32, yielding 5.09%. The dollar declined against the world's major currencies.
Robert Pavlik, chief investment officer with Oaktree Asset Management, said that stocks had plenty of help from two major sources during an active day.
"Strong manufacturing data showed that the economy continues to move at a moderate pace. Lower interest rates made it a win-win situation today," he said. "The M&A headlines were another plus for stocks on this fairly normal day. Everyone will be leaving tomorrow ahead of the holiday, and I would imagine it'll quiet down the rest of the week."
The day's session was one of only three full trading sessions this week. U.S. markets will be closed Wednesday for the Independence Day holiday after closing early at 1 p.m. EDT on Tuesday.
About 2.60 billion shares changed hands on the
New York Stock Exchange
, as advancers topped decliners by a 3-to-1 margin. Volume on the Nasdaq reached 1.85 billion shares, with winners outpacing losers 2 to 1.
Meanwhile, crude prices were higher after falling below $70 a barrel earlier. Oil gained 41 cents to close at $71.09 a barrel, its highest finish since September. Natural gas lost a penny to $6.76 per million British thermal units.
Among metals, gold was up $8.30 to $659.20 an ounce, and silver gained 26 cents to $12.74 an ounce.
Several homebuilders were under pressure after Citigroup cut its rating to hold from buy for
Toll Brothers
(TOL) - Get Report
,
Pulte Homes
(PHM) - Get Report
,
Lennar
(LEN) - Get Report
,
Ryland Group
(RYL)
,
KB Home
(KBH) - Get Report
,
DR Horton
(DHI) - Get Report
and
Hovnanian
(HOV) - Get Report
.
As for other ratings changes, Deutsche Securities upgraded
Tribune
( TRB) to buy from hold, while CIBC World Markets downgraded
SanDisk
(SNDK)
to sector perform from sector outperform.
Tribune rose 51 cents, or 1.7%, to $29.91. SanDisk lost 54 cents, or 1.1%, to $48.40.
Overseas, equities fell in Europe after a weekend car bomb at Glasgow's airport set off terrorism fears throughout the U.K. The attack came a day after police in London found two cars rigged with explosives in the city.
The FTSE 100 was down 0.1%, and Frankfurt's DAX eased 0.6%. Tokyo's Nikkei was fractionally higher, while Hong Kong's Hang Seng dropped 0.8%.