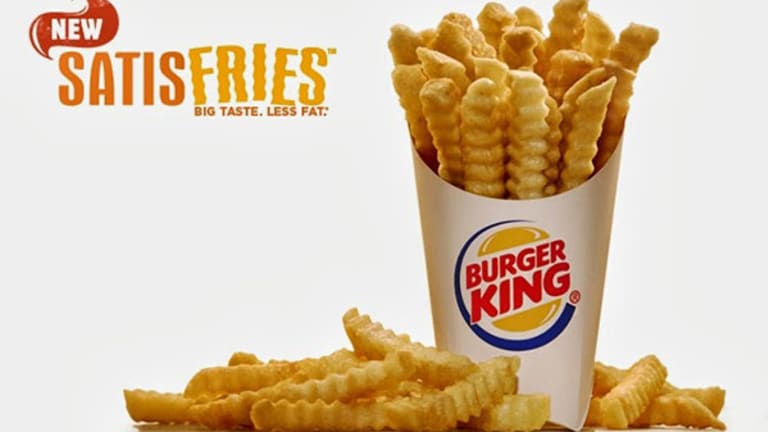 McFailures: 10 Worst Fast Food Flops of All Time
Fast food chains make some of our favorite guilty pleasures, but not every menu item is successful, take a look at this list of the 10 biggest fast food fails.
NEW YORK (TheStreet) -- Many people love fast food. It's hot and delicious, and sometimes, no matter how healthy you are trying to be, you just find yourself craving that juicy burger and a side of golden delicious fries. So you set aside the salad and head for the drive through to enjoy your meal, but also feeling a little guilty at the same time.
Well you can push that guilt aside, after all Julia Child once said "The only time to eat diet food is while you're waiting for the steak to cook."
Those that enjoy a meal from a fast food chain now and then probably have a favorite place to eat, and a favorite item from the menu that they order almost every time they visit the restaurant.
Quick service restaurants will spend years developing, and millions of dollars marketing a new menu item that they believe will take off and send crowds of hungry diners stampeding to their doors.
Although, not every idea your favorite fast food chain has is great, and for one reason or another some new menu items just don't meet customers' standards. Despite all of the planning, sometimes fast food restaurants simply drop the ball and give the public a menu option that is the result of misguided marketing or that is just disgusting.
The following is a list of the 10 biggest fast food fails of all time...
10. Enormous Omelet Sandwich from Burger King
This breakfast sandwich lived up to its name, as part of the reason it was discontinued had to do with its size.
When the sandwich was first introduced in 2005 Burger King's sales jumped by 20%, but it eventually fell out of favor with customers who were looking for a healthier breakfast option. The sandwich is no longer sold in the U.S. but can be found in some international markets, CNBC reports.
9. Arch Deluxe Burger from McDonald's
This burger was created in 1996 as McDonald's attempted to appeal to a variety of adult customers by introducing a line of new menu items.
However, despite McDonald's $100 marketing campaign, which included ads showing children refusing to eat the burger, the "Arch Deluxe" failed. McDonald's had expected the "Arch Deluxe Burger" to bring in $1 billion in sales during its first year, CNBC says.
8. Bell Beefer from Taco Bell
This sandwich was basically a taco on a bun, or a Sloppy Joe.
The taco franchise, famous for its "Think Outside the Bun" campaign discontinued the "Bell Beefer" in the 1980s, but not before it developed a loyal group of fans. Some of whom are still demanding the sandwich's return to Taco Bell's menu.
There is even a Facebook page, with over 1,000 likes, asking Taco Bell to bring back the "Bell Beefer."
7. McDLT from McDonald's
It wasn't so much what was inside the "McDLT" that had customers angry with McDonald's, but rather the packaging the burger came in.
Introduced in 1984 the "McDLT" was just a burger with lettuce and tomato. The "McDLT" came in a double-sided Styrofoam box, with the beef patty on one side, and the lettuce and tomato on the other.
The idea was to have the customer build their own burger, and the fixings were kept separate so the burger stayed hot and the vegetables stayed cold.
However, the burger was discontinued in 1990 as Mickey-D's was facing a public relations crisis over the environmental impact of its signature Styrofoam packaging, CNBC said.
6. Priazzo from Pizza Hut
Introduced in 1985 the "Priazzo" was a deep-dish pizza made with two crusts and layers of cheese, sauce, and a smattering of pork toppings.
The company spent $15 million on the ad campaign for the "Priazzo," and fearlessly predicted the Chicago-style pie would bring in $250 million in sales during the first year, CNBC reports.
As it turns out the pizza took too long to make, and failed as customers weren't willing to wait around for what was supposed to be fast food. The pizza didn't meet expectations and was pulled a few years after it was put on the market, CNBC added.
5. McAfrica from McDonald's
It was just some beef sandwiched between two slices of pita, with some cheese, and vegetables, but this sandwich caused a PR nightmare and international uproar. Had it not been for the timing and poor name choice the "McAfrica" could have been a welcomed addition to the McDonald's menu.
Introduced in 2002, in Norway, the "McAfrica" was said to be based on an authentic African recipe and meant to be enjoyed as a limited edition Olympic Games burger.
The burger's name drew immediate criticism and the timing of its release was said to be insensitive, as it came out of one of the richest countries in the world, during a period when South Africa was struggling with famine.
4. McSpaghetti from McDonald's
McDonald's is likely not the first restaurant to come to mind when you're in the mood for delicious Italian food.
But that didn't stop the fast food restaurant's attempt to expand its menu by adding spaghetti to its list of offerings.
The "McSpaghetti" proved to be unpopular in the U.S. but it is possible to find it in some international locations.
3. Frescata sandwiches from Wendy's
Wendy's released the sandwiches in 2006 as a way to take on Subway, a rival fast food chain.
However, the deli style, made to order sandwiches took much longer to make than the beef burgers the restaurant had already prepared. The "Frescata" sandwich was removed from the Wendy's menu in 2007, CNBC writes.
2. Frings from Jack in the Box
In 1979 Jack in the Box saw no reason why a consumer should have to decide between a side order of fries and onion rings with their meal.
"Frings" were a combination basket of the two favorite fast food side dishes.
Although it sounds like an idea that should have gained a following equal to or greater than the "Bell Beefer," "Frings" eventually fizzled out and were discontinued a few years after hitting the market, CNBC writes. 
1. Satisfries from Burger King
In August of this year, Burger King said that most of its fast food restaurants in North America will stop selling the low fat French fries known as "Satisfries," due to weak sales, Bloomberg reported.
The fries were introduced in September 2013 as a way for the company to develop a healthy image and attract more "nutrition conscience diners," Bloomberg added.
Where to next? Check out Amazon's Holiday Center for AMAZING Deals - Click Here
TheStreet, Inc is a participant in the Amazon Services LLC Associates Program, an affiliate advertising program designed to provide a means for sites to earn advertising fees by advertising and linking to Amazon.com.