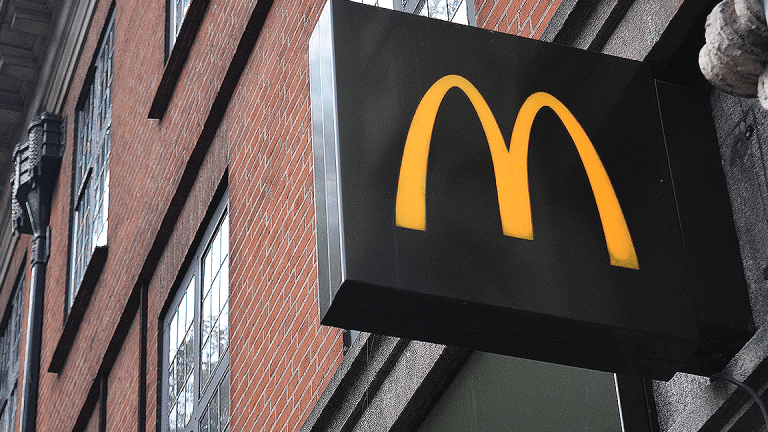 McDonald's vs. Wendy's vs. Restaurant Brands International: How to Pick
McDonald's is favored by Goldman Sachs, but see what risks RBC reminds of on the stock.
With the latest financial results out from McDonald's Corp. (MCD) - Get Report Wednesday and last week's pre-announcement of strong same-store sales comps at Burger King parent Restaurant Brands International (QSR) - Get Report , the fast-food investing menu is offering some interesting choices.
Firstly, McDonald's just reported fourth-quarter earnings, and beat estimates. Adjusted earnings-per-share came in at $1.97, beating estimates of $1.89. Revenue was $5.163 billion, beating expectations of $5.162 billion. U.S. same-store-sales missed expectations, but global same-store-sales beat expectations handily, at 4.4% year-over-year growth, against an expected growth rate of 3.9%. The stock was rose on Wednesday by 0.2% to $181.77 a share.
The implications for major competitors were mixed. Wendy's (WEN) - Get Report shares rose 1.78% to $17.42 a share in the wake of the McDonald's report suggesting investors are somewhat encouraged about global spend on restaurants. However, Restaurant Brands International Inc. (QSR) - Get Report , which gets two-thirds of its revenue from Burger King, was down 1.18% to $62.08 a share. (To be fair, Restaurant Brands shot up last week on its pre-announcement and dividend increase.)
But the longer-term risks are where the rubber meets the road.
As it became clear at the end of 2018 that the global economy is coming off of its cyclical peak, investors sold of consumer discretionary stocks. The Invesco Consumer Discretionary S&P U.S. Select Sector is down 5.5% since November 8. Now, analysts are starting to note the particular fundamental risks to the picture for fast-food joints, which are at the lower end of discretionary spend.
Differentiating between which fast food stocks are most susceptible to those risks will prove key to picking the best ones in the group.
Wage Pressure
Sure, wage increases can put pressure on margins, but that wage pressure will hurt the margins of some players more than others. "Higher wage states are experiencing accelerating rates of unit closures," wrote a team of Goldman Sachs analysts in a note out earlier this month. The analysts added, "We see the greatest risks in accelerating unit growth stories ([Dunkin' Brands Group] (DNKN) - Get Report , [and] to some extent WEN)." Wendy's has 513 locations in Florida, more than in any other state. Florida's minimum wage increased 2.5% to $8.46 an hour in December. Wendy's can either eat the lower margins as it expands, or expand at a slower clip. Meanwhile, McDonald's is more sheltered from that headwind compared to Wendys.
Of course, wage inflation could mean higher demand for fast food, but Goldman did note that even if discretionary spending increases marginally in 2019, the share that restaurants will take from that total spend may decline.
Franchisees and Interest Rates
Rising interest rates could have some impact on the group as well. While it now appears likely that the Fed will limit rate increases this year, or even go on hold, the increases from 2018 will have some an impact on the cost of borrowing for franchisees. It's "not just as risk to floating debt expense," said the Goldman Sachs analysts, "but the accretiveness of releveraging cycles, franchisee economics and franchisees' access to capital."
Aside from franchise expansion, it may be easier for some in the group to expand stores then others. McDonald's debt is 22% of its market cap, compared to 56% at Wendy's and 43% at Burger King's parent company. This suggests McDonald's has more room to borrow -- though with about 14,000 locations in the U.S. it has less need to expand.
Competition
Still, competition matters. One of the core risk's to RBC Capital Markets' price target on McDonald's is the "Highly competitive hamburger segment," RBC analysts wrote in a recent note. "McDonald's competes in a highly competitive hamburger segment consisting of direct competitors including: 1) national hamburger fast food chains (e.g., Wendy's, Burger King)," the analysts added.
McDonald's, Restaurant Brands International, and Wendys all trade at forward price-to-earnings multiples of between 20 and 26.
May the food wars continue.
Score a Touchdown with Jim Cramer's Big Game Special
Get access to the best stock picks in Jim Cramer's investment portfolio by executing a two-minute drill on our Big Game Special on Action Alerts PLUS, Jim's VIP club for investors. Sign up now through Feb. 4 and receive 58% off of the normal subscription price. Now that's a real touchdown!