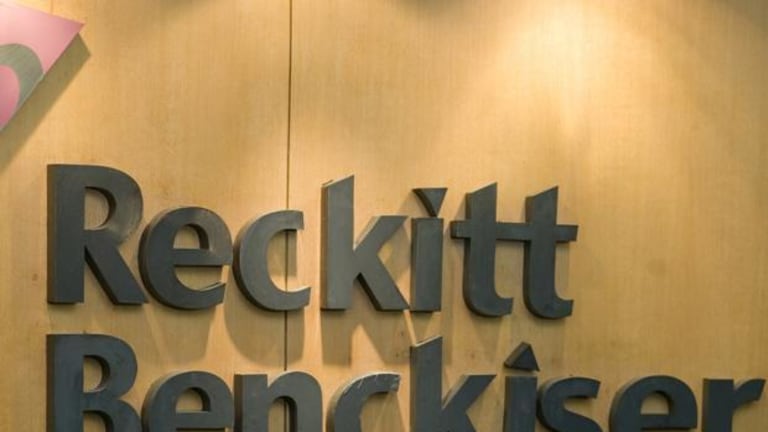 McCormick in $4.2 Billion Play for Reckitt Benckiser's Food Division
McCormick to add French's and Frank's to condiment stable.
McCormick & Company Inc. (MKC) - Get McCormick & Company, Incorporated Report said Wednesday that it has agreed to buy the food division of Britain's Reckitt Benckiser Group plc  (RBGLY)  for $4.2 billion.
The deal, which is expected to close in the third quarter, will add Reckitt's stable of French's mustard, Frank's Red Hot Sauce and Cattleman's BBQ Sauce to its condiments and spices group and is expected to lift McCormick's full-year proforma sales to around $5 billion, the company said. McCormick said it will fund the deal with both debt and equity financing and has a bridge loan agreement in place. However, while the group will retain its dividend, it will also curtain its share buyback program.
"The acquisition of RB Foods strengthens McCormick's flavor leadership with the addition of the iconic French's and Frank's RedHot brands to our portfolio, which will become our number two and number three brands, respectively," said CEO Lawrence Kurzius. "RB Foods' focus on creating products with simple, high-quality ingredients makes it a perfect match for McCormick as we continue to capitalize on the growing consumer interest in healthy, flavorful eating."
McCormick shares slipped 0.14% in New York trading Tuesday to close at $97.14 each, trimming their year-to-date gain to just over 4.1%.
Reckitt said it would use the sale proceeds to reduce debt, which grew by $21 billion through a pair of financing transactions in March led by Bank of America Merrill Lynch, Deutsche Bank and HSBC in order to fund its $18 billion acquisition of infant nutrition group Mead Johnson (MJN)   earlier this year.
Reckitt described the food business, which generated around $530 million of the group's $12.9 billion in 2016 revenue, as "non-core" when it updated on its strategic review in April.
"Our French's Food business is a true reflection of RB's strengths - a portfolio of great brands driven through a culture of innovation by passionate people to deliver consistent outperformance," said Reckitt CEO Rakesh Kapoor. "We are pleased to be selling to owners who can provide the necessary resources, market expertise and global platform, whilst being a good home for our people. French's Food is well positioned to continue on its successful growth trajectory under the food-focused ownership of McCormick."
Reckitt shares closed at 7,812.45 pence each in London Tuesday after rising 0.61% on the session, extending their full-year gain to 13.44% and valuing the entire group at just under $55 billion.