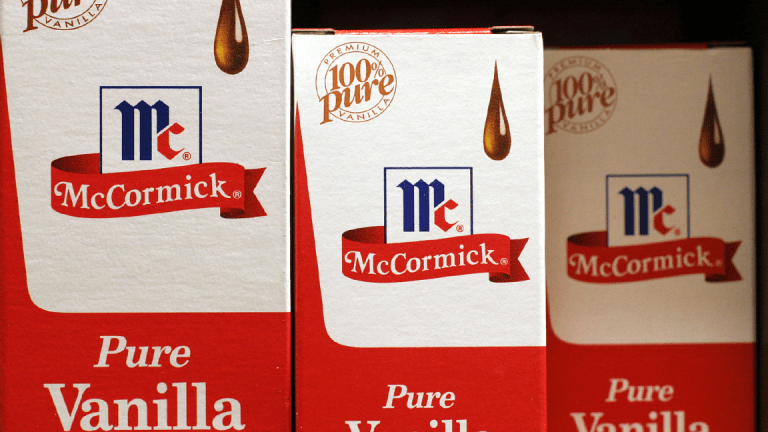 McCormick Loses More than 10% on Earnings Report
Earnings fall short of expectations in year following acquisition of French's and Frank's brands.
McCormick & Co.  (MKC) - Get Report -- the new owner of Frank's sauces and French's mustard, and other condiments and spices -- wasn't looking so hot Thursday as shares dropped by 10.5% following the company's quarterly and annual earnings report.
The Maryland company posted adjusted earnings per share of $1.67 for the fourth quarter, an 8% rise over the $1.54 reported in the same quarter last year, but still lower than analysts' expectations. Zacks Consensus Estimate for McCormick was $1.70 per share.
Fourth-quarter net sales, meanwhile, hit about $1.5 billion, also below expectations. Sales were up 12% from the previous year, however. Net sales for the year were about $5.4 billion.
Adjusted earnings per share for 2018 rose to $4.97 from $4.26 the previous year. If the one-time boost from U.S. tax law were taken into account, non-adjusted earnings per share increased to $7.
For 2019, McCormick projected adjusted earnings per share of $5.17 to $5.27, about a 4% to 6% increase from the previous year.  Year-over-year sales are also expected to rise by 1% to 3% and operating income to increase year-on-year by 10% to 12%.
Both currency and "trade inventory reductions" in the Americas affected the quarter and year, reported the company.
"We believe we substantially under shipped consumer consumption due to trade inventory reductions. We estimate this resulted in a negative 3% impact to the Americas growth rate for the quarter. A portion of this reduction was due to a change in a large retailer's replenishment system which caused supply chain disruption in November. We continue to work collaboratively with this retailer to restock the stores," Lawrence E. Kurzius, chief executive of McCormick, said in a statement.
But new products and beefed up marketing and distribution as well as price changes helped sales grow. The company was also tying up its purchase of Frank's and French's brands from 2017, adding some expenses. The company saw $23 million of "transaction and integration expenses" in operating income from the acquisition in 2018. But over the year, incremental sales from the Frank's and French's brands contributed 8% to the sales increase. 
"In 2018, we delivered another year of record financial results through the successful execution of our strategies, including the completion of the Frank's and French's integration, and the engagement of our employees around the world," said Kurzius.
The stock was closed at $124.35 on Thursday, off 10.5%.