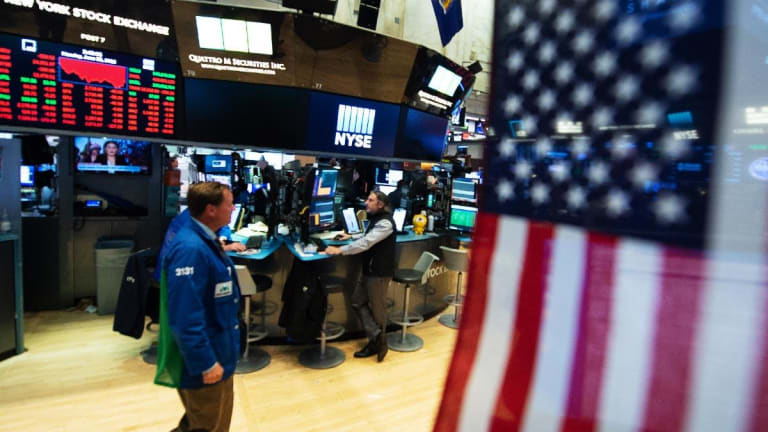 Markets Close Mixed For Day, Up For Week and Month
Stocks see late rebound even as trade tensions persist ahead of holiday weekend.
Friday's Market Minute
The major U.S. markets ended mixed ahead of the Labor Day holiday weekend.  
Lululemon stock rose 13% on strong revenue and profit guidance. 
Coca-Cola slipped after announcing the purchase of Costa Coffee for $5.1 billion
U.S. stocks ended mixed Friday, Aug. 31, ahead of a three-day holiday weekend as trade tensions continued to dominate the news headlines. 
The Dow Jones Industrial Average I:DJI  fell 0.09%, or 22 points to 25,965, while the S&P 500 I:GSPC gained 0.01% and the Nasdaq I:IXIC  ended up 0.26% at 8,109.54, a record closing high. 
For the week, the Dow gained 0.68%, the S&P 500 0.93% and Nasdaq Composite 2.26%. For the month the Dow was up 1.97%, the S&P 500 2.15% and the Nasdaq 3.81%.
Shortly before the close, reports surfaced that the U.S. and Canada had broken off trade talks, but were set to resume next week, prompting a modest surge in late trading. 
Earlier, President Trump reiterated a threat to pull the U.S. out of the World Trade Organization while also saying that his administration is planning on imposing proposed tariffs on $200 billion worth of Chinese goods if Beijing doesn't agree to U.S. trade terms. 
Shares of Coca-Cola Co. (KO) - Get Report  fell after the company said that it will buy the Costa brand of coffee stores, the world's second-biggest coffee retailer behind Starbucks (SBUX) - Get Report , for $5.1 billion from U.K. pub and hotel operator Whitebread PLC (WTBDY) . 
Coca-Cola shares lost 1%. 
Shares of Lululemon Athletica Inc. (LULU) - Get Report  gained 13% after the company reported strong top- and bottom-line results as well as guidance that topped analyst expectations. Revenue in the period rose 25% to $724 million. The company also said that it expects growth in online and Asia-based sales to bring full-year earnings into the range of $3.45 and $3.53 per share. 
Tesla (TSLA) - Get Report is once again on watch after Reuters reported that funds run by BlackRock Inc. (BLK) - Get Report voted in favor of a recent shareholder proposal that would have required the chairman of the company to be an independent director. The proposal would have affected Musk's standing as CEO, according to Reuters. 
Tesla shares fell 0.5%. 
The burgeoning trade war between the U.S. and China weighed heavily on Asian markets. 
China shares led the declines across Asia, with the CSI 300 and the Shanghai Composite both falling 0.5% at the close of trading despite a stronger-than-expected reading for manufacturing activity over the month of August. Hong Kong's Hang Seng index fell 1.08% to close at 27,858.64 points.
The Stoxx Europe 600 index was marked 0.6% lower by mid-day in Frankfurt, paced to the downside by a 0.7% fall for the DAX performance index in Germany and a 1.1% decline for the CAC-40 in France. Britain's FTSE 100 was marked 0.36% lower by late morning in London.