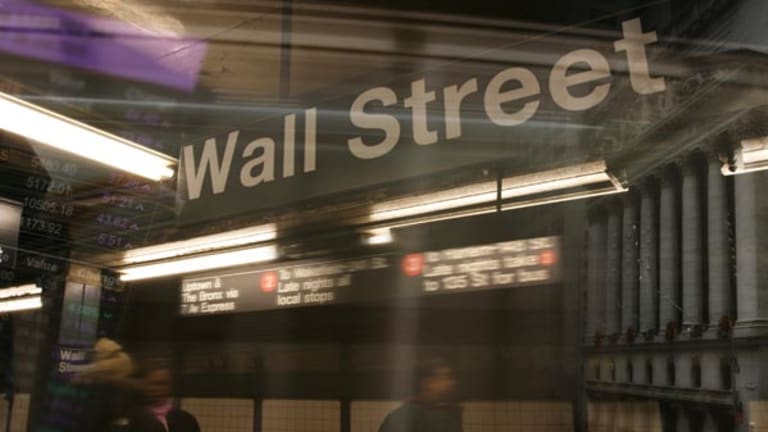 Markets Drop as Caterpillar Slip Suggests Slowdown
Stocks retrace from all-time highs Wednesday as Caterpillar posts disappointing profits amid concern about the uneven pace of Chinese growth.
NEW YORK (TheStreet) -- U.S. stocks slumped Wednesday, slipping from new highs, as Caterpillar  (CAT) , the construction and mining equipment leader, posted earnings that fell short of expectations and China, the world's second-largest economy, revealed a spate of bad business loans.
The S&P 500 was off 0.47% to close at 1,746.38 while the Dow Jones Industrial Average dropped 0.35% to 15,413.33. The Nasdaq decreased 0.57% to 3,907.07.
Equities around the globe fell after China reported a tripling of write-offs in bad bank loans, and as short-term money rates spiked amid signs that the central bank could tighten liquidity in order to temper inflation.
Caterpillar tumbled 6.1% to $83.76 after the Peoria-based company's net income for the third-quarter missed analyst forecasts by 21 cents at $1.45 a share and slashed its full-year sales outlook. CEO Doug Oberhelman said that it has been a "difficult" year for Caterpillar, particularly in mining.
FMC Technologies (FTI) was the worst performer in the S&P 500 after the manufacturer of services systems lowered its profit margin forecast for its subsea technology unit, the company's largest business. Shares lost 8.6% to $52.78.
Corning (GLW) was one of the largest percentage gainers in the S&P 500 on Wednesday after the manufacturer of glass used for computer monitors and LCD televisions said it approved a $2 billion buyback of shares and agreed to acquire Samsung's 43% hold in Samsung Corning Precision Materials. Shares soared 14% to $17.52.
Boeing (BA)  shares jumped 5.3% to $129.02 after it beat Wall Street earnings  estimates and raised guidance. The company said it earned $2.1 billion or $1.80 a share excluding items. Analysts surveyed by Thomson Reuters had estimated $1.55. Revenue rose 11% to $22.1 billion, narrowly beating  expectations of $21.7 billion.
US Airways (LCC)  fell 2.5% to $21.40 as third-quarter profit slipped 12 percent to $216 million due mainly to higher income tax expenses. Revenue was up 9.1 percent to a record $3.9 billion. The airline faces a U.S. Justice Department lawsuit challenging its proposed merger with American Airlines parent AMR (AAMRQ).
COMEX Gold for December delivery lost 0.64% to settle at $1334, while oil lost 1.5% to close at $96.86. The benchmark 10-year Treasury note gained 5/32, diluting the yield to 2.496%. The U.S. dollar index was up 0.01% to $79.27.
--By Jane Searle and Joe Deaux in New York.