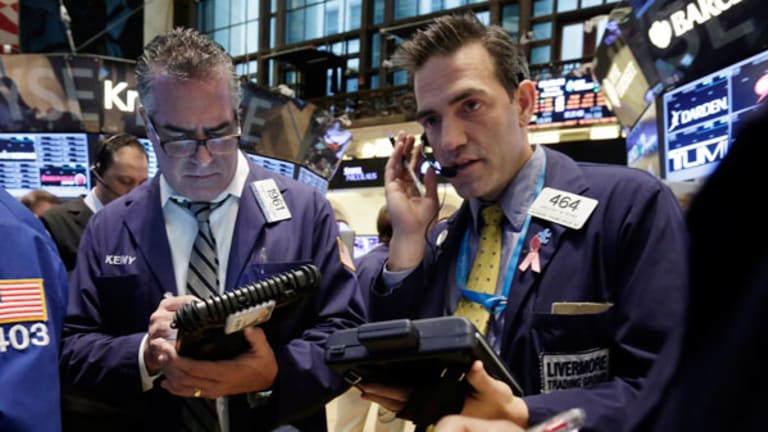 Dow, S&P Leap to Record Highs on Stimulus Prospects
The Dow and S&P reached record highs on Tuesday as traders anticipate the Federal Reserve will maintain its monetary stimulus program in light of data showing uneven economic growth.
NEW YORK (TheStreet) -- The Dow Jones Industrial Average and S&P 500 closed at record highs Tuesday on expectations the Federal Reserve won't pullback on its stimulus measures at the conclusion of its two-day policy meeting tomorrow given that the U.S. economic recovery continues to struggle.
The S&P 500 gained 0.6% to close at 1,771.95 while the Dow Jones Industrial Average jumped 0.7% to 15,680.35 and the Nasdaq added 0.3% to 3,952.34.
The Fed's policy-making statement Wednesday is unlikely to announce a so-called tapering to its monthly asset purchases, Eric Stein, portfolio manager with Eaton Vance's Global Income Group, said Tuesday at a luncheon in New York. Stein added that the Fed could approach a policy in which it sometimes tightens and sometimes loosens asset purchases at later policy meetings, dependent upon the economic data coming out then.
A spate of economic data released earlier today was mostly positive but not strong enough to allow investors to expect that the Fed would view the reports as signs that it could begin to cutback on the roughly $385 million bond-buying program that is credited with stabilizing the economy following the 2009 recession.
U.S. retail sales excluding auto dealers rose 0.4% in September, showing ongoing growth in confidence before the partial government shutdown. Figures from the Commerce Department met consensus expectations. 
"Housing data yesterday was positive along with the Case-Shiller index today, while earnings are mixed but generally supportive of the market," Schaeffer's Investment Research director of research Todd Salamone said in a phone interview. "The Fed is not causing anyone to buy or sell with expectations for tapering moving back to January or March."
Pfizer PFE gained 1.7% to $31.25 as the largest U.S. drug maker posted earnings that beat expectations on higher sales of cancer drugs as well as cost cutting. The company earned $2.59 billion or 39 cents per share in the quarter. When special charges of $572 million linked to restructurings and writedowns were stripped out, Pfizer earned 58 cents per share, above analyst forecasts for 56 cents per share.  
Water technology company Xylem XYL surged 12.4% to $32.53 after profits of 49 cents a share beat estimates for 35 cents. The company also raised guidance to a range of $1.60 to $1.65 per share, citing strong third quarter performance, cost cutting and improving market conditions. 
Seagate STX fell 3.2% to $48.25 as the data storage provider missed analyst forecasts for its fiscal first-quarter earnings and revenue. Seagate posted revenue of $3.5 billion, down from $3.7 billion a year earlier and below Wall Street forecasts of $3.56 billion. 
Bathroom and kitchen company Masco MAS rose 2.6% to $21.47 after sales beat expectations. The company posted sales of $2.2 billion last quarter, above estimates for revenue of $2.1 billion. Earnings of 27 cents a share also beat analyst expectations.
Apple slipped 2.5% to $516.68 a day after its earnings beat Wall Street forecasts. Apple, the iPod and iPhone maker, reported fiscal fourth-quarter net income of $8.26 a share on revenue of $37.5 billion as iPhone sales topped 33.8 million during the period, up from 26.9 million a year earlier. The company also sold 14.1 million iPads and 4.6 million Macs during the quarter. 
In other company headlines, the federal government is set to slap Infosys INFY with the largest immigration fine ever, claiming the Indian outsourcing giant illegally placed workers on visitor, rather than work, visas at big corporate clients across the U.S., The Wall Street Journal reported. Shares gained 0.35% to $54.11.
Domestic producer prices fell unexpectedly in September with the rise in the annual rate the smallest in almost four years, the Labor Department said Tuesday. This suggests a benign inflation environment, with the seasonally adjusted producer price index falling 0.1 percent - the first drop since April. Expectations were for a 0.2% rise in September.
The S&P Case-Shiller home price index also beat expectations, climbing 0.93% in August ahead of a forecast 0.65% rise. Home prices were up 12.82% over the year with prices in Denver and Dallas climbing 10.1% and 9% respectively.
On the flipside, consumer confidence in October slid by the most since August 2011 amid the partial government shutdown. The Conference Board's index fell to 71.2 in October from 80.2 a month earlier. Expectations were for a result of around 75. 
The benchmark 10-year Treasury was gaining 4/32, diluting the yield to 2.51%. The dollar was up 0.38% to $79.63 according to the U.S. dollar index. Oil closed down 48 cents to $98.20, while gold futures settled off $6.70 to $1,345.50.
--By Jane Searle and Joe Deaux in New York