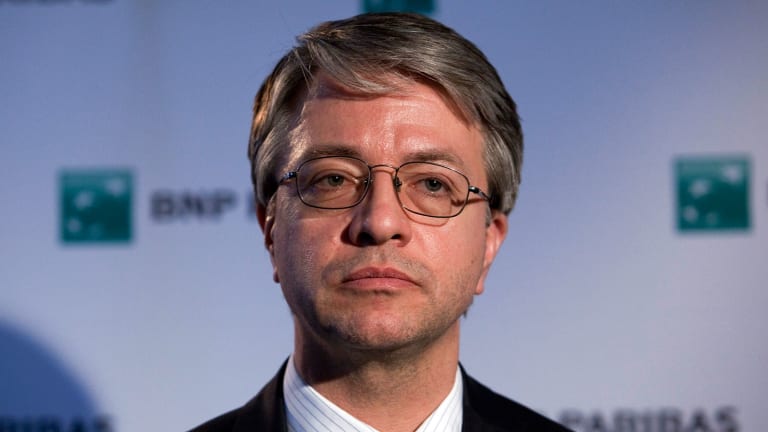 U.S. Bank Rally at Risk as Derivative Contagion Spreads From France
In 2011, global markets were gripped by fears of rising losses at giant French banks like BNP Paribas. Now, a veteran analyst is warning it could happen again -- this time from losses on derivatives bets.
In an echo of the malaise that haunted markets in 2011, this year's rally in U.S. bank stocks could be derailed by a new streak of trading losses at French lenders including BNP Paribas SA (BNPQY) , according to a warning from a veteran bank analyst.
David Hendler, principal at Viola Risk Advisors in Montebello, New York, says a recent string of derivatives-trading losses at the banks are just the beginning. With no end in sight to the geopolitical and economic uncertainty spurred by President Donald Trump's policies, the price swings of recent months in global markets are likely to become the norm, Hendler says.
French banks have used derivatives -- a little-regulated, thinly collateralized financial contract that's essentially just a bet on stocks, bonds, commodities or currency markets -- to create investments known as structured notes for banks, pension funds and wealthy investors, Hendler says. It's part of an effort to provide juicy returns to customers at a time when yields on European bonds are unusually low.  
But recently, the derivatives trades have led to a string of losses.  
"We believe that the French big banks' equity/exotic derivatives loss saga will worsen and spook the debt and equity markets with more downside risk," Hendler wrote this week in a report to clients. 
Bloomberg News reported last month that BNP lost $80 million on derivative trades linked to a U.S. stock-market benchmark, the Standard & Poor's 500 Index. Natixis SA (NTXFF) , another French bank, said in December that a derivatives bet linked to Asian markets went awry, reducing fourth-quarter revenue by an estimated 100 million euros ($114 million).
BNP is scheduled to report results for the fourth quarter and full 2018 on Wednesday, Feb. 6.
The French bank's shares have tumbled 39% in the past 12 months.  
In 2011, fears of rising losses on the government bonds of heavily indebted European countries like Portugal, Italy, Greece and Spain prompted a selloff in the stocks and bonds of banks on the continent, which in turn rippled through U.S. markets.
This year, large U.S. bank stocks are up 13% on average, after falling about 20% last year. Any fresh troubles at BNP, Natixis or Societe Generale SA (SCGLY)  could sap this year's rally in shares of U.S. lenders like JPMorgan Chase & Co. (JPM) - Get JP Morgan Chase & Co. Report , Bank of America Corp. (BAC) - Get Bank of America Corporation Report and Goldman Sachs Group Inc. (GS) - Get Goldman Sachs Group Inc. (The) Report , according to Hendler. That's due to trading relationships and shared assets in global markets among the U.S. lenders and their European counterparts. 
"They do a lot of trading," Hendler said in a phone interview. 
Yields on Paris-based BNP's bonds have climbed faster than those of Treasury bonds, a widening gap or "spread" that's typically an indication of shrinking creditworthiness when compared with the U.S. government's triple-A-rated bonds.
"Even though BNP credit spreads have widened in the bond markets, we would recommend selling its bonds across its credit curve as more negative headlines will be forthcoming," Hendler wrote. "We believe that BNP will continue to be a volatile stock, and much more to the downside for the short to medium-term or next 18 months."