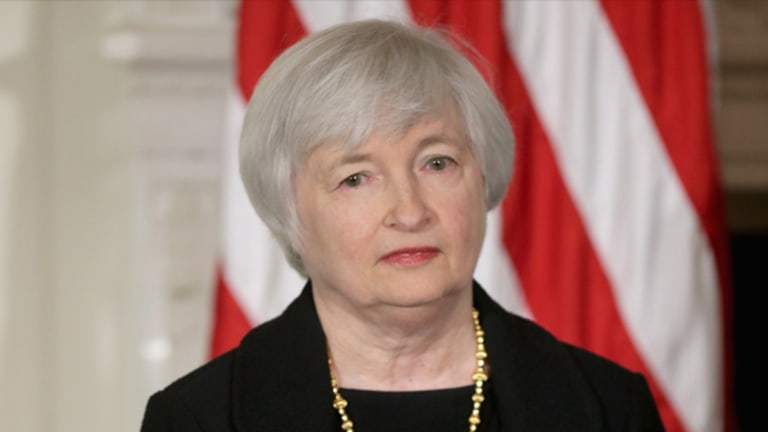 Stocks Gain as Yellen Signals Support for Continued Stimulus
Stocks gained Thursday as Janet Yellen, likely to win confirmation for the top post at the Federal Reserve, said the economy continues to need monetary support,
NEW YORK (TheStreet) -- Major U.S. markets moved higher Thursday as Janet Yellen, likely to win confirmation for the top post at the FederalReserve,said the economy continues to need monetary support, bolstering expectations for prolonged stimulus measures. 
The S&P 500 rose 0.5% to 1,790.62 while the Dow Jones Industrial Average gained 0.4% to 15,876.22. The Nasdaq reversed earlier losses, adding 0.2% to 3,997.74.
In the absence of major economic data, markets have been more reactive to earnings, with disappointing results from Cisco (CSCO) - Get Cisco Systems, Inc. Report and retailer Kohl's (KSS) - Get Kohl's Corporation Report dampening sentiment. Cisco was dropping 12% to $20.08 after the networking-equipment giant posted fiscal first-quarter revenue that missed Wall Street estimates, dragged down by sluggish technology spending that has also affected rivals.
The S&P 500 was rising 0.22% to 1,785.89 mid-morning while the Dow Jones Industrial Average edged up 0.15% to 15,844.69. The Nasdaq was off 0.07% to 3,962.84. 
Wal-Mart (WMT) - Get Walmart Inc. Report shares were edging up 0.09% to $78.98 despite disappointing top-line sales for the third quarter. Total revenue rose an anemic 1.7% to $115.7 billion. Analysts were expecting the company to post revenue of $116.8 billion. The Bentonville, Ark.-based retailing giant reported net income of $3.7 billion, or $1.14 a share, beating consensus estimates by a penny. 
Kohl's posted disappointing third-quarter results, falling short of earnings expectations by 5 cents at 81 cents a share as same-store sales at the department store operator fell 1.6% and contributed to a revenue miss. Shares were diving 8.75% to $53.25. 
Technology shares were also affected by tepid sentiment, with Hewlett-Packard (HPQ) - Get HP Inc. Report down 5.59% to $25.01. The company recently halted sales of its Chromebook 11 computer after reports that chargers had been overheating. 
Yellen, who is set to be the next head of the central bank, testified before the Senate Banking Committee Thursday morning, emphasizing that it was important "not to remove support while the recovery is still fragile."
"I believe that supporting the recovery today is the surest path to returning to a more normal approach to monetary policy," she said. Yellen reiterated that the Fed would maintain accommodative monetary policy for some time after bond buying ends.  
Weekly initial jobless claims fell by 2,000 to 339,000 in the week ended Nov. 9, the Labor Department reported Thursday, but still came in higher than the 330,000 expected by economists. 
On the flipside, the U.S. trade deficit widened in September as imports rose to their highest level in 10 months while exports fell. This produced an 8% rise in the deficit to $41.8 billion, the Commerce Department said Thursday -- the largest trade gap since May. 
Global markets were gaining ground while Treasury yields eased, driven by confidence of continued Fed support. 
The FTSE 100 in London was adding on 0.44%, while the DAX in Germany was tacking on 0.71%. The Hong Kong Hang Seng settled ahead by 0.82% and the Nikkei 225 in Japan increased 2.12%. The Japan markets also got a boost as Finance Minister Taro Aso stressed the possibility more measures to weaken the yen.
The 10-year Treasury was ticking up 0.47% to 2.71 as the U.S. dollar index increased 0.19% to $81.08. Oil was 0.83% lower at $93.10 while gold futures were 1.63% higher at $1,289.10.