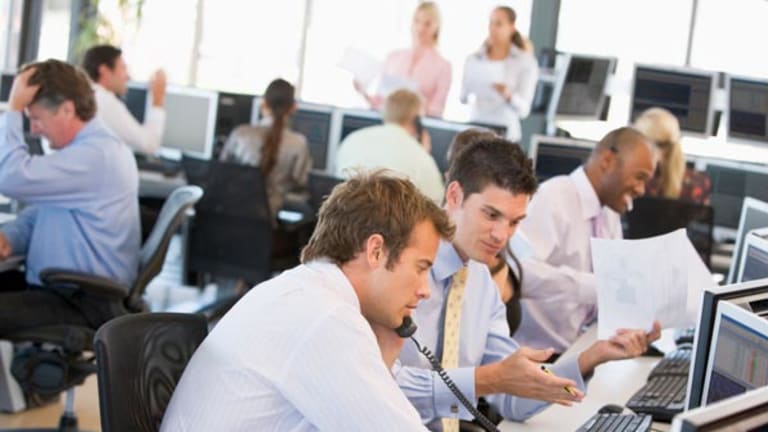 Market Update: Stocks Flip-Flopping in Morning Action; Nasdaq Continues Higher
The tech-heavy index is being helped by big tech. Immunex, however, is feeling pretty sick.
The tech-heavy index is being helped by big tech. Immunex, however, is feeling pretty sick.
So much for the capitulation story investors were so eager to believe. The major indices bulged higher at the market open this morning, but began to falter shortly afterwards. The Dow was lately in the red, while the Nasdaq was posting unimpressive gains.
A whiplash selloff and final-hour rebound on the Dow yesterday, sky-high trading volumes on all indices and volatility levels through the roof are all classic signs of
capitulation, according to the experts. The Dow dove over 300 points at yesterday's open, but erased most of those losses into the close, ending off
just
97.5 points to 9389.5, or 19.9% below its highs of last year. Capitulation is a momentous selloff that slams stocks so low that they look cheap enough to draw buyers back in. A capitulation selloff supposedly creates a "bottom," or a level through which stocks are not supposed to crash again.
You're a Loser, Baby
Biotech
Immunex
(IMNX)
was taking a whacking this morning. The former highflier was off 41.4% to $11.06 after it
announced that two drugs it was counting on flunked early testing. But otherwise biotechs were faring pretty well. The sector has been the target of furious selling in the past few months, and the
American Stock Exchange Biotechnology Index
is off about 33 % for the year.
A smattering of cyclical and defensive sectors continued to rise. Defensives like the drugs and tobacco stocks were moving up along side of chips, PC-makers and financials. But retail, paper, transports and some energy stocks were on their way down.
Market pros have cried wolf a few too many times since April -- several bottoms have been called and none have held. The earnings picture hasn't yet cleared up, and the economy still looks weak. If earnings forecasts continue to slog lower with the force they have in the past six months, stocks could take another beating.
Stocks don't usually go straight up after hitting bottom. They slog around in a range above that mark and often retest their lows. Some bears say that at least the last half of yesterday's 300-point rebound was driven by short covering -- hedging to cover investment bets that stocks will fall. And the late-day buying spree broke in the last 15 minutes of the trading yesterday, which could signal that the bears are still going strong.
Meanwhile, the signs of capitulation on the broader market
S&P 500 and tech-laden
Nasdaq yesterday were less evident. The
S&P 500
was down as much as 40 points during the day, but ended off 4.6 to 1117.6. The Nasdaq was also down about 40 points at its lows, but it closed up 67.5 to 1,897.7, led by powerful buoyancy in the beaten-down chip stocks.
The Nasdaq remains some 64% off its high -- March 10, 2000 -- while the S&P 500 is down 27% from its high. Unlike January, when interest-rate cuts overjoyed Wall Street and spurred a heady monthlong market rally, a half-point interest rate-cut on Tuesday
hasn't done a thing for the market. Not so far, anyway. Investors were hoping the Fed would chop rates by 75 basis points, rather than the 50 basis point cut.
Fed chairman
Greenspan and his team have now dropped interest rates by a full 1.5% since Jan. 3, putting short-term rates at 5%.
Back to top