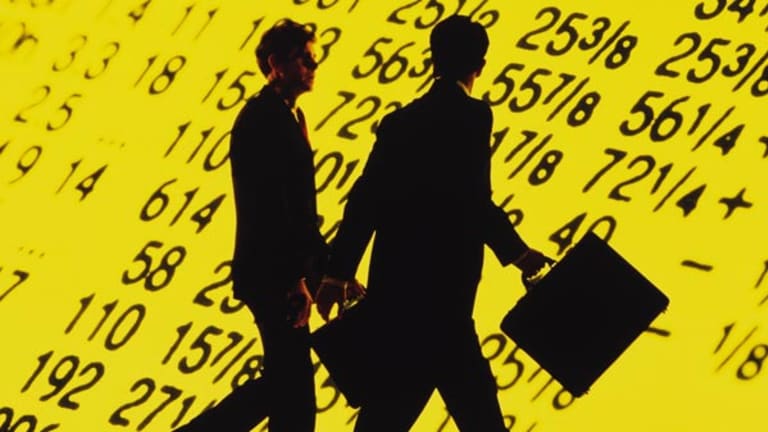 Market Update: Nortel, Dell, H-P the Culprits -- All of Tech Victimized
The red numbers were all over the Street this morning as last night's lousy tech news was wreaking havoc today.
Thank God it's Friday, right? Well, maybe not this Friday.
The tape has turned as bloody as a Lorca play as odd economic data and cautious words from analysts have eliminated most of the gains from yesterday's rally. The
Dow Jones Industrial Average slid 71 to 10,819, while the
Nasdaq Composite Index dropped 114 to 2439.
Inflation data was first and foremost in the minds of traders, since the
, which measures the change in wholesale prices, spiked in January. The main number came in at 1.1%, a number so high that many originally thought it was a typo when it was released before the start of trading today. It's close to four times higher than the expected 0.3% growth.
Granted, the PPI numbers tend to fluctuate from month-to-month, but after having rather benign inflationary numbers for quite some time, seeing such a huge PPI increase has many people wondering exactly what's happening in this slowing economy. Is inflation now a problem? Maybe not, but it adds more uncertainty to a market that is already having trouble determining what the rest of 2001 will look like.
January
industrial production
data, meanwhile, showed that output slowed less severely in January than it had in December, but more sharply than economists were expecting. Production fell 0.3% during the month, compared to forecasts that it would be unchanged, while capacity utilization dropped to 80.2% vs. expectations that it would come in at 80.4%. Industrial production slid 0.6% in December.
Networking equipment maker
Nortel Networks
(NT)
warned last night, announcing that it would not see growth improve until late 2001, bucking hopes that the second-half of 2001 would mark a revisit to the good old days of earnings growth. And since Nortel has such a prominent place in the sector, most of tech was destroyed by the news.
Nortel, fittingly, was taken to the woodshed and beaten by the analyst community.
Lehman Brothers
, Credit Suisse First Boston, Goldman Sachs and Merrill Lynch all lowered their estimates on the company. Merrill Analyst Tom Astle took the hardest stance, cutting the company's intermediate-term rating to accumulate from buy.
"We thought
the first quarter would be ugly but this is worse than we thought," Merrill's Astle wrote. "This sector has turned ugly fast. We had sensed sectoral weakness in
the first quarter but we did not expect Nortel to see this much weakness and lack of visibility. Within a three-week period the company has dropped its
first quarter revenue target by 22%."
Part of the problem is that this sector got a
hefty boost yesterday after
Ciena
(CIEN)
beat Wall Street estimates for its fiscal first-quarter earnings and, more importantly,
forecast strong growth. Nortel slid 32.5%. Ciena dropped 4.5%. And the entire networking sector blew up. The
American Stock Exchange Networking Index
dropped 9.7%.
The PC-makers were also feeling the pain following last night's warnings from
Hewlett-Packard
undefined
and
Dell
(DELL)
. Dell
met Wall Street's vastly lowered earnings expectations for its fiscal first quarter ended Jan. 31, but missed revenue estimates and
lowered forecasts for the rest of the year.
Dell managed to
beat revenue forecasts, but it gave no guidance for future earnings or revenues, sparking
visibility fears. It was off 6%.
Cisco
(CSCO)
remained in second place among the most actively traded stocks on the Nasdaq, down 6.9% to $28.81. For over a week, the stock has been one of the most actively traded on the index. Last Tuesday the company warned that it saw slowing sales in its future and investors sold it off through Friday. Monday it began to rebound.
Analog Devices
(ADI)
met earnings forecasts, but
projected that its second-quarter and full-year earnings will be well below analysts' expectations. And Novell
projected a tough year-over-year comparison for the second quarter.
Corning
(GLW)
lowered its revenue estimates and said it will need to control costs in order to meet its first-quarter and full-year earnings estimates. Corning was off 15.5% in early trading.
Schering-Plough
(SGP)
is off 17.2% after it
warned that future earnings are being hurt by a
Food and Drug Administration
probe into the company's manufacturing processes and quality control. Its stock hadn't yet opened for trading.
Sepracor
(SEPR)
, which licenses allergy medication Claritin to Schering, was falling 11.5% on Schering's news.
That's a lot of bad news to absorb.
The consensus on Wall Street is that lasting gains for tech stocks probably won't happen until there is a clear turnaround in the economy and earnings. That means that while there may be plenty of tradable rallies and selloffs, stocks are likely to go nowhere in coming months. Many companies and analysts expect business to pick up in the third quarter of this year. But with
visibility issues cropping up all across the tech universe, that forecast has lost muscle. Some are now saying real earnings growth won't begin again until the fourth quarter.
Sector Watch
Technology was a barren wasteland covered in minds. It's downright deadly out there, with wireless, boxmakers, chipmakers and dot-coms all lower in the wake of some terrible news. And with growth more uncertain than ever before, every sector got crushed.
The
Philadelphia Stock Exchange Semiconductor Index
dropped 5.4%, while the
Philadelphia Stock Exchange Wireless Telecom Sector
fell 6%. The
Philadelphia Stock Exchange Computer Box Maker Sector
was off 4.6%.
But the worst signal out there was the
Morgan Stanley High-Technology 35 Index
, which covers the high-tech companies like
Apple
(AAPL)
and
Microsoft
(MSFT)
that are in a ton of portfolios. This index of widely held stocks fell 6.3%.
Back to top
Bonds/Economy
When stocks drop like that, the money's gotta go somewhere. Like bonds. The
10-year bond
was up 6/32 to 98 27/32 and yielding 5.147%.
Back to top