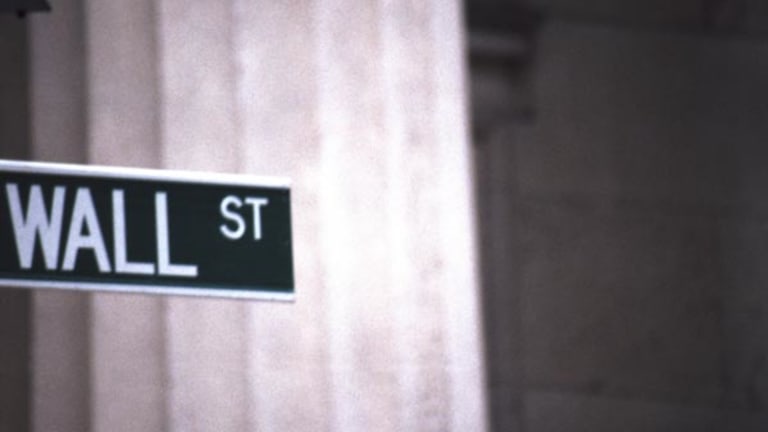 Market Update: Dow, Nasdaq Stage Late Rally to Close Higher
Some last-minute buying pushes both indices, along with the S&P, into the green.
Some last-minute buying pushes both indices, along with the S&P, into the green.
(Updated from 3:36 p.m.)
The major indices turned higher late in the trading session, reversing the selling pressure that beset the
Dow Jones Industrial Average and the
Nasdaq Composite Index for most of the day. During the majority of today's action, a fresh batch of profit warnings started to put a damper on investors' hopes for a recovery in the second half of this year.
Buy by the 4 p.m. close of trading, Dow and the Nasdaq were in the green. The blue chips added 53.16 points, or 0.4%, to finish at 11,301.74, while the Nasdaq gained 5.15 points to 2198.83. The broader-market
S&P 500 was up 3.46 points at 1291.95.
After the closing bell on Thursday, PC maker
Dell
(DELL) - Get Report
, handheld-computer maker
Palm
(PALM)
and technology services outfit
Agilent
(A) - Get Report
all issued warnings about their upcoming quarters.
Some experts felt it was time to take a breather today, anyway. "We came into the session with some bad news," said Michael Palazzi, head trader for
CIBC World Markets
. "But there's a good chance we would have seen profit-taking today no matter what."
After one of the biggest rallies of the year on Wednesday, the Dow is trading above 11,000. As of yesterday's close, the
blue-chip index is only 4% off its record close, reached in January 2000. The Nasdaq, still 57% off its all-time high hit in March of last year, is up 34% since hitting a recent low of 1638.80 on April 4.
The
Federal Reserve's fifth rate cut this year, which came on Tuesday, may have reignited bullish investors' faith that the economy will soon get back on its feet. Investors clung to belief in a second-half rebound during April, when stocks enjoyed a stellar monthlong rally. But they lost the faith in early May ahead of the Fed meeting, and stocks slogged lower in thin volume.
For now, Wall Street is caught in an uneasy limbo. The latest rate cut is providing a nice gust of wind under its wings. But second-quarter earnings preannouncement season has begun, and it doesn't look pretty.
PC maker Dell yesterday
lowered its revenue forecast for the second quarter and dropped its earnings forecast. The company, however, met analysts' fiscal first-quarter earnings. Dell was lately down 4.3% to $24.78.
Handheld-computing company Palm also aired some dirty laundry,
slashing its fiscal fourth-quarter revenue outlook in half. The company also said it would take a $300 million inventory charge, called off its merger with
Extended Systems
(XTND)
, and announced plans to cut 15% of its workforce. Palm was recently off 29.2% to $4.98.
Hewlett-Packard
(HWP)
spinoff Agilent said Thursday that it expects a sizeable loss and a drop in sales for fiscal third quarter. The company reported fiscal second-quarter earnings that were down 42% from a year ago and a penny below already reduced estimates among analysts. H-P was lately down 4.1% to $29.66, while Agilent was off 6.3% to $36.28.
Asian markets closed sharply lower overnight, ahead of
Morgan Stanley Capital International's
reweighting of its global market indices. The major European indices closed tentatively higher, overcoming weakness in
Alcatel
(ALA)
. The French telecommunications company -- lately down 8.2% to $29.42 -- is reportedly in talks to acquire
Lucent
(LU)
in a deal said to be worth $40 billion, a 20% premium on Lucent's shares. Lucent lately was up 1.5% to $9.96.
Back to top