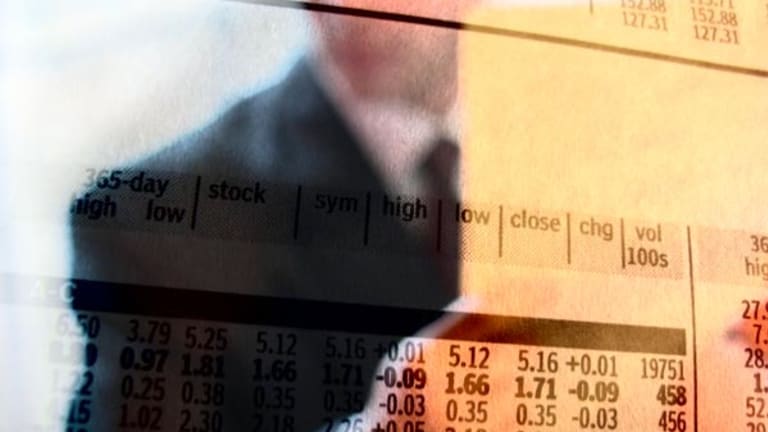 Market Update: Dow, Nasdaq Continue to Ride the Bull Today
Ciena, Hewlett-Packard helped to drive gains. Initial jobless claims for the week were lower than expected.
Ciena, Hewlett-Packard helped to drive gains. Initial jobless claims for the week were lower than expected.
(Updated from 2:27 p.m.)
After some hesitation this morning, investors built on yesterday's gains in the stock market. The
Dow Jones Industrial Average, which surged above the 11,000 benchmark on Wednesday, closed up by about 33 points to 11,249. The
Nasdaq Composite Index also closed higher, by 27 points to 2194.
"In the wake of yesterday's tremendous gains, it's impressive that we're on the upside," said Peter Coolidge, managing director of trading at
Brean Murray Foster Securities
. "That we're able to maintain levels, as the market breaks new ground, is encouraging."
The latest earnings results from fiber-optics equipment manufacturer
Ciena
(CIEN) - Get Report
and computer- and printer-maker
Hewlett-Packard
(HWP)
have helped drive gains. Both companies topped analysts' reduced expectations for their quarterly earnings. And a report this morning on the decline in
initial jobless claims
filed last week also boosted stocks.
Stocks soared yesterday in one of the biggest rallies of the year, as investors responded to the
Federal Reserve's fifth interest-rate cut this year. For the first time since Sept. 14, 2000, the
Dow closed above 11K, considered a psychologically key level. As of yesterday's close, the blue-chip index is just 4.3% off its all-time high of 11,722.98, hit on Jan. 14, 2000.
Since the beginning of April, stocks have climbed on expectations the Fed's rate cuts would buoy the economy. As of Wednesday's close, the Nasdaq is up 32.2% since hitting a recent low of 1638.80 on April 4, but it still remains down 12.3% for the year. The Dow is up 19.5% since its recent low of 9,389.48 on March 22; it's up 3.98% since the start of the year.
As the
11K mark was breached yesterday, investors seemed to gain confidence the move would prompt money managers to put more money into the market. Trading volume, which tapered off after April's rally and ahead of the Fed's meeting, has picked up since the latest rate reduction.
Investors are now turning their attention to the latest round of profit reports. While they remain skeptical about the prospects for second-quarter earnings, they are hanging on hopes for a recovery in the second half of the year.
This morning, Ciena reported adjusted income that surpassed analyst estimates. What's more, the networking equipment manufacturer said it is "possible" it will make its earnings and revenue targets for the year. In recent trading, Ciena was closed down by 3.7% to $56.75. The
American Stock Exchange Networking Index
was 1.1% higher.
Shares of Hewlett-Packard were jumping today; they closed up by 14.8% to $30.70 after the company
topped reduced forecasts. But it reported a 66% drop from year-ago profits. Going forward, the company said it was comfortable with third-quarter earnings estimates, but cautioned that sales could fall short of expectations.
Sectors rising today include those that benefit from an economic recovery, namely technology stocks. Retail, cyclical, and transportation names were also gaining. Bank stocks, which are up 18.2% since hitting a recent low on March 22, were moving a bit lower.
Citigroup
(C) - Get Report
, which this morning announced it was buying Mexican banking giant Banacci, was closed off by 2.1% to $50.69.
On the economic front, data released this morning showed that initial jobless claims fell to 380,000 for the week ended May 12, down from 388,000 the previous week. Economists were forecasting they would rise to 395,000. Wall Street will likely watch jobless claims carefully in coming weeks since they presage the monthly employment report. In April, the unemployment rate climbed to 4.5%, its highest level since October 1998.
Back to top