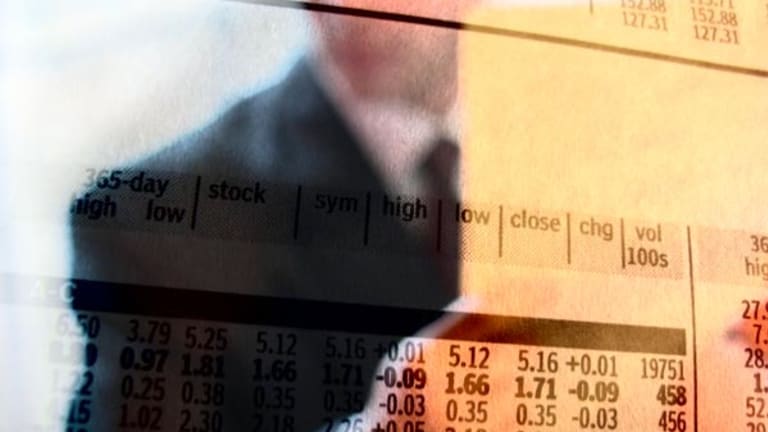 Market Update: Consumers Ready to Rock but Indices Hang Back
There were some pre-Fed meeting (rate-cut) butterflies and blues about Big Blue's downgrade. The Dow, Nazz and S&P slip.
There were some pre-Fed meeting (rate-cut) butterflies and blues about Big Blue's downgrade. The Dow, Nazz and S&P slip.
(Updated from 2:52 p.m.)
Stocks tripped into the red this morning and stayed there all day following the release of some strong consumer confidence numbers for May. Losses were heaviest on the blue-chip
Dow Jones Industrial Average, but volume was feather light as investors sat on the sidelines ahead of the May 15
Federal Reserve meeting.
A downgrade of
IBM
(IBM) - Get Report
and worries that another round of earnings warnings is just around the corner were also pressuring stocks, said Tony Dwyer, chief market strategist at market research firm
Kirlin Holdings
.
"We've been pressured down by the IBM downgrade, Fed speculation, and general worries that we're getting towards the second quarter pre-announcement season," Dwyer said. Still, he thinks the market didn't need much of an excuse to sell. "We're up 30% on the Nasdaq, and we haven't made any headway over the past two weeks. We could continue to see selling into Monday and Tuesday."
Indeed, since the start of May, investors have tempered the positive sentiment that helped drive stocks higher in April. There is still a major focus on concerns about corporate earnings, and this morning
Bear Stearns
dropped its rating on IBM to attractive from buy. It cited valuation concerns and the "potential impact" from tougher year-over-year comparisons for its second-half earnings. IBM closed down by 2.94% to $111.81.
Consumer sentiment
figures, which have mostly been on a steady decline since September, were expected to show another dip this month. Instead, the closely watched University of Michigan index rose to 92.6 from 88.4 in April. Combined with strong April
retail sales
data released before the opening bell today, the confidence numbers sparked fears the Fed will cut interest rates by only a quarter-point, as opposed to the half-point cut the market has been expecting.
Data on
wholesale price
in April, also released before the market opened, was good news for the market since it showed inflation just about where expected. But the report wasn't good enough to inspire buying. The numbers could allay recent concerns inflation might become a problem.
Fed fund futures -- often a good gauge of market expectations for rate cuts -- were lately pricing in about an 80% chance of a 50 basis-point cut when the Fed's policy-making body meets next Tuesday, lower than the 93% chance it was pricing in yesterday. For the past few weeks, the market has been banking on another half-percentage point rate cut, which would drop short-term rates to 4%.
Bond prices were falling sharply today, pushing their yields higher.
Networking heavyweight
Nortel
(NT)
was getting hit on news two top executives are leaving the firm. CEO John Roth today announced plans to retire in April 2002, and the company's chief operating officer, Clarence Chandran, said he planned to resign for medical reasons. Nortel's stock ended the trading day down by 3.9% to $14.63. The company, hit by a massive slowdown in its business, has a 52-week high of $89.
Drug kingpin
Schering-Plough
(SGP)
was jumping 3.2% to $38.30 on reports in
Business Week
that rival
Merck
(MRK) - Get Report
is offering to buy it for $91 billion in stock. Merck closed off by 0.8% to $75.94.
Merck, the second-largest U.S. drugmaker, hasn't confirmed the merger talk, but it did announce plans to acquire biotech company
Rosetta Inpharmatics
(RSTA)
for about $620 million. Rosetta closed up by 74.97% to $17.34.
Stocks were weaker across the board, though losses were worst in a couple of ultra-defensive sectors, like gold and paper. Defensive stocks are usually seen as safe alternatives to growth stocks since their fortunes are more immune to changes in the economy.
Commodities and cyclical stocks were also weak. The
Philadelphia Stock Exchange Forest & Paper Products Index
closed off by 1.1% and the
Philadelphia Stock Exchange Gold and Silver Index
lost 1.7%. The
Morgan Stanley Cyclical Index
was down 0.97%.
Retail, one of the few major sectors on the plus side today, got a major boost yesterday after a slate of
same-store sales figures for April showed stronger-than-expected results for many companies. Gains today among retail companies were modest.
Volume was extremely light. Jay Meagrow, vice president of trading at research company
McDonald
, said he doesn't expect much major action in the markets ahead of the Fed meeting. The fact that it's a spring Friday is also keeping trading action quiet.
April's stellar stock market rally has petered out over the past week, as investors began to fear buying was overdone. Earlier this week, doubts about a second-half turnaround that Wall Street had bet on through April and caution ahead of the Fed meeting began to temper April's optimism. While investors are encouraged by prospects the Fed will cut rates at Tuesday's meeting, expectations for such a cut seem to be priced into stocks. If that's the case, then investors perceived little reason to keep buying in the near term. Some are predicting a moderate selloff in the meeting's wake.
The Nasdaq, still out 14% for the year, is up 30% since dipping to its recent low of 1638.8 on April 4. The Dow has climbed 16% since its recent trough on March 22, and is just barely in the black for the year. The
S&P 500, a good measure of the broad market, is up 14% since its April 4 low. It is down 5% since Jan 1.
Back to top